The Art&Seek calendar regularly posts close to 1,000 events online.  Don't know where to start? Try doing a search by date or by categories. There's a category for arts, books, dance, music,  museums, theater, and Radio-TV-Film.  Whether you're looking for something new and daring to do or something familiar and comfy you can find it here. Here are a few suggestions to get you started.
Wednesday
"Off the Grid" is a new photo exhibition by local photographer Becky Wilkes. The show features digital collages of thousands of items found along Eagle Mountain Lake. It's on view through February 15, at the Fort Worth Community Art Center. 
"Föhrenwald Children" are Jewish children who grew up in refugee camps after World War II. Filmmaker and digital storyteller June Owens documents their stories in this exhibition at SP/N Gallery on the UT Dallas campus in Richardson.
Thursday
Photographs Do Not Bend Gallery explores mid-20th century New York City in its latest show. See the lows of the Great Depression and the highs of the optimistic 50s in the John Albok: Revisited exhibition.
The Doobie Brothers are beloved because of their mind-blowing, roots-based, guitar-driven rock and roll. Rock down the highway to the UT Tyler Cowan Center to catch the band sing their latest songs and greatest hits.
Friday
As usual for the North Texas area, classical music aficionados have their choice of performances to attend tonight. In Dallas, "Magic of Mozart" is explored by the Chamber Music International ensemble. Works by Mozart, Fauré, and Dohnányi will be performed and artworks by Dallas artists Larry Enge and Carol Wilder-Enge will be on view in the lobby of Moody Performance Hall.
Get whisked away by Fort Worth Symphony Orchestra as they perform "Nights in the Gardens of Spain." Special guest artist Joaquin Achucarro on piano will join the symphony at Bass Performance Hall Fort Worth.
Saturday/Sunday
Head to SCRAP Denton this Saturday for a Mixed Media art class inspired by contemporary African-American artist Mickalene Thomas. Thomas's work is known for featuring fabrics, rhinestones, and other reclaimed materials. Students will create their own pieces using similar materials.
On Saturday, Wylie's Rita & Truitt Smith Public Library hosts a discussion about the arts in Wylie and the Greater Dallas area. The program will feature Wylie City Secretary Carole Ehrlich, who also serves as liaison to Wylie's public art advisory board, and Gail Sachson, founder of "Ask Me About Art," an adult "college" of art education.
Saturday is also the opening of "Car·a·pace" at 500X Gallery in Dallas. This site-specific installation is a collaboration by printmaker Jessie Barnes and photographer Lynné Bowman Cravens. The show explores tropical landscapes and foliage and the relationships between the land, fauna, flora, and self.
On Sunday, the Irving Arts Center opens a new exhibition aimed at helping folks rediscover the Civil Rights Movement through photography taken by activists from the period. You can see "This Light of Ours: Photographers of the Civil Rights Movement through March 4.
Monday
Dallas artist Ann McIntyre creates contemporary geometric monotypes on paper. She experiments with leftover packaging materials, bubble wrap, netting, and construction site fencing to build multicolored layers and textures. See "Monotypes" at ART7 Gallery in Fort Worth through Jan. 27.
The Forum Gallery at Brookhaven College in Farmers Branch has a new installation of ceramic works by Catherine Cornelius. Her show, "Domestic Reveal," is on view through Feb. 5.
Tuesday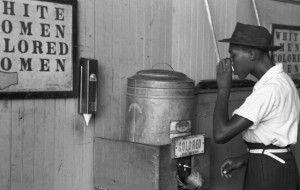 In conjunction with the special exhibit "Fighting for the Right to Fight: African American Experiences in WWII," the Dallas Holocaust Museum is hosting a panel discussion about the aspects of daily life for African Americans in Dallas in the years leading up to the Civil Rights Movement.
The exhibition "fluid dialog" features the works of artists Liz Trosper and Thomas Motley. Their work reflects the non-verbal clues artists can give one another and aim to spark audience discussion. See it at Bernice Coulter Templeton Art Studio gallery at Texas Wesleyan University through March 1.
For more on these and other events, explore the Art&Seek calendar.