Gallery Night is a long-standing tradition in Fort Worth. But to cut down on crowds and keep everyone safe during COVID,  Fort Worth Art Dealers Association (FWADA) has expanded the event into Spring Gallery Week.
Spring Gallery Week kicks off Saturday, March 27 and runs through Saturday, April 3.
Spring Gallery Week. Virtual and in-person events throughout Fort Worth.
Details
.
"We just feel like we're not encouraging big crowds on one night and the feedback we got from our FWADA members was that it seemed to work fairly well," said Shea Patterson Young. Young is executive director of FWADA and Curator of the Atrium Gallery at UNT Health Science Center.
The pandemic has definitely impacted the Fort Worth art community and Young thinks Spring Gallery Week is the perfect opportunity to remind folks that Fort Worth's university galleries, museums, and other North Texas arts spaces are still here and you can visit them – in some cases, in-person; in others, virtually.
Young said some artists have been incredibly productive this year creating some really inspirational pieces, a silver lining of sorts.
"We want you to come out. It's not just about sales. It's also about re-engaging the community and letting people showcase some of the wonderful things that people have been able to do during the pandemic."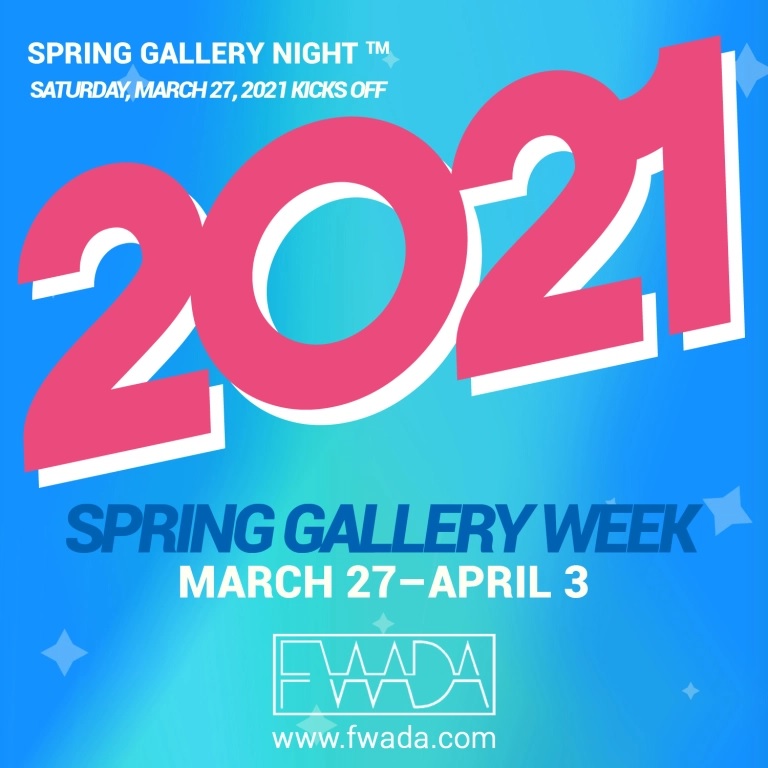 Young recommends visitors check out FWADA's digital guide in advance for details about virtual and in-person openings, timed entries, hours, and a map.
Yes, you can stay in Fort Worth's Cultural District and see some great shows at The Modern, The Kimbell, and the Amon Carter Museum. The Fort Worth Community Arts Center will have a number of different exhibitions going on at once.
But take this opportunity to venture further afield.  Head a bit west of the Cultural District on Camp Bowie and take in Art on the Boulevard and the William Campbell Contemporary Art gallery. Campbell Contemporary has been around for 46 years. They are under new ownership, but they still put on wonderful exhibitions, said Young.
Keep going west until you see the pink neon lights outside Rebecca Low Sculptural Gallery.  "You don't have to be a museum-goer to feel comfortable at Rebecca Low's gallery and I love that about it," Young said.
Turn north and you come across Artes de la Rosa at the entrance of the Stockyards. Then head downtown. Just on the outskirts is Artspace111, a very comfortable contemporary gallery in what was an old furniture warehouse.
Or go south. The galleries at UNT Health Science Center, TCU, and Texas Wesleyan may be closed but those spaces, as well as others, are offering virtual shows on their websites. In southeast Fort Worth, McAnthony's Multi-Cultural Studio and Gallery will be open. The family-run cultural space continues to be a cornerstone for the community.
Venture east – not to Dallas, but to Arlington – to explore The Gallery at UTA, and Upstairs Gallery.
Got a tip? Email Gila Espinoza at [email protected]. You can follow her on Twitter @espinoza_kera.
Art&Seek is made possible through the generosity of our members. If you find this reporting valuable, consider making a tax-deductible gift today. Thank you.