Every day on Art&Seek, we're talking to people who have tips on art in the time of social distancing.  Share yours with us on Facebook, Instagram, or @artandseek on Twitter.  Click above to hear Tamara Johnson and Trey Burns with Sweet Pass Sculpture Park share their tip with KERA's Nilufer Arsala. 
While living in New York, artists Tamara Johnson and Trey Burns had a vision for a kind of a sculpture ranch, a big, wide-open space that could showcase emerging artists' contemporary work on a rotating basis. Well, if you're going to build a ranch, it's best to do it in Texas.
Coming to Dallas felt familiar for Georgia native Burns and was like coming home for Waco native Johnson.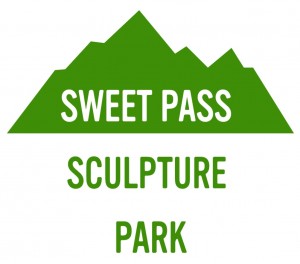 With the help of a friend, the husband and wife team found an empty but heavily wooded one-acre lot in the artsy warehouse section of Trinity Groves. Sweet Pass Sculpture Park has been up and running for two years now.  Johnson and Burns see Sweet Pass as an opportunity to help support artists that are just taking off in their career.
In the back of the park and under a grove of trees is their current exhibition "Breath Ascent Reveal." It's a nighttime video installation by New York sculptor Asif Mian. Mian was recently presented with the prestigious 2019-2020 Queens Museum-Jerome Foundation Fellowship for Emerging Artist with a forthcoming solo exhibition at The Queens Museum in New York.
"Breath Ascent Reveal" is a video performance shot with a thermal camera that is then projected onto a screen. The screen sits on a shallow pool, acting as a plinth, that reflects back the video and the surrounding park.
Thermal imaging has become a common visual in our society today. The sensors, used to detect body heat, are used in drone warfare and police surveillance and even gets played out in movies and television.
Trey Burns said, "It's an atmospheric performance that explores the politics of surveillance."
The artist statement reads:
The featureless, raceless body roams through institutional hallways under the gaze of a robotic, thermal sensing IR camera. He becomes the computer graphic, a high contrast black and white image, easy to spot, easy to kill. His life force – his breath an infrared detected heat – keeps him a target. – Asif Mian
Flanking that installation is a little rainbow-painted house.  It has been retrofitted to serve as Sweet Pass Sculpture Park's media space called SP2.
Inside you can see the immersive exhibit by recent SMU graduate Gabriella Mykal. "All I Have" features videos and objects that explore, through a "selfie gaze," an interior self in a constant state of change.
Johnson describes it as "a colorful exploration of both pop culture and social media personas."
Sweet Pass Sculpture Park is located at 402 Fabrication St. in Dallas. Entry to the park is free. To visit, email [email protected] to make an appointment.
You can follow Sweet Pass Sculpture Park on Instagram @sweetpassculpturepark.
Got a tip? Email Gila Espinoza at [email protected]. You can follow her on Twitter @espinoza_kera.
Art&Seek is made possible through the generosity of our members. If you find this reporting valuable, consider making a tax-deductible gift today. Thank you.