If you're a fan of black cats, monsters, and things that go bump in the night, there's just one weekend left to do the Monster Mash in your witch costume without the neighbors judging you too harshly.
Jump on your broom and nab the last little bit of spooky with these Halloween events handpicked by the Junior.
Grab your favorite ghoul and take a walk arm and arm through a twinkling, light-filled wonderland at Pumpkin Nights. The organizers of Pumpkin Nights decided that Christmas shouldn't get all the love when it comes to light displays, so they created a half-mile walking path full of lights with a definite pumpkiny flair. Some of the displays include the Forbidden Pumpkin City, a pirate's cove, and fantastical lands featuring over 3,000 hand-carved real and artificial pumpkins. There's also a festival area where you can catch the Spirit of the Pumpkins Fire show, games and refreshments. Pumpkin Nights happens nightly through Nov. 3 at Howell Farms in Arlington. Be sure to get your tickets in advance because they sell out quickly.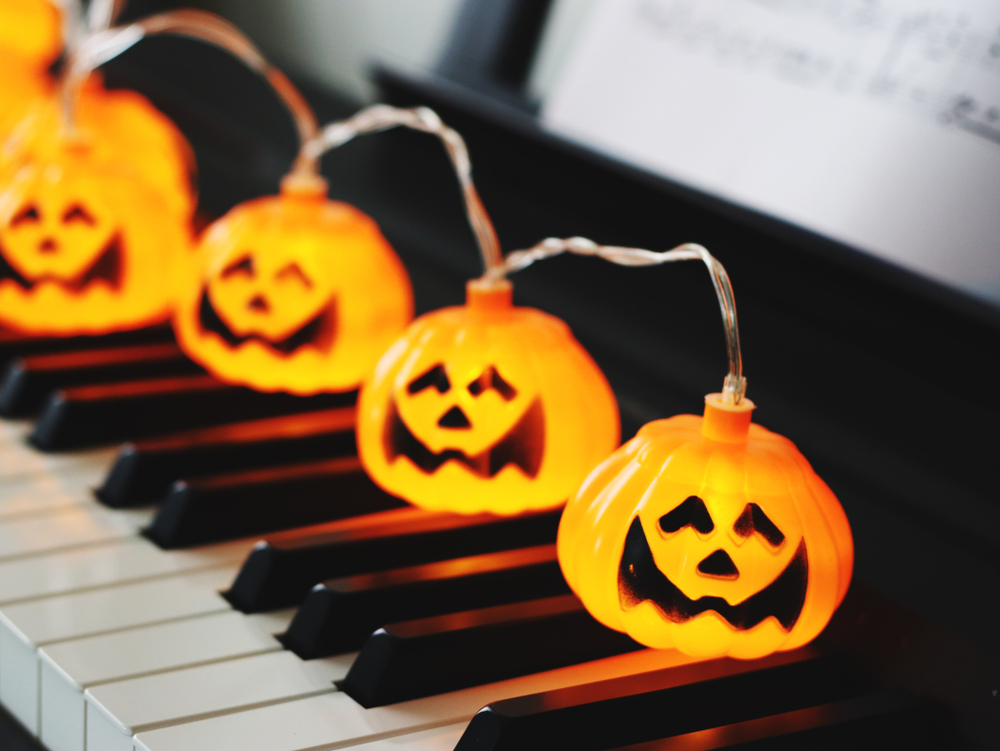 Photo: Shutterstock.com
Let the Allen Philharmonic Orchestra put you in a spooky frame of mind with their Hauntcert this Saturday evening. The family-friendly program includes Halloween favorites like "The Lion King" and "Phantom of the Opera," as well as classical favorites like "Night on Bald Mountain" and "In the Hall of the Mountain King." They'll even be performing "Jurassic Park," with a special surprise conductor! Be sure to get there early for pre-concert activities!
It looks like cooler temperatures are finally here to stay which means it's the perfect time to enjoy an outdoor festival. There is a bumper crop of fall festivals to choose from, and a good one you don't want to miss is the annual Halloween in the Park.  This annual family-friendly extravaganza happens this Saturday from 5 to 10 p.m. at Farmers Branch Historical Park and features Midway style carnival games, a family costume contest, bounce houses and tons of food vendors. If you want something a little bit scary, check out the Haunted Hedge. It's best for ages 9 and older. But don't worry,  there's also Boo-Ville, a not-so-scary area with activities for little monsters 5 and under.
Denton also has bragging rights for one of the best fall festivals around. Their annual Day of the Dead Festival happens this Saturday on Hickory and Industrial Street in beautiful downtown Denton. The quirky, community get-together is described by the organizers as "little harvest fest, a little Dia de los Muertos, a little Halloween, and a lot of Denton magic." There will be games and food vendors plus a variety of entertainment on hand including music and dancing, Don't miss the twilight lantern parade, and the coffin races which are sure to please monsters of all ages. For even more spooky fun, mosey on over to Dan's Silver Leaf for Cirque du Horror. This Halloween show is a collection of bone-chilling poems, spine-tingling short stories, and spooky songs. It's a  little song, a little dance, part musical theater, part cabaret and fun for all ages.
Last, but certainly not least, if you want to create a lasting fall memory with your children take them to a performance of The Petite Palace this weekend.  This eclectic tent show resembles a mini Cirque du Soleil combined with America's Got Talent, with a bit of Gallagher thrown in for good measure. You sit right on the sidelines of the action so you get to experience both the thrills and the spills up close (don't forget your raincoat). But besides daring feats of skill and lots of laughs the show also has several sweet moments that set it apart from other circus-type shows. A tender ukulele solo by young Lily Monday and bubble wrangling with performing partners Dick Monday and Tiffany Riley were two of my favorite acts. You can catch this big show in a tiny tent at the Bath House Culture Center on the shores of White Rock Lake through Nov. 3.
If you're looking for even more seasonal happenings check out our Halloween/Fall Festival Theme. And for a complete list of Pumpkin Patches in our neck of the woods look HERE.