This week is an extra special week–a sweet week, you might say. Not only is Valentine's Day happening, but there's also the added bonus of a day off. Thanks to our pals George Washington and Abraham Lincoln, who both have birthdays in February, we get to celebrate with a day off. That's right, people, along with that box of chocolates, this week also comes with a glorious mid-winter mini-vacation. Just think, 24 extra hours to relax, explore, or get reacquainted with the fam.
Here are some fantastic, family-friendly ways to celebrate cupid's favorite time of the year and help you put that 3-day weekend to good use.
Okay, so not everyone is a fan of V Day. If all the pink and red has got your teen feeling a little out of sorts, bring him or her to the Smith Public Library in Wylie this Thursday night for their Anti-Valentines Day Party.  Kids in grades 6-12 who love sweet treats but hate all the other Valentine stuff can "celebrate" this holiday with chocolate, mad libs, and dream date vision boards.
You might not be able to visit where Washington chopped down the cherry tree, but you can celebrate President's Day at Eisenhower's birthplace in Denison this Saturday. That's right, in case you didn't know, our 34th president, Dwight D. Eisenhower, was born in beautiful Denison. Take a tour of Ike's childhood home and join in activities like arts and crafts, a presidential podium photo shoot, games, story time, and trivia challenges.
Hold on to your hat! Besides President's Day and Valentine's Day, there's another reason to celebrate, that's because next week marks the beginning of National Engineers Week. And what better place to commemorate a week dedicated to science at the Perot Museum? Your budding scientist can see how engineers turn their ideas into reality and then do some engineering and problem solving on their own. During the week-long festivities, kids can build and drive a robot, learn about how cars are designed and tested for safety, or explore engineering concepts and experiments with the U.S. Army Corps of Engineers.
It's still anyone's guess if Punxsutawney Phil was right when he predicted an early spring on Groundhog Day. Hurry spring along and enjoy the great outdoors with a guided kayak tour at Lewisville Lake Environmental Learning Area this Saturday. You and the kids (ages 7+) can drift under willows, float past reeds and cattails, and see what wildlife you encounter on either McWhorter Creek or the Beaver Pond at LLELA. You'll receive an introduction to kayaking on dry land before pushing off into the water and all the equipment is provided. Be sure to register in advance; these trips fill up quickly.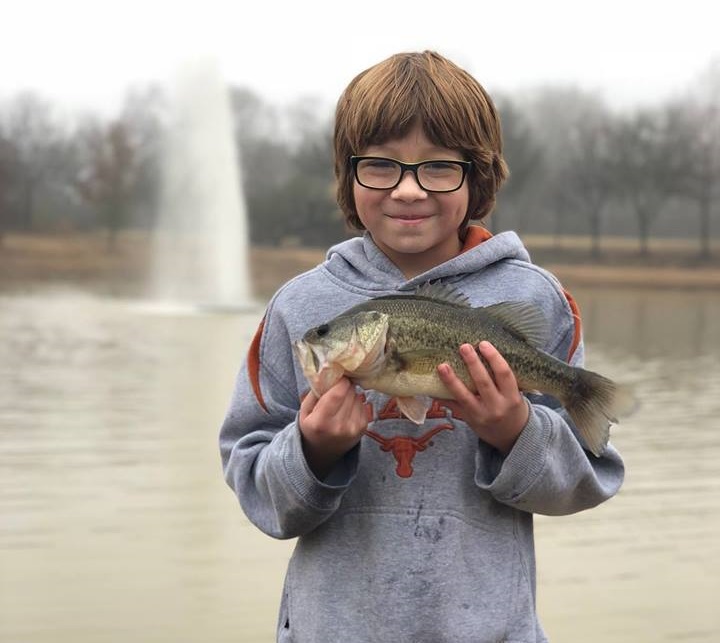 Photo: Keller Parks and RecreationIf you're a fan of relaxing, there's no better way to spend a long weekend than fishing. Your little anglers can reel in the big one at Fishing for Fun this Saturday at Keller Town Hall Pond. This free fishing event for kids 16 and under is being put on by Keller Parks and Recreation and Texas Parks and Wildlife and features prizes for the biggest and smallest catch, as well as fishing skill challenges. Bring your own gear and try to catch the biggest rainbow trout.