Faster than the valet at an Arts District hotspot! More powerful than a full symphony orchestra! Able to leap tall stage scenery in a single bound! Look, up in the sky! It's a bird! It's a plane! It's the Art&Seek Weekly Picks blog! Yes, this post has powers and abilities far beyond those of an ordinary arts blog. It gives you powerful insight into this week's arts scene while fighting a never-ending battle for entertainment, enrichment, and the American way!
Wednesday
The Amon Carter Museum of American Art challenges you to consider materialism with two films by New York videographer Jan Staller. "Cycle" is an abstract look at paper traveling down a conveyor belt on its first step to being recycled, "Saved" is a playful celebration at the hundreds of small tools and toys accumulated over the years by the artist.  Together these videos ask us to reflect on what we choose to keep and what we throw away.
The ArtCentre of Plano celebrates black excellence during the "Harlem Renaissance." Learn about the 400 years of the African American experience through documents, books, artifacts, and artwork from the Kinsey Collection.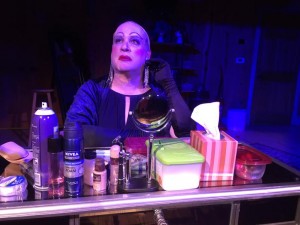 Thursday
The drag queen Lovely Uranus deals with impending unemployment and a failed relationship in the play, "A Lovely Goodbye." See the show at the Stone Cottage Theatre in the Addison Conference and Theatre Centre through August 12.
The Dallas Arboretum is offering discounted admission throughout the month of August. Enjoy the award-winning gardens and the wind sculptures by Lyman Whitaker for just $2.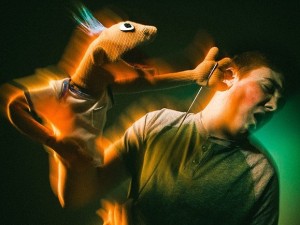 Friday
"Hand to God" is the newest production from Addison's WaterTower Theater. Written by Art&Seek Spotlight Artist Robert Askins, the raunchy comedy is about an anxious teen battling his demonic hand puppet. See it through August 26 at the Addison Conference and Theatre Centre.
In concurrence with his solo exhibition "A Plain View: Photographs from Texas," Jason Lee will be at Denton's Patterson-Appleton Arts Center tonight for an Artist's Talk. The actor and former skateboarder will discuss his artistic process and his transition into photography.
Saturday/Sunday
On Saturday, Art&Seek Spotlight Artists Spiderweb Salon celebrate their sixth anniversary with performances at Dan's Silverleaf in Denton. Come out for fantastic festivities, thought-provoking performances, and awe-inspiring collaborations.
Also on Saturday, preserve historical artifacts like love letters and family videos at the History Harvest and Texas Film Round-Up at the Wichita Falls Public Library.
Throughout the weekend, see "Queer Occurrences" at the Rosewood Center for Family Arts. This play is part LGBTQ comedy, part romance, and part murder mystery.
Also happening this weekend, Big Rig Dance Collective hosts a summer contemporary dance intensive. Check out the Dance Co-Op at UT Arlington.
Monday
Photographer and environmentalist, Ansel Adams is known for his black-and-white landscape photographs of the American West. But the current exhibition at the Dallas Holocaust Museum showcases his work inside Japanese-American internment camps. See "Manzanar: The Wartime Photographs of Ansel Adams" through August 7.
The iconic Route 66, which stretches from Chicago to LA, is the subject of Natalie Slater's photography exhibition "The Mother Road Revisited: Route 66 Then and Now." It's at the Irving Arts Center through September 2.
Tuesday
The Amon Carter Museum of American Art shines a light on the vanishing culture of native peoples with the new exhibition, "In Our Own Words." The show features twenty-six vibrantly colored printed portraits of members of North Dakota Indian nations by artists Daniel Heyman and Lucy Ganje. The show is on display through Oct. 7.
Bare Bones Shakespeare wants to help you find your inner thespian. Learn to speak Shakespearean and become a (moderately) classically trained Shakespearean actor at The "Beginner's Bard." The event happens on Tuesdays through Sept. 18 at the Dallas Public Library's Central Branch.
For more on these and other events, explore the Art&Seek calendar.