February gets kind of a bad rap. Not only does it happen at the most boring time of the year, (let's face it, October, November, and December are hard acts to follow) but sometimes February weather isn't the best either, especially if you like being outdoors.
I think February should hire a marketing company and get "re-branded" as the PR peeps like to say. There's plenty to like about the sweetest month. Besides Valentine's Day, there's also Chinese New Year, Fat Tuesday, Black History Month, AND President's Day; which incidentally, means a day off from school for the kiddos. There's also Groundhog Day in there which means the weather can be fickle, but it also means the days are getting longer–and warmer with each passing day. And remember, this is Texas. You're going to wish for these cool, breezy days come July.
This week's Junior is a mixed bag of family-friendly events that celebrates everything we love about the shortest month of the year.
Speaking of Valentines, gather up your sweeties and head to Wildflower Art Studio in Denton this Saturday for a Valentine-Making Party. The kiddos will be creating cards using a technique called paper quilling, a process where you coil and shape narrow paper strips to make a design. The little kiddles (ages 5 and up) will be divided up into groups according to age and skill level in this 1.5-hour workshop. Space is limited, so don't dilly-dally in reserving a spot.
If you're looking for a way to celebrate Valentine's Day al fresco, stop by Klyde Warren Park in Dallas this Saturday afternoon for Hearts in the Park. The 60s-themed event will feature music, crafts, dancing, trivia and sweet treats. You can do everything from learning the Twist to watching a screening of "Dr. No" at this family-friendly extravaganza. Just a heads up–the event goes on into the evening but the activities for kids happen from 3 to 6 p.m.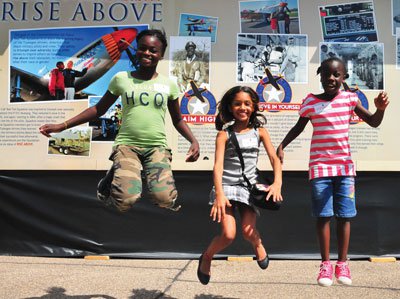 Celebrate Black History Month at RISE ABOVE, a traveling exhibit that tells the story of the Tuskegee Airmen and their struggle for civil rights. The exhibit is a mobile movie theater that seats 30 people and screens the original film "Rise Above." The film is projected on a 160-degree panoramic screen that creates the feeling of being in the cockpit of a P-51C Mustang, the signature aircraft of the Tuskegee Airmen. See this free inspirational film at Dallas Executive Airport through Feb. 16.
The Super Bowl may be over and March Madness is still a few weeks off, but lovers of a good competition can get their fix at Allen Parks and Recreation's Annual Duck Derby. The participants are rubber duckies, not athletes, but you'll cheer all the same as they race down the lazy river at Rodenbaugh Natatorium Saturday morning at 10 a.m.  Purchase your "racing duck" at the natatorium, decorate it and then return it for judging by 5 p.m. on Friday, Feb. 9.  Awards will be given to the fastest and best-decorated ducks.
Gather up your strings of beads, Fat Tuesday is just a week away! Get a jump on Mardi Gras this weekend at the annual Krewe of Barkus Parade. Far from ordinary, this family-friendly event features more than 250 costumed pooches (and their human pals) and promises to be a spectacle of canines and creativity. Put on your lederhosen and Scottish kilt because the theme for this year is,"The Bark-A-Palooza Tour Around the World – Celebrating Countries & Cultures Across the Globe," The event is in its 16th year, and beside the parade, it will also feature vendor booths, interactive activities and more. The fun begins at 12:30 p.m. this Sunday at Mitchell Park in historic Downtown McKinney.
There's no better cure for the winter blues than a good dose of the sillies. Grand Prairie's own local pirate band, the Bilge Pumps will be at Uptown Theater this Saturday night for an evening full of pirate music, great fun, and nautical nonsense for the entire family. Joining the Pumps will be the Selkie Girls, who will open the show with their own brand of Celtic and folk music that will be sure to entrance and delight. There will also be pre-show of pirate poetry by Seadog Slam who will be entertaining everyone with salty rhymes in the lobby. The Pirates on the Prairie VII show starts at 6 p.m.so don't be a scurvy dog and miss out!