North Texas has been a cradle of musical creativity — for everything from blues to rockabilly, gospel to Tejano. But music history books tend to focus on a single artist, a single genre or the music scene in a single city. A new book aims to embrace more, the jumble of influences and musical fusions in the Dallas-Fort Worth area.
Co-written by Gene Fowler and William Williams, Metro Music: Celebrating a Century of the Trinity River Groove compiles the cross-pollinations that happened across North Texas, all the way up into the 1970s. The new history is a scrapbook or a dive into period posters, press clippings, album covers, business cards and photos.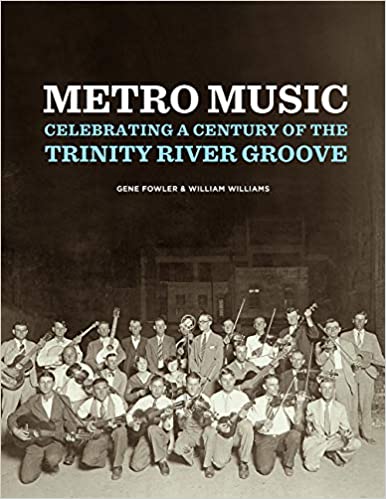 "I wanted to make it a book that would reveal the broader scope of the music history of Dallas-Fort Worth," said Fowler. "It had never been done before. There'd been books simply about Deep Ellum or Western swing, but there'd never been one that looked at the entire soup of musical heritage."
The blues legend and electric-guitar pioneer T-Bone Walker debuted in 1929 with "Trinity River Blues." It's not just the name of his song but the musician himself who represents some of what Metro Music is all about. Walker recorded the song under the name Oak Cliff T-Bone — that's where he's from.
But Walker established himself as a promising musical artist, not in Dallas, but in Fort Worth. In his early 20s, he headed west to lead the house band in the Jim Hotel, one of Fort Worth's leading venues for both blues and jazz (and a Black-only clientele).
In short, musical influences and talents traveled every-which-way across the Trinity. To give some sense of the diversity, the influences and some of the famous and the overlooked artists captured in Metro Music, here are three moments and/or musicians.
The Fort Worth Beat: Western swing gets jump-started.
Arguably, North Texas was the birthplace of Western swing – back in 1929 when singer Milton Brown met Bob Wills and guitarist Herman Armspringer playing at a dance in Fort Worth.
"Bob Wills brought an old-time fiddle tradition when he came to Fort Worth," Fowler said. "And Milton Brown was interested in the jazz and big-band sounds of the day. And they started this group called the Light Crust Doughboys" in 1929.  "And that's what really kicked off the beginnings of Western swing. People referred to it as the Fort Worth beat."
It was the first of several nicknames attached to the music scene in Fort Worth including "Cowtown Cool" and, of course, "Funkytown."
The Doughboys' "hot-jazz hillbilly sound" survived Brown's split with the band in 1932; he went on to create the popular, jazzier Musical Brownies. Brown died in 1936, but by then, Wills had formed his own group, the most famous Western swing band of all, Bob Wills and his Texas Playboys.
To give an idea of just how huge a deal Western swing was: The Light Crust Doughboys were sponsored by the Burris Mill and Elevator Company, and the band's immediate radio success helped launch the political career of the flour company's autocratic general manager, W. Lee "Pappy" O'Daniel. He eventually became a controversial governor of Texas  (1939-1941) and a U. S. senator (1941-1949).
The music's impact still lingers. Both the Light Crust Doughboys and the Texas Playboys continue to tour as nostalgia acts today. Even the huge nightclub built for Bob Wills in Dallas back in 1950 — originally Bob Wills Ranch House — still stands.
It became the legendary Longhorn Ballroom. And Kessler Theater owner Edwin Cabaniss hopes to restore it.
A Mexican fiddle-player could excel in more than one musical format.
Not surprisingly Western swing crossed into almost every other form of music in North Texas — including conjunto, which is basically traditional Mexican musical styles mixed with German polkas.
Musicians plucked inspiration from different creative streams, but this blending also happened for purely work-related reasons: Musicians needed to work. So talented ones would get gigs with several bands at once — like violinist Alfredo Casares, who managed to pursue careers with both Anglo bands and his own native ensembles.
"Alfredo came to Texas from Mexico in the 1920s," Fowler said, "and he became a very accomplished breakdown fiddler. He got jobs with a lot of Anglo Western swing bands. He was with the Light Crust Doughboys for a time. I like to say that he was multi-cultural before multi-culturalism was cool — because he branched out into lots of different fields."
In addition to working with such groups as the Doughboys, Casares led a series of Mexican musical bands over the years, including Professor Casares and His Boys and the Mexican Serenaders on WFAA radio. In the '50s, he even served as emcee on the WFAA-TV program, Mexican Jamboree, fronting the Fred Casares Orchestra.
Casares led a long and successful career. In his 90s, he was feted in 1991 with a tribute concert by other Latin bandleaders and musicians at the Cruz Ballroom in Dallas.
The business side of music often gets overlooked in histories. But North Texas has had influential recording studios and musical entrepreneurs.
The Dallas-Fort Worth area has produced a long line of major sax players: Ornette Coleman, King Curtis, David "Fathead" Newman. But one that's been mostly forgotten was a big deal in the '60s: Big Bo Thomas.
"He was a very popular and busy entrepreneur," said Fowler. "He eventually branched out into owning three clubs in Dallas and then he had his own record label. And he was a popular recording artist. He had a tune in the '60s called 'Big Bo's Twist' that reportedly sold tens of thousands of copies in a few weeks."
In addition to busy entrepreneurs like Thomas, North Texas was home to historically important recording studios – like 508 Park, where blues great Robert Johnson recorded in the late '30s. We also had influential audio engineers, notably Jim Beck, whose recording skills and smart marketing ideas were instrumental in creating Texas country music's "honky tonk" sound, which combined clean, old-fashioned studio techniques with raucous roadhouse piano.
Fowler said some music scholars have even argued that Beck's sound was so influential, if he hadn't died in 1956 at 39, Dallas could have developed into 'the next Nashville.' Columbia and Decca had already been planning to move their country music outfits here.
As a sampler-history of North Texas music, Metro Music draws to a close in the '70s because, Fowler explained, he and Williams felt they couldn't find enough material to do justice to the whole mix of stuff that happened here in the past 30-40 years.
So is he planning to do a second volume?
"Well," Fowler said, "I'm hoping some younger person who's hooked into the more recent scene will take that up and do a book from, say, '81 to the present 'cuz I think it could be a really interesting book."
Here's hoping.
More musical samples from Metro Music:
The classic Dallas song, "Deep Ellum Blues," has long been associated with Leadbelly, but it's not known for certain that he wrote it. The first known recording was actually by the Lone Star Cowboys in 1933 – later covers include ones by the Grateful Dead, Hot Tuna, Jimmie Dale Gilmore and Levon Helm.
Ernest Tubb, the Texas Troubador, recorded his biggest hit, "Walking the Floor Over You," in 1941 — launching the "honky tonk" style of country music. Tubb wrote it during his two years in Fort Worth, but it was recorded at Biggs Studio in Dallas:
In the late '60s, the Novas were one of the more popular bands in Dallas. It's easy to hear why — the harmonies and musical influences from the Beatles, the Hollies and the Byrds. If  told "William Junior" was a lost outtake from the Monkees, you might believe it, the song is such a perfect time capsule of pop music from the period:
Got a tip? Email Jerome Weeks at [email protected]. You can follow him on Twitter @dazeandweex.
Art&Seek is made possible through the generosity of our members. If you find this reporting valuable, consider making a tax-deductible gift today. Thank you.