Editor's note: As the pandemic continues, KERA and The Dallas Morning News are collaborating to document its impact on North Texas' arts and culture scene. KERA's Jerome Weeks follows up on a popular Facebook group for people who want to put up performance videos. It was created in 2020, in response to the isolation caused by COVID-19.
After the COVID quarantine hit, Dallas real estate agent Mikey Abrams wanted a place online where he and his theater friends could escape — to have fun, wear silly costumes and sing songs.
He created a Facebook group, Quarantined Cabaret, as a kind of campy, light-hearted, digital vaudeville. People posted tap-dance videos. They played classical instruments. They sang show tunes.
In less than a week after Abrams created it, Quarantined Cabaret had 20,000 followers. Since then, it's gathered 25,000 more. People are posting 24/7, and Abrams has volunteers to monitor the deluge.
It's always been partly about showing off or finding an audience to replace in-person ones. But particularly for some serious local talents, Quarantined Cabaret also became something of a practice session or a launching pad.

Caroline Rivera and her ukulele
A year ago, the pandemic meant Caroline Rivera's husband was working from home. Their daughter was at home. And Rivera was at home — working long-distance in international trade: "It's very nerdy," she said.
The 40-year-old Rivera lives in Grapevine. She's been a musical theater performer, but there's not been much of that lately.
So she was restless. She bought a ukulele. She'd never played one but the plan was: learn to play it and sing along and keep her stage skills sharp.
Then a friend kept asking to see a video of how things were going.
Rivera said: "I was like, 'Fine. Here, this is how it's going.' And I tried to play 'You Are My Sunshine.'"
In the video, she can't even get through the opening words, "You are my sunshine," without cracking up.
She posted it on Quarantined Cabaret.
"It got a lot of laughs," Rivera said. "So I thought, well, I'll just keep posting."
In two months, this was how things were going: Rivera had learned to add flamenco beats to her strumming while singing Camila Cabello's 2017 hit, "Havana."
A year after she started, Rivera has posted more than 28 videos to the Facebook page.
"Even if you post something that's not your best," she said, "somebody's going to say, 'Whatever you're doing, just keep going.' So I did."
So now Rivera's thinking about maybe learning the banjo as well — and possibly putting together a cabaret set. And she got an actual stage gig. She performed in Firehouse Theatre's recent production of In the Heights.
Lachuné Boyd and her brush with Coldplay
Lachuné Boyd was looking for that kind of supportive audience.
She moved to Fort Worth from Georgia three years ago — she barely knew anyone here. She came to earn her master's in music at Southwestern Baptist Theological Seminary.
Then COVID hit; she lost her job. Her school canceled plans for a new a cappella choir she was in.
"So Quarantined Cabaret pretty much gave me this community — a lot of people celebrating one another," Boyd said. "And I wanted to be a part of that."
Boyd started teaching herself recording techniques. She posted her videos on Quarantined Cabaret, Instagram, TikTok.
She's become known for lending her incredible gospel talents to covers of songs by pop groups like the Kings of Leon.
"Those were my go-to songs," she said. "You know, when I was thinking about home, and in that moment, it was like the lyrics came alive for me."
Then she recorded Coldplay's 2005 song, "Fix You." By now, there's been a swarm of covers of the song, including ones by BTS and Ed Sheeran.
But because of her astonishingly gifted voice, Boyd's version puts those others in the shade. Don't believe?
Coldplay noticed it on TikTok, and commented, "Brilliant!" with a fire emoji.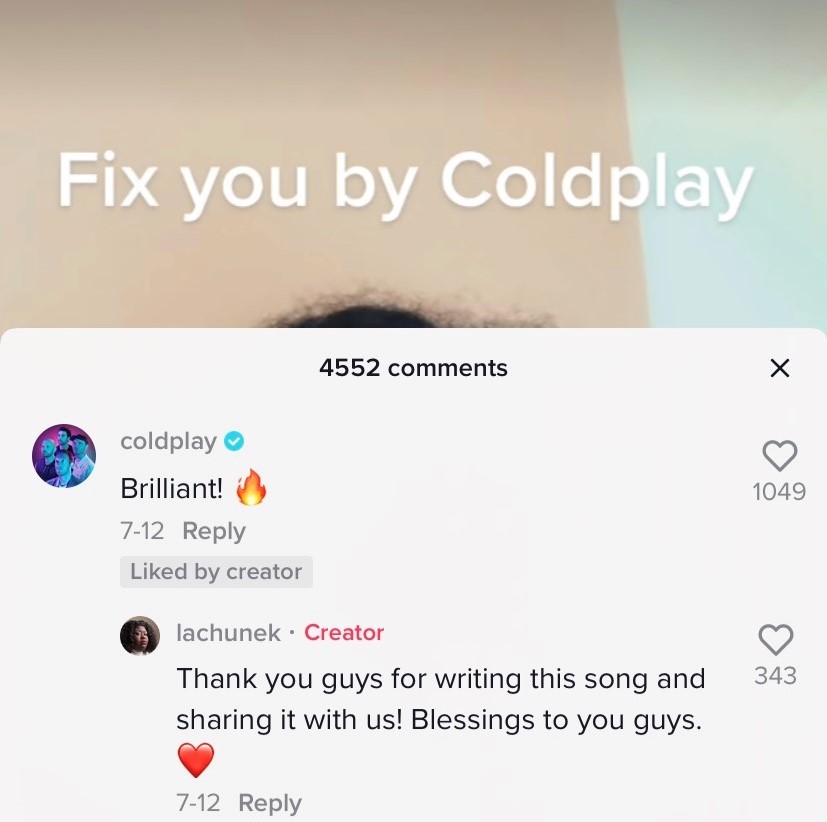 "The fact that they just commented," she said, "was more than enough to make me just really crazy happy because – it's Coldplay."
Since then, her TikTok videos have had tens of thousands of views, including one duet of "Fix You" with more than 1 million.
Boyd graduates in the spring. She's got more than 55,ooo followers on TikTok, listening to her covers of gospel numbers and jazz standards. She has songs on Spotify. She's making a cappella recordings for a dance studio in New York. And she's an artist in residence with the Birchman Baptist Church. She's been singing as a soloist with the choir and they're releasing an album soon.
Will the cabaret continue?
Quarantined Cabaret has become something personal and important for Abrams as well. The guy who created the Facebook group was cleaning out things recently and came across a list of life goals he'd written some time in his 20s.
The 45-year-old Abrams had worked at Don't Tell Mama, the well-known New York piano bar and cabaret on 46th Street. It's an after-hours hangout for many working in the nearby Broadway theaters, and Abrams remembered it fondly as a place that regularly had talents like Nathan Lane coming through the door. Running a nightspot like that looked like fun, he said, practically a non-stop party.
Which is why one of the personal goals he'd written — goals he'd long forgotten — was simply: "Own your own cabaret."
Reading that, Abrams said, "I got really choked up. It's a weird, roundabout way — but I got to accomplish this goal."
Then there are the messages Abrams gets from Cabaret followers.

One was from a gay man in Idaho. His town is so isolated, he told Abrams, there's no theater, no arts community. Abrams said the guy told him he doesn't even know anyone else there who's gay. Almost like a pilgrimage, once a year, he'd drive three hours just to see a Broadway musical tour.
And with the pandemic shutting down such shows, not even that was available to him.
"So he said, 'Thank you for creating this space 'cuz that theater was the only place I could truly be comfortable, truly be myself.'
"So stuff like that, you know, made me think," Abrams said.
"This is more than just a bunch of silly songs on Facebook."
That's why, when all the COVID precautions eventually disappear, Abrams said, he's not going to close down the Quarantined Cabaret.
A version of this story aired on KERA-FM (90.1) and appears on dallasnews.com. It will also appear in the newspaper.
Got a tip? Email Jerome Weeks at [email protected]. You can follow him on Twitter @dazeandweex.
Art&Seek is made possible through the generosity of our members. If you find this reporting valuable, consider making a tax-deductible gift today. Thank you.