For those fortunate people who truly find purpose in their lives, that discovery can happen early on. For others, that revelation may come later in life, as it did for Kumiko Johnson.
Johnson has been painting since she was a young girl in Japan. Her father taught her traditional Japanese calligraphy, Shodo, and the joy of painting.
She graduated from the prestigious Tokyo University of the Arts.  When she came to the United States she worked as a textile artist, created greeting cards, packaging, and display designs at Neiman Marcus. All of those jobs were just training, she said, sharpening her skills to prepare her for what she does now.
At the age of 75, Johnson has found the purpose in her life  – to paint portraits of people from different cultures in order to tell their stories that honor and respect them.
"I started painting portraits, especially Native American, African American, and my culture because we have a strong connection to Nature." -Kumiko Johnson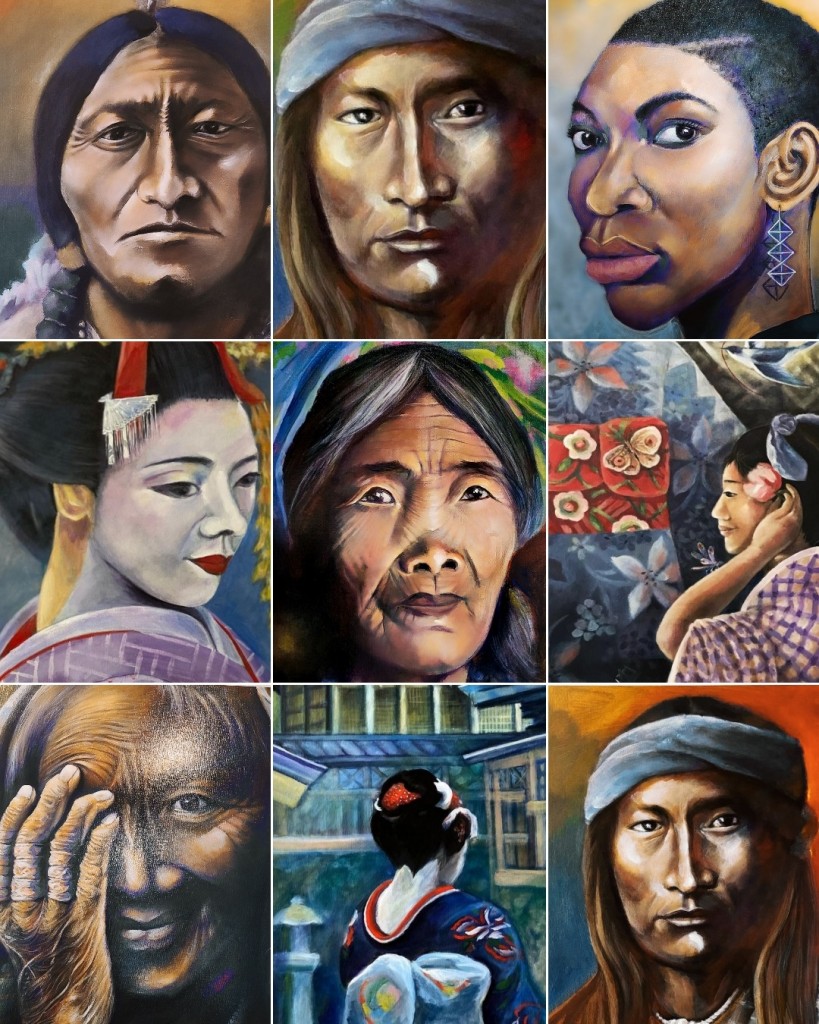 Johnson was very productive during quarantine last year. She painted 40 portraits in 60 days. Johnson currently has two shows displaying her works. They are the first times the septuagenarian has shown her art publicly.
You can still catch her first show "Love, Honor, and Respect: A Tribute to the Indigenous Americans" at Msanii Hous in Carrollton through May 15.
While working at her computer, Johnson came across a picture of Native American, writer, and actor Chief Dan George (The Outlaw Josey Wales and Little Big Man). Johnson said when George's image kept coming to her she read about him and his writings. George wrote about the natural world and humans' responsibility to take care of the earth, of animals, and one another, and lamented the oppression of Indigenous peoples.
"I'm Japanese so I didn't know all the things exactly that happened here but I'm here now. And I'm reading all the things that happened and it's not fair. . . And I think we need to talk about it. We need to see it," said Johnson.
"There are so many Native Americans still out there. They need to be honored. They need to be respected. That's what my job is to paint them as well as I can. Like showing they are proud. Showing their honor."
Since the show opened, Johnson said Native Americans have reached out to her to thank her. "They said they so appreciate what I'm doing because they thought they were forgotten. So I said, 'Oh yes, I did the right thing.'"
Johnson's second show "Dancing with Moon" just opened at Pencil on Paper gallery in Farmers Branch. It will be open until June 18.  She said this show is a tribute to her father. He is the one who got her into art.
The brightly colored paintings feature imagery from her Japanese culture, images that feel comfortable and natural for Johnson.
"I see the flower. I see the insect. I see nature. I see the kimono. I see the music. I see all the things. That's why I create them to make me feel peaceful and balanced."
Johnson said people may come out to the two galleries and see two different cultures but that they are really the same thing. They'll all see art connecting people to nature and to humanity.
"You know it's important one nation, all different people together. Harmony, balance."
Got a tip? Email Gila Espinoza at [email protected]. You can follow her on Twitter @espinoza_kera.
Art&Seek is made possible through the generosity of our members. If you find this reporting valuable, consider making a tax-deductible gift today. Thank you.