Deep Vellum, the nonprofit publishing house in Dallas, won a leading American book prize, the $3000 PEN Award for Poetry in Translation, for Raised by Wolves, by Amang, translated by Steve Bradbury. A second book, Girls Lost by Jessica Schiefauer, was a finalist for the PEN Translation Prize in Fiction.
Other winners this year include essayist Barbara Ehrenreich (Had I Known) and historian Saidiya Hartman (Wayward Lives, Beautiful Experiments: Intimate Histories of Riotous Black Girls, Troublesome Women, and Queer Radicals). Founded in 1922, PEN stands for  Poets, Playwrights, Editors, Essayists and Novelists, and PEN America is part of the PEN International network, which, in addition to recognizing literary achievement, champions freedom of expression around the world. The PEN America Literary Awards have been presented since 1963.

The full release:
DEEP VELLUM WINS TWO MAJOR LITERARY PRIZES
April 9, 2021 – Raised by Wolves by Amang, published by Deep Vellum imprint Phoneme and translated from the Chinese by Steve Bradbury, has won the 2021 PEN Award for Poetry in Translation. The PEN Award for Poetry in Translation is conferred yearly on a book-length translation of poetry from any language into English and is the most prestigious American annual prize for a book of translated poetry.
From the judges' citation: "There is a lot of talk about innovative translation, but rarely can we point to a book that profoundly breaks new ground. Raised by Wolves is one such work… Amang and Bradbury bring forth a new literary model: translation that uses documentary to confess its own lyrical, actively empathetic, and at times splendidly messy collaborative process—all crafted with rigor, humor, and grace.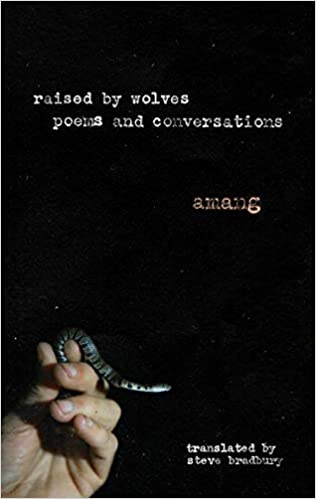 Incisive and confessional, Raised by Wolves collects the most acclaimed work of Taiwanese poet and filmmaker, Amang. Keenly observational yet occasionally absurd, these poems are urgent and lucid, as Amang embraces the cruelty and beauty of life in equal measure. Raised by Wolves also presents a groundbreaking new framework for translation, featuring dialogues between author and her translator, Steve Bradbury, positing bold new theory for the act and art of translation, alongside playful conversation between two artists who happen to be close friends, as well as photographs by the poet and translator that add further depth to the work alongside the poems. This title was published by Phoneme, an imprint of Deep Vellum, in September 2020.
The PEN America Literary Awards Ceremony was held virtually the evening of April 8 and hosted by Kara Young. The ceremony is viewable online here. The 2021 PEN Award for Poetry in Translation was juried by Daniel Borzutsky, Marissa Davis, and Meg Matich. This award brings with it a cash prize of $3000.
In addition, Deep Vellum title Girls Lost by Jessica Schiefauer (translated from the Swedish by Saskia Vogel) was a finalist for the PEN Translation Prize in Fiction, which was won by Abdellah Taïa for A Country for Dying, translated by Emma Ramadan, who has translated five books for Deep Vellum as well, including most recently Anne Garréta's In Concrete, and who was nominated for the PEN Translation Prize for her translation of Garréta's debut novel in English, Sphinx (Deep Vellum, 2015).
Since 1963, the PEN America Literary Awards Program has honored outstanding voices in fiction, poetry, science writing, essays, biography, children's literature, translation, drama, and more. this year PEN America conferred over 20 distinct juried awards, grants, and prizes, awarding more than $380,000 to more than 40 writers and translators. Find a full list of 2021 PEN Award winners here.