Gospel music has powered civil rights protests from Selma to Black Lives Matter. It's provided strength and inspiration — and completely changed the sound of American music. But a lot of older Black gospel recordings are disappearing. In Waco, there's an archive that's working to rescue them.
"The Old Ship of Zion" is an old Christian hymn written in 1889. It's been covered by dozens of groups, bluegrass artists, country-western singers, church choirs. But there's a particularly haunting "Old Ship of Zion" that was recorded in the 1970s by a mostly forgotten, Maryland gospel group, the Mighty Wonders.
It's a wonder their single survived. Maybe 100 copies of the 45 rpm recording were ever printed.
This month, KERA's celebrating the impact and legacy of Black Churches in North Texas. Learn more at
kera.org/blackchurch
. 
But one copy made it to the Black Gospel Music Restoration Project at Baylor University. The project is a digital archive, the largest of its kind. It seeks to preserve American gospel recordings before they're gone.
"What I'd always wanted to write was a history of gospel music," said Baylor journalism professor Robert Darden. He established the Restoration Project in Waco and appears in the new PBS documentary, The Black Church:  This Is Our Story, This Is Our Song. KERA-TV airs the two-part documentary starting Tuesday evening.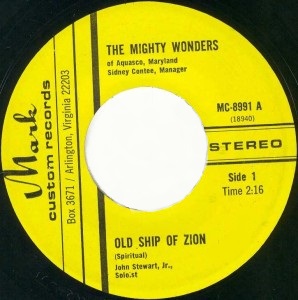 Darden eventually did write both People Get Ready and the two volumes of Nothing But Love in God's Water. But in researching those histories, he said, "The problem was I would come across songs that changed American music, but they weren't available. Not on eBay, not on Amazon, nowhere."
Actually, the earliest gospel vinyl records often are available because their music copyrights have lapsed. Labels have been re-packaging them — on vinyl or in digital formats. Darden said it's music recorded after the '30s and '40s — the great mass of gospel vinyl and cassette tapes — that can mostly be found in attics, garages and thrift shops.
So it's getting tossed out.
"And future generations are going to judge us harshly," said Darden.
Why? Why is preserving Black gospel music – in particular — so important?
"It made us who we are," said Professor Deborah Smith Pollard. She teaches classes on gospel music at the University of Michigan-Dearborn. "Because it's the musical form that was created in this country, it still matters."
So much of American music – by Black and white artists – was born in gospel. Ray Charles, Sam Cooke, Johnny Cash, Aretha Franklin, Marvin Gaye, Dolly Parton. The list goes on: Jerry Lee Lewis recorded a gospel album. Charley Pride recorded two. Elvis Presley made three.
And that musical influence isn't confined to some pre-historic age. Today, you can hear it in the voices of singers like John Legend and Janelle Monáe.  Even Snoop Dogg has recorded a 32-track gospel album, Bible of Love. 
[Follow the remarkable, musical and political path of just one classic song, O Mary Don't You Weep — through the nearly 100 years since it was first recorded.]
Afton Battle is general director of Fort Worth Opera — she trained and sang as an opera soprano. But growing up, her first vocal teacher was the Black church. Her father is a Baptist pastor.
"There is something undeniably unique about a talented Black voice," Battle said. "We grew up singing in church. So we grew up with gospel — or most of us did. So that's within us. And so we have this ability to run up and down a scale, up and down the keyboard, in all ranges of the voice."
Gospel helped bring that Black singing voice to American music. And from the start, that singing voice has been central to the Black church — originally, out of harsh necessity. In her classes, Pollard asks her students to imagine themselves as enslaved Africans who've had absolutely everything taken away from them. They have nothing – no homes, no personal belongings, in many cases not even their families.
"What would happen if, without any warning, they were taken to the other side of the world?" Pollard asks her classes. "What would they still have? Their voice. And the music that's inside of them."
From that voice, everything else sprang: church, community, culture. Gospel songs were the clarion call of the civil rights movement, inspiring it, attracting people to it. The songs were chanted in meetings and marches. They were sung in jails — to bolster protesters' spirits, to entertain fellow prisoners, sometimes to exasperate the guards.
Monya Logan is minister of worship and the arts at St. Luke's Community United Methodist Church in Dallas.
"Gospel music has sustained us as a community through our good days and our bad days," Logan said. "It helps us stay connected, no matter our differences."
As a journalist, Robert Darden had worked at Billboard magazine, writing a column on gospel music for eight years; he knows many of the country's leading gospel record collectors. Together, they estimated that about 75 percent of all gospel recordings were currently unavailable.
So in 2005, Darden's fears about old gospel music records disappearing led him to dash off a warning. He sent an unsolicited op-ed column to The New York Times — which typically receives around 800 such submissions a week. So he was surprised when the newspaper actually printed his call to action: "Gospel's Got The Blues."
"And the next morning," Darden said, "I got a call from a gentleman named Charles M. Royce, who said, 'I don't know anything about gospel music, but I believe what you said. So you figure out how to save it, and I'll pay for it.' "
Royce is an investment manager and a freelance philanthropist, giving money to projects he finds worthy. To create and store digital copies, Darden worked with Baylor librarians to devise a budget of $350,000 to build and staff a professional studio and archive. And so the Project found a home in the Moody Memorial Library on campus. After Royce's donation ran out, Baylor has picked up the tab. The Restoration Project now has some 14,000 items digitized. Copies of the items are shared with the Smithsonian's National Museum of African American History and Culture in D.C. [Here's Darden's 2007 interview with Terry Gross on Fresh Air.]
Because gospel songs were so often intertwined with preachers' sermons — inspiring them, taking off from them — Darden in recent years has also begun collecting the recorded sermons and speeches of civil rights religious leaders. He was surprised to discover that, other than the famous speeches by Martin Luther King, very few were being preserved. We're talking about sermons by some of the most important leaders of the movement, such as Fred Shuttlesworth and Ralph Abernathy.
So — why preserve gospel? Because it's not some historic relic. It still speaks to people. Gospel great Shirley Caesar released a new, angry, relevant song last year.
It's called "Take Your Knee Off My Neck."
And today, gospel reaches far beyond America. Darden pointed out, in 1989, "We Shall Overcome" was sung at the fall of the Berlin Wall.
"They sang it in the Arab Spring," Darden said.  "We have references on Tiananmen Square."
Gospel songs have been able to provide strength and inspiration to so many for so long  — because they also offer us joy.
Or, as Darden puts it, who doesn't like "Oh Happy Day"?
Do you have a vinyl or tape recording of Black gospel music you'd like to loan or contribute to the Black Gospel Music Restoration Project? Mail it to the Project — and if they don't already have a copy — they'll digitize it. You can either donate your original to the archive or, if you wish to keep it, they'll ship it back to you, postage paid. Here's
the mailing info.
Got a tip? Email Jerome Weeks at [email protected]. You can follow him on Twitter @dazeandweex.
Art&Seek is made possible through the generosity of our members. If you find this reporting valuable, consider making a tax-deductible gift today. Thank you.