The weekend forecast is cold and rainy. Not so great for outside activities, but perfect weather for snuggling up with with good book.
If you're looking for your next great read join the Irving Public Library this Saturday as they kick off the NEA Big Read–a nationwide initiative for communities to read books together.
The library has selected a book of poetry called A Small Story About the Sky by Arizona's first poet laureate, Alberto Ríos as their NEA Big Read title.
The NEA Big Read website describes the book as "A celebration of the everyday…The pages are filled with honeymoons and fiestas, fences and mirrors, beetles and crows, remedies and prayers, modern observances and ancient whispers, and a misheard weatherman predicting "rain and a chance of lizards."'
Mandy Aguilar, Grants and Outreach Librarian for the Irving Public Library, says they will be exploring this book with their community for about 5 weeks.
"We'll be talking about the different forms of poetry and about the landscape of the American Southwest, because many of the poems are set in that landscape. And we will also be talking about celebrating the Hispanic culture, which also features heavily in the poems."
The Irving Public Library is hosting a number of free, virtual events to help inspire creativity including art projects, a poetry contest, poetry workshops and a poetry slam.
"I am most excited about the slam poetry events we're going to have," said Aguilar. "We have two workshops–one for teens, one for adults–during the five week program. Folks who go through those workshops will have the opportunity to perform their own slam poetry. We're doing this in partnership with Dallas Poetry Slam. Who are professional slam poets, so they will be helping our community learn that really fun and exciting skill. I think this is a really great way for people of all ages to become excited about poetry."
Aguilar says that A Small Story About the Sky is very accessible and you don't need to have a Masters degree in literature to enjoy it. It's fun. It's poignant. It might make you laugh. It might make you cry. And it will make you think.
The program is also for all ages. There are also number of free, virtual activities planned for young children that incorporates the theme of the book including bi-lingual storytimes, puppet shows, books about the desert and events to get the whole family involved.
 "We give because someone gave to us. / We give because nobody gave to us." – from Alberto Ríos' poem "When Giving Is All We Have" in A Small Story About the Sky 
The library kicks off the NEA Big Read Saturday from 11 a.m.-2 p.m. with a Drive-Thru Fiesta at Senter Park in Irving. Library staff will be handing out gift boxes that will contain information about the Big Read, a poetry contest entry form, crafts supplies for art projects, and a free copy of the book. And to add to the fiesta-feel, drivers will be serenaded with Mariachi music while they wait in their cars.
The Big Read is a program of the National Endowment for the Arts in partnership with Arts Midwest. It's a nationwide initiative for communities to read books together.
"During these times when many people feel isolated due to the pandemic, this is one way to for the community to do something all at the same time," said Aguilar. "The community can feel that spirit of togetherness that a lot of us are missing in our lives right now."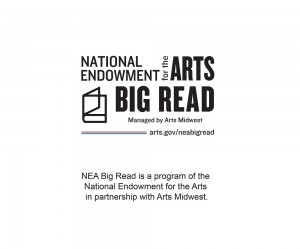 ---
Got a tip? Email Therese Powell at [email protected] You can follow her on Twitter @TheresePowell13
Art&Seek is made possible through the generosity of our members. If you find this reporting valuable, consider making a tax-deductible gift today. Thank you