Art&Seek is highlighting new music from North Texas every Thursday. Click above to hear me talk with rapper Lou CharLe$ for our Music Minute, which airs on KERA FM and KXT 91.7. For more North Texas music, tune in to the KXT Local Show at 7 p.m. on Thursdays. And tell us what you've been listening to on Facebook, Instagram or @artandseek on Twitter.
Hip hop is a lifestyle for Fort Worth rapper Lou Charles.  He grew up mostly overseas- living in Trinidad and Tabago and Cairo, Egypt as a child, but his connection to hip hop stayed strong.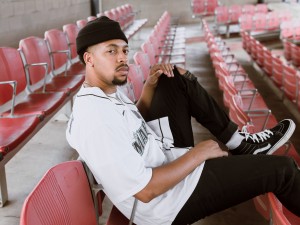 "One thing that I used to kind of connect myself with the states was rap music," Charles said. "Houston rap in particular… and that vibe just kind of guided me through."
Charles counts Paul Wall, Slim Thug, Chamillionaire, Z-Ro, and other Houston area rappers as major influences. It's no surprise that after returning to the states at the age of 17, Charles soon found himself making music of his own. He describes his music as lyric-driven realistic hip hop with quality production and hard-hitting beats.
"Rap to me is just about what's real to you, and that's what I do: stay true to myself – telling my story," Charles said.
Charles's latest single is called "Going Deep" and follows true to his formula of keeping it real. The song was produced by Dylan Kusch and features a hard hitting beat with the opening line of the chorus following soon after:
No sleep (no no no)
Tried to tell 'em I don't know defeat (no defeat yeah)
Tried to tell 'em I got goals to reach (reach reach reach)
I don't think they seen it all from me (not from me)
Not from me nah nah
"It's just talking about I've got farther to go than people might have pegged me for," Charles said. "It's just kind of a motivation track…"
In the past, Lou Charles's music has been featured on the TV show Criminal Minds and in ads for Kia Motors, and he was named Visit Fort Worth's Musician of the Month in February of 2019.
Even still, 2021 is looking good for the lyricist. He is ringing in the New Year as the host of Amplify NYE, a live stream celebration featuring performances from Fort Worth musicians that is presented by KXT and the Fort Worth Public Library. He also has a new EP set to be released in early 2021 called Life Goes On.
Lou CharLe$ is constantly creating content for his various platforms. You can keep up with him on Instagram, Facebook, and his website- whoisloucharles.com.
Got a tip? Email Nilufer Arsala at [email protected]. You can follow her on Twitter @nillipxi53.