Teatro Dallas and Deep Vellum Publishing are partnering to present a literary theatrical performance. It is based on "A Grave is Given Supper," the debut collection of poems by Dallas author Mike Soto.
Soto is a fan of the 1970 cult classic, "El Topo," by Mexican filmmaker Alejandro Jodorowsky. "El Topo," is a low-budget, acid western film – a psychedelic sub-genre of Western films. Soto's poems are an homage to the avant-garde flick.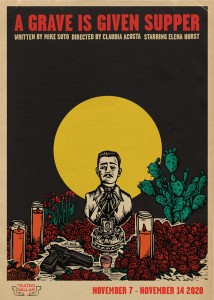 Sara Cardona, executive director of Teatro Dallas, said Soto was really drawn to the narrative elements of "El Topo."
"It's really borrowing from cinematic and literary kind of narratives that are strange and surreal," said Cardona.
The story follows a young couple in a fictitious border town between Mexico and the U.S. A violent drug war plays out against an unforgiving desert landscape, creating a mythological and surreal backdrop.
The production is not presented as a traditional play.  New York actor Elena Hurst returns to Dallas for this poetry-driven performance. Hurst provides the voices for the two protagonists.
"A Grave is Given Supper" will be performed as an outdoor, multi-media cabaret-style production on the plaza of the Latino Cultural Center. The original video art and projections are designed by Johnny Moreno, designer of Lila Down's recent world tour. Dallas sound artist Sebastian Gutierrez created original music.
Everyone in the audience will receive a book of poetry, refreshments, and the opportunity to participate in the evening's presentation.
"It's poetry at the end of the day. It's art. It's theater," said Cardona. "And I think that's going to be, hopefully, be a very strange and beautiful experience for the audience."
Got a tip? Email Gila Espinoza at [email protected]. You can follow her on Twitter @espinoza_kera.
Art&Seek is made possible through the generosity of our members. If you find this reporting valuable, consider making a tax-deductible gift today. Thank you.