Rocket Cinema, launched in Austin, has landed at Hip Pocket Theatre in West Fort Worth. Rocket Cinema is a mobile complete drive-in experience available to rent.
It's owned and operated by composer and musician Justin Sherburn. Sherburn is taking his COVID break away from his group Montopolis and their multi-media shows to operate Rocket Cinema.
Need a drive-in for your socially-distance event? Rocket Cinema brings everything the film, the PA system and radio transmitter for audio, a high-end projector, and a big screen – a really big screen, 40 feet wide and 26-feet tall. Plus a generator to run it all.
Due to COVID-19, Hip Pocket Theatre has been shuttered and forced to cancel their entire 44th season. But this Friday and Saturday the parking lot at Hip Pocket Theatre will be open to host two Rocket Cinema screenings and all ticket proceeds go to Hip Pocket.
Fort Worth native Sherburn has ties with the Simons family who operate Hip Pocket Theatre.
"They're old friends of mine and I'm happy to support this event on their beautiful piece of property out in West of Fort Worth," said Sherburn.
Sherburn selected the two silent film classics for the weekend event he feels are a good fit for Hip Pocket.
"Silent films are naturally more performative. You know, because you can't rely on dialogue. I thought of actually Lake Simons' work. You know, Diane Simons, who started Hip Pocket, her daughter is primarily a physical actor and mime. And that's really what made me think of these films. Because Buster Keaton and Charlie Chaplin are both physical actors, not just mimes . . .  and so I thought it really dovetailed nicely with Hip Pocket's aesthetic."
The films Sherburn will show aren't the grainy, low-fidelity kind you usually think of when seeing a silent movie. According to Sherburn the remastering process with today's technology creates surprisingly clear and beautiful images.
"It's a really visually stunning experience seeing these old movies nowadays."
On Friday night, October 2, they will screen Charlie Chaplin's masterpiece "Modern Times" (1936) often called the last great silent movie.
On Saturday, October 3, they will show Buster Keaton in the action-adventure "The General" (1926). It's generally considered the highlight of Keaton's career, showcasing his dexterity and prowess as a stunt man.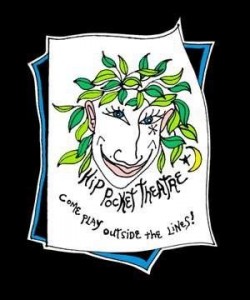 Tickets are $20 per car and should be reserved in advance since spaces are limited. Be sure to bring your snacks and beverages since Hip Pocket's concession stand will be closed.
Follow Hip Pocket Theatre on Facebook, Twitter, and Instagram.
Got a tip? Email Gila Espinoza at [email protected]. You can follow her on Twitter @espinoza_kera.
Art&Seek is made possible through the generosity of our members. If you find this reporting valuable, consider making a tax-deductible gift today. Thank you.