Every day on Art&Seek, we're talking to people who have tips on art in the time of social distancing.  Share yours with us on Facebook, Instagram, or @artandseek on Twitter. Click above to hear Shea Patterson Young share their tip with KERA's Nilufer Arsala.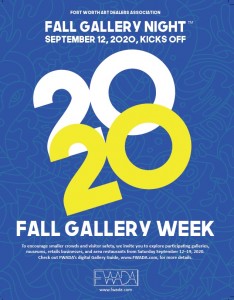 For the first time, Fort Worth Art Dealers Association's Fall Gallery Night will be Fall Gallery Week. In an effort to ensure smaller crowds while giving everyone a chance to see the art, Fall Gallery Week kicks off on Saturday, September 12, and runs through Saturday, September 19.
Shea Patterson Young is the curator of the Atrium Gallery at UNT Health Science Center and serves as the executive director of FWADA.
"We all need something that's a positive pick me up right now, and so it's not just about our [FWADA] members and the shows they're putting on. It's also about the patrons and Fort Worth and we want people to come out and we want to want to provide something that's a bright spot for the Fort Worth community."
FWADA is committed to safely supporting the Fort Worth Arts community and its patrons. All participants during Fall Gallery Week are adhering to all CDC and State guidelines including wearing masks and social distancing.
Generally, there are 40 to 50 participants in Fall Gallery Night with FWADA members, sponsors, friends, and restaurants and bars. But this year, some organizations still remain closed to the public, some organizations are doing virtual offerings only, and others will be open as usual while observing capacity limits.
This year's FWADA digital guide lists the usual suspects from the big museums to the smaller gems and all those in-between.
Of course, if you ask Young she thinks all the organizations listed are must-stops for art patrons participating in Fall Gallery Week.
William Campbell Contemporary Art has been open for over 40 years and is the oldest gallery in Fort Worth. That kind of staying power really says something about a space, Young said. On the other end of Camp Bowie is Rebecca Low's Sculpture Gallery, which Young said always has wonderful sculptural pieces. Artes de la Rosa on the city's Northside should be on your stop as well.
Young also suggests patrons not overlook Atrium Gallery and the art galleries at local universities. Although most of them are closed, some have exhibitions online that you can view and hopefully make plans to visit in person at a later date.
"It is so important for us to help artists and galleries. Fort Worth has such a vibrant art scene that we don't want that to be diminished by galleries not making it through the pandemic. You know, and this is a time where we all want to work together," Young said.
In that spirit of working together, FWADA works at making Fall Gallery Week an inclusive community event and is excited to support area businesses as well as arts groups.
"We would love for it to be an evening out for people to go visit a couple of galleries then have a great meal at one of Fort Worth's restaurants and again continue to support businesses that you know that are important to us that we want to help make it through this process."
FWADA's digital guide has more details, including maps of participants, hours of operations. Spaces may offer timed entry and open within the CDC guidelines for capacity so it is recommended you contact the spaces in advance.
Got a tip? Email Gila Espinoza at [email protected]. You can follow her on Twitter @espinoza_kera.
Art&Seek is made possible through the generosity of our members. If you find this reporting valuable, consider making a tax-deductible gift today. Thank you