Every day on Art&Seek, we're talking to people who have tips on art in the time of social distancing. Share yours with us on Facebook, Instagram or @artandseek on Twitter. Click above to hear Tonya Blum of Coyote Music Studio share her tip with KERA's Nilufer Arsala.
Normally at this time of the year, young students pack the Coyote Music Studio in Denton. They sit in a circle and happily play the xylophone and drums. Now, Tonya Blum struggles to connect with her young musicians-in-training. 
Blum is a music therapist and early childhood music educator who was in denial when the COVID-19 pandemic first struck Texas. 
"I remember the day that nobody showed up to classes was March 11," Blum said. "The bulk of my studio has been based around teaching family music classes for infants, toddlers and preschoolers."
With a third of her business gone, it's been hard for Blum to stay creative without the presence of her students. Her mission is to bring affordable music to the community. Recently, she started a free Virtual Open Mic Night and invited performers to join a comfortable atmosphere.
Every Wednesday night, performers of all ages are presented on a YouTube playlist. In order to get a similar open mic experience, Blum keeps the rules simple by requiring a recent raw, five-minute video. So far, there are 15 performances from a Denton piano-playing student to a guitar-playing singer from Wales.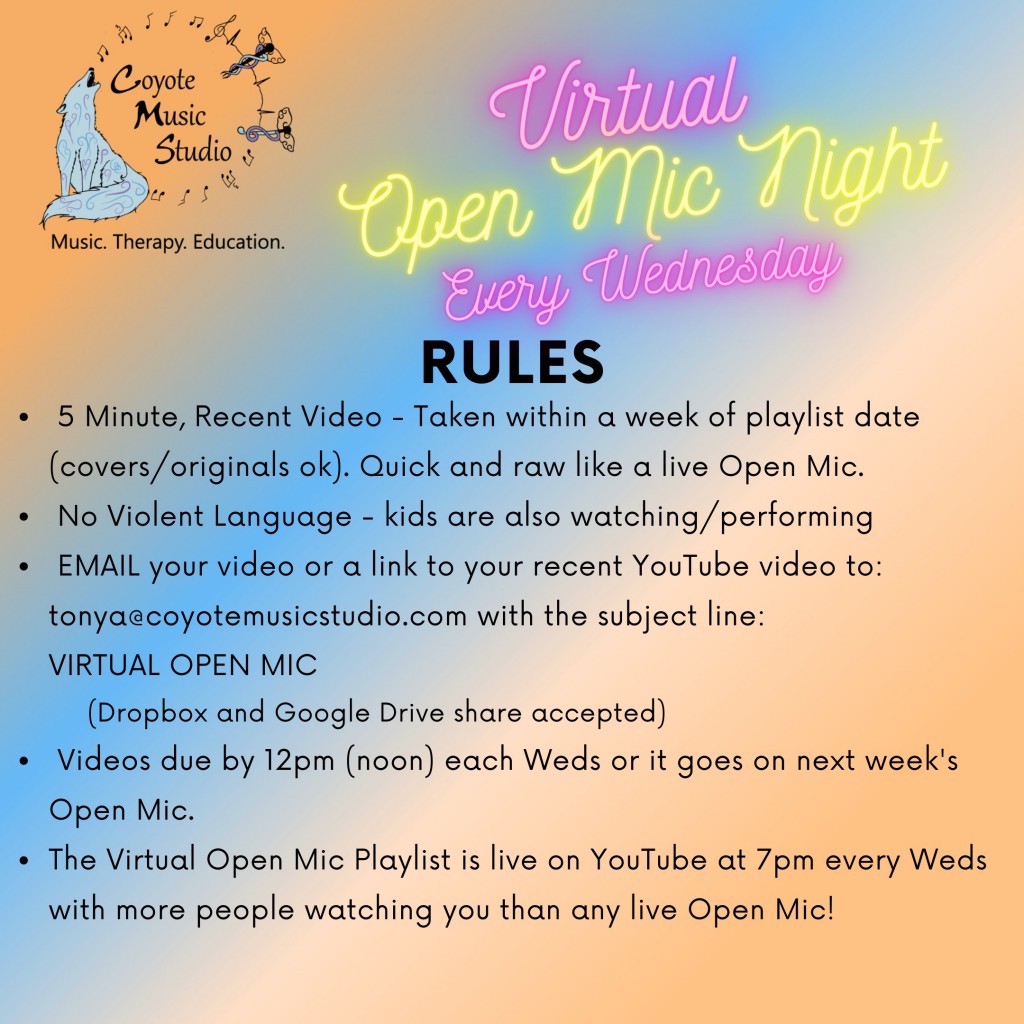 The idea for an open mic night came to Blum when she saw fellow musician friends post live-stream performances.
"I thought if I tried to put it all in a playlist, a short video from each one of them, that we could get more responses for everyone," Blum said.
Virtual Open Mic Night is done on Blum's free time. The event even got its first sponsor for the Aug. 8th open mic from the Denton bar, The Bearded Monk, with the winner receiving a prize package, including a $15 gift card. The sponsor for the Aug. 12 open mic will be Denton Radio.
All are welcomed to enter Virtual Open Mic Night — musicians, poets, comedians, dancers and more. And all must follow the rules.
It's first-come, first-serve. The first to send in a video will be put on the playlist first.
More Events at Coyote Music Studio:
Tuesday, September 1 — Online intro classes for piano, ukulele and recorder from Sept. 1-Nov. 18. Students will receive a video each week to help with practicing the lesson. $15/class.
Got a tip? Email Mia Estrada at [email protected]. You can follow her on Twitter @miaaestrada.
Art&Seek is made possible through the generosity of our members. If you find this reporting valuable, consider making a tax-deductible gift today. Thank you.