Every day on Art&Seek, we're talking to people who have tips for virtual art experiences.  Share yours with us on Facebook, Instagram or @artandseek on Twitter. Click above to listen to Lynn Rushton, from the City of Dallas' Department of Arts and Culture, share her tip with KERA's Nilufer Arsala. 
So you're stuck at home, you've got paints and paper but no inspiration. What to do?
The city of Dallas' Office of Arts & Culture has just the solution with their Facebook group Paint the Town with Our Public Art.
Inspiration for the project came from by The Virtual Paintout. It's a project created by artist Bill Guffey in 2008 that combined en plein air painting (outdoor painting) and the technology of Google street view.
In a traditional en plein air paintout, artists gather at a location with a predetermined set of boundaries to paint or draw. Guffey's Virtual Paintouts follow the same model, except he chooses a location each month and invites other artists to visit that location virtually using Google Street View. Within boundaries he sets, they find something to paint or draw, and he posts their creations on his blog.
Eager to engage people and let them know about the public art around the city, the OAC set off on a similar project in April.  The instructions on the Paint the Town Facebook group page were simple: A location with an address would be posted every Monday on the page, then using Google maps' search box and the yellow pegman (the little, round-headed guy on the map), participants were invited to look around to find their inspiration and composition.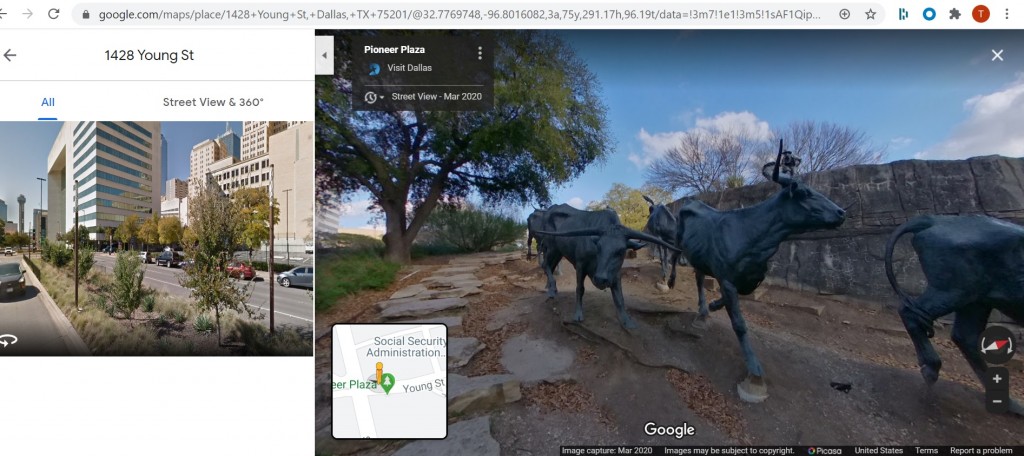 "We started at City Hall, which has the Henry Moore and the Marta Pan," said Lynn Rushton, Public Art Collection and Conservation Manager for the Office of Arts and Culture.  She was referring to the big, bronze, spinal-looking sculpture as well as the bright-red thingy floating around the pond in front of City Hall.
"We tried to cover lots of different sections of the city–from the Dallas Zoo to Fair Park to the fire station on Walnut Hill, so that the artists and poets and whoever was looking at these locations could be engaging in a public art in ways that are not typical."
In all, seven locations were the inspiration for artwork submitted to the site over 11 weeks. Works included poetry, sculpture, paintings and photography.
Paint the Town is paused for now, but you can still go to the page to grab some inspiration of your own. The next step for the project is an exhibition of the artwork submitted to the page. The virtual show will happen in September on the Love Field website and on LED screens at the airport. And plans also call for a in-person exhibition at Love Field in November.
Rushton says that Paint the Town is unique and that no other city is doing this kind of public art program.
"It was fun for us to be having this kind of new programming. And the time was perfect for it."
Got a tip? Email Therese Powell at [email protected]. You can follow her on Twitter @TheresePowell13
Art&Seek is made possible through the generosity of our members. If you find this reporting valuable, consider making a tax-deductible gift today. Thank you.