The COVID pandemic has shut down a lot of art organizations and art experiences. But in Fort Worth, the three major art museums have all reopened to the public. In Dallas, meanwhile, only SMU's Meadows Museum has just reopened this week. KERA's Jerome Weeks checks in with Fort Worth patrons who are reconnecting with artworks — after more than three months away.
J.J. Park is a stay-at-home mom in Fort Worth. She doesn't live far from the city's major art museums – conveniently, because she enjoys visiting them.
"I come here to relax," she said. "Finding myself , looking at the paintings, y'know, and all the good stuff."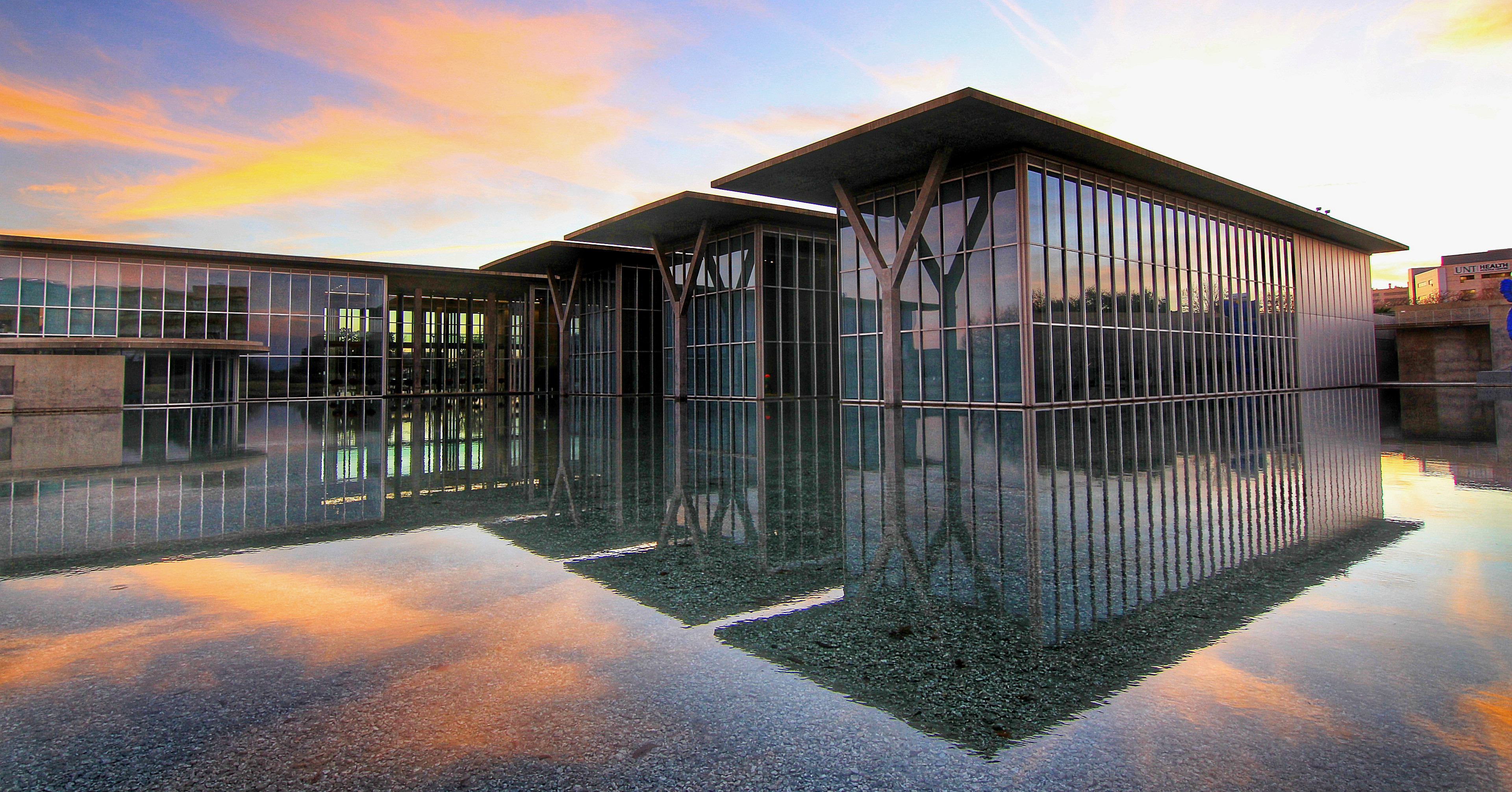 On Sunday, Park was photographing the Modern Art Museum's reflecting pond. It was five days after the museum had reopened to the public. Park says she likes some of the art there but loves architect Tadao Ando's building. The clean lines. The sense of quiet grace and order.
Park needs all that.
"I've been stuck at home," she said, "not able to do anything, to go anywhere. I have three kids at home. Plus – my husband. I call him my first son, kinda," she added laughing.
Back in April, Governor Gregg Abbott declared museums could reopen — along with bars and other for-profit companies. At first, only a handful did, mostly smaller ones. But over the past three weeks, the Modern, the Kimbell Art Museum and the Amon Carter Museum of American Art have all reopened – carefully.
Dustin van Orne is the Modern's marketing director.
"It just took us awhile," he said, "to implement all of our safety procedures and staff training and, you know, internal policies."
The museums now have sneeze shields at ticket booths and signs declaring face masks are required. In most cases, cafes and gift shops are closed (or have been moved). Water fountains have been shut off, hand sanitizer stations are in place throughout the buildings. The Kimbell even has one in its underground garage.
Ola Elbasheer is a research study coordinator from Fort Worth. She echoed a number of museum patrons when she said, the safety precautions don't bother her. She welcomes them.
'I would wear a mask to be able to experience this on a Sunday afternoon" — this, meaning the Modern Art Museum, where she's a regular visitor.
But it turns out the museums unlocked their doors just as Texas was hit with a strong spike in COVID infections – along with other states that reopened aggressively. Gov. Abbott has responded by shutting the bars again and requiring face masks.
If the governor extends that order to include museums closing,  officials say they do have contingency plans for that — one of a host of uncertainties they've been trying to plan for.
But Eric Lee, director of the Kimbell, believes there's an important difference between enclosed bars, which have been shown to be strong infection centers, and museums – with their open galleries and high ceilings.
"In the bars, people were not social-distancing," Lee said, "and in a museum, it's a touch-free place, and the crowds are not enormous, so people are able to social-distance."
The Kimbell is currently hosting "Flesh and Blood," a significant exhibition from Italy of some 40 works by Renaissance Old Masters such as Caravaggio, El Greco and Artemisia Gentileschi, the rare female Renaissance painter whose most famous work, Judith and Holofernes, is included here. Lee says, even with such star attractions, the number of visitors has been modest so far, nowhere near the Kimbell's capacity.
Given the pandemic, he says, modest numbers are good. But there's also been evidence of a clear hunger to see Old Masters in person — like on June 20th when "Flesh and Blood" reopened.
"I think we had 94 people in the first 15 minutes," said Lee, "and we were taken aback by that."
They were taken aback because if that rate continued, admissions might have to be limited. But the initial rush faded. On Sunday afternoon, 47 people strolled around in "Flesh and Blood" – easily distanced.
Cliff Vanderpool is director of communications at the Amon Carter. He says the Amon Carter is drawing one-third its normal number of visitors. And he's comfortable with that – and with the fact that the people who come are eager to be there.
"People thank us for having the mask policy in place," Vanderpool said, "I think people miss having that in-person experience with art."
Back at the Modern, J.J. Park gets out her cellphone to find a photo of a painting she visits whenever she can. It's actually across the street at the Kimbell. It's Frederic Leighton's full-length portrait of May Sartoris from 1860. The young woman is wrapped in a black velvet cloak. A scarlet scarf trails down from her throat to her waist. Her cheeks are pink — she's standing in the cold in the fields of her family's country estate in England.
Park says it's the only reason she visits the Kimbell – to sit in front of this painting. It's a physical experience – and something more.
"Just looking at her dress, the texture," she said, "I can feel it, very soft. And looking at her just makes me – I don't know."
Robbie Clemmer is a painter from Arlington. For him, the intense realism of artworks by El Greco, Caravaggio and Titian at the Kimbell — it's an affirmation of his own traditional, realistic style — which he learned in Florence.
"I feel like a kindred spirit with these guys," Clemmer said. "Coming here and seeing the paintings in person is — kinda like going to church."
Got a tip? Email Jerome Weeks at [email protected] You can follow him on Twitter @dazeandweex.
Art&Seek is made possible through the generosity of our members. If you find this reporting valuable, consider making a tax-deductible gift today. Thank you.