It's a challenging time for comedy, says "The Daily Show" correspondent Roy Wood Jr. And it's much different than previous natural disasters, or even 9/11.
Hear the
podcast
of Roy Wood Jr. on
Think
"The question back then, I think, was 'Should we be laughing?' " Wood told Think's Krys Boyd, in an interview scheduled to air Friday. "Where the question now is, 'Is it safe to go outside at all?'"
There was fear during 9/11, of course. But also, a lot of anger.
"You can make an angry person laugh a lot easier than you can someone that's scared."
Wood is one of several guests on the show, which explores how pop culture offers respite during troubled times. Co-hosts of the podcast "Switched on Pop" Nate Sloan and Charlie Harding talk about how pop music reflects the age it was created in. And Krys will talk to a television critic about binge watching.
Here are six insights from Roy Wood Jr.'s conversation with Krys: 
On how comedy has pursued over the years during uncertain times:
"There's been some attempts at comparing this to 9/11 and the tone on September 12th, when comedy and entertainment was concerned. And I don't feel like the two were the same, because September 11th left a lot of people with a lot of fear, with regards to domestic terrorism but it also made a lot of people angry. You can make an angry person laugh a lot easier than you can someone that's scared.
"The question backed then, I think, was 'Should we be laughing?' Where the question now is, 'Is it safe to go outside at all?'…
"When you think about what makes comedy work, it's everybody in a tight place, opening their mouths and expelling all types of spit and germs and saliva and it's a low ceiling…Something as simple as a cough can disrupt a show and that's insane to think."
On how comedians rely on the connection of the audience:
"Comedy is a conversation. The way I try to explain it to the layman who's never done stand up comedy before: call someone that you enjoy talking to. Call your mom, call your boyfriend, or your spouse or whatever. Call them and take the phone away from your ear and just start talking into the mouthpiece and tell me how natural of a conversation would that feel like. That's what comedy without an audience is for me."
On how Tip Your Waitstaff is helping the staff at comedy clubs:
"Tip Your Waitstaff  is a collection of GoFundMe [campaigns] to various comedy clubs across the country. The money that's given to any of those clubs in those cities goes directly to the bar and waitstaff that have been let go.
"A lot of these venues are not going to return the same…You know there are rumors that movie theaters may not come back. A lot of bars, a lot of restaurants have already shut their doors permanently. They're often not thought about because they do their job so well, but as comedians, you work market's time and time again.
"I've been in the business 22 years now and there's a lot of waitresses that were around when I started in '98 that are now running the club or regional bookers for chains. So these people they matter and they are important to us. So comedian Mike Birbiglia hopped on the phone with me and John Mulaney and he was trying to figure out a way to do something. I said if you put up the website, I'll do everything I can to help support it. We've raised hundreds of thousands of dollars thus far for a number of comedy clubs."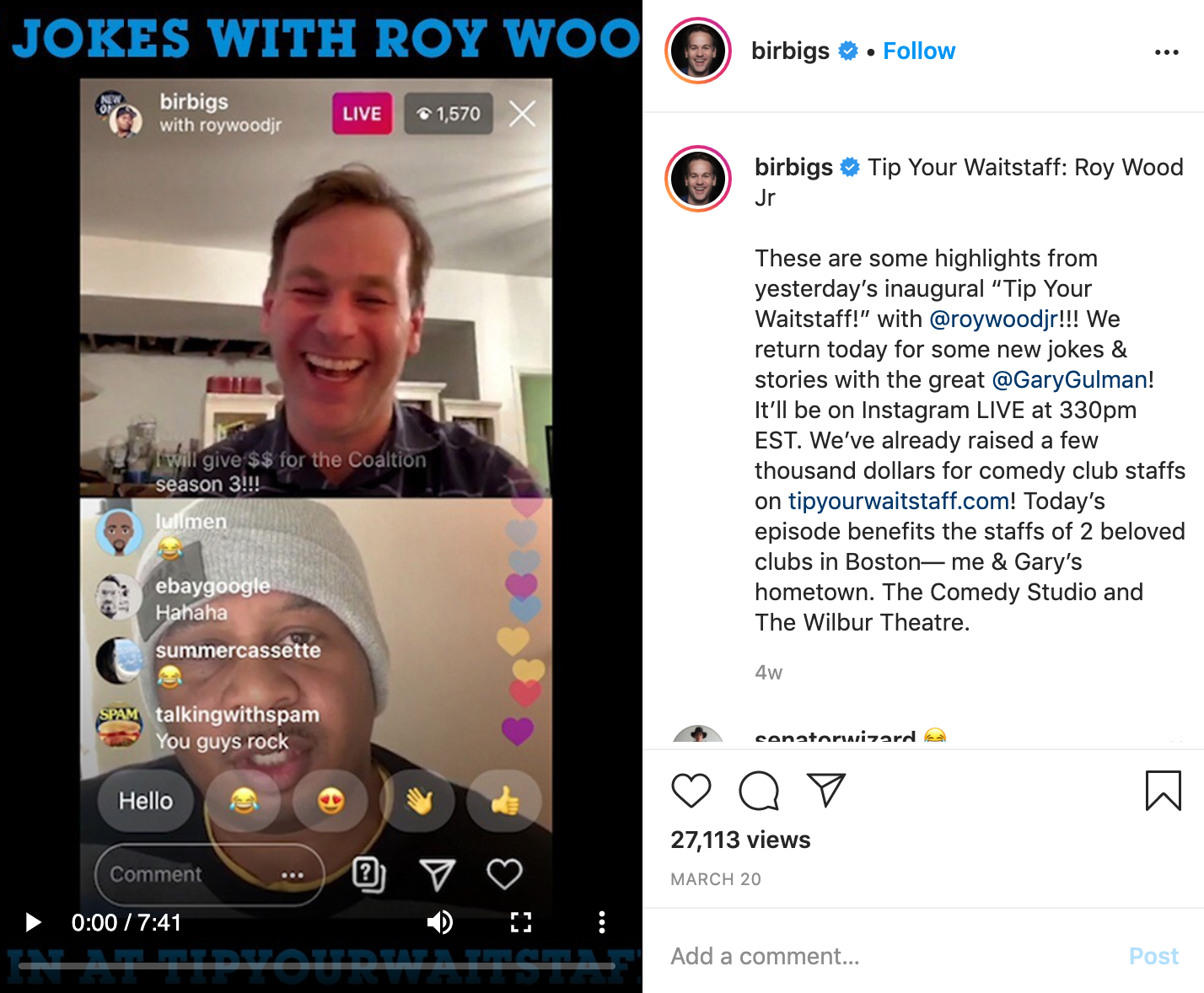 On the disturbing impact of black Americans dying and getting sick at twice the rate of the rest of the population, and the existing inequities in the healthcare system:
"Number one I think it wouldn't hurt to have a new president in office and that's not a Biden endorsement. That's just a 'not that dude.' You know, whoever wants to step in, please step in.
"I think we live in a country that tries to act like data doesn't matter via climate change, via police reform and now via healthcare as it relates to inequities and black and Latino communities for that matter… That's why what the surgeon general said was so disappointing, and focusing on black and Latino populations, and telling them you need to eat better or drink less or don't smoke.
"Well, the reason why there's a lot of obesity in poor minority communities is because of the people who live in food deserts, where you don't even have access to a decent damn apple. So you're stuck eating two double cheeseburgers for thirty cents every night for ten years and then 'Oh look, I have diabetes and now I'm dead from COVID' when there wasn't really access."
On how sheltering in place has changed everything in spring 2020:
"If they would have said this is the scenario, what do you think caused this, my guess would have been terrorism or an act of war on domestic soil. For sure, the only thing that keeps people moving slower is the potential of death.
"The state of alertness that we have now that we are in a mass-shooting era in this country…there's definitely a heightened sense of hysteria around that. A chair could fall and it makes a bang sound and that's enough to start a stampede. So if you would have told me people were inside, I would have never guessed disease, I would have never guessed pandemic…"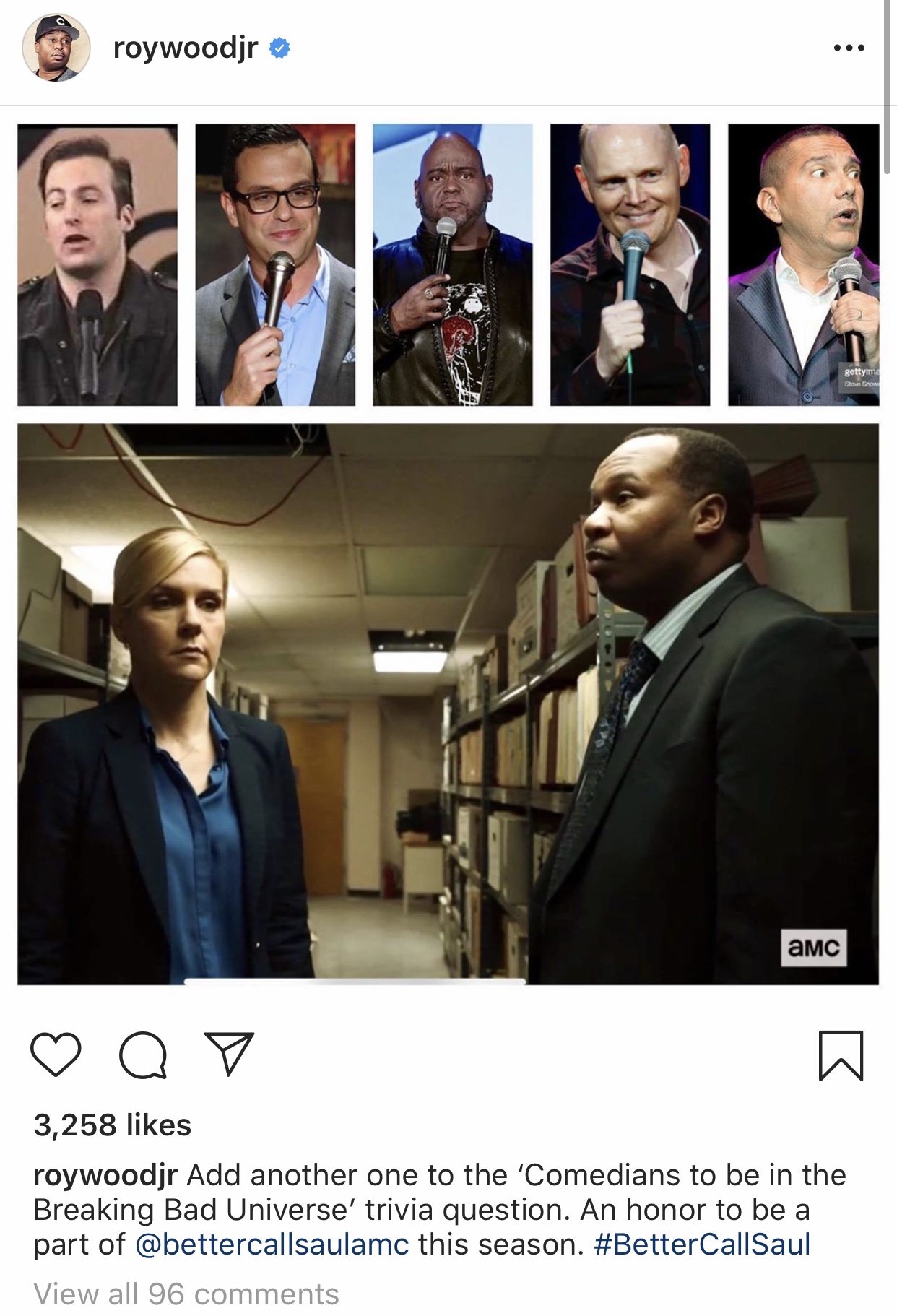 On how he is coping:
"I enjoy work; I like work. The uncertainty of what's going to come tomorrow is no different than the first year of comedy when you didn't know what the hell you were doing. "It's no different than two years, three years later when you finally quit your full-time job and you still don't have enough money to cover bills for the next three months. And I've lived with that type of uncertainty and that shadow in the back of my head for my entire career.
"I was speaking with a colleague and told him that a lot of this just feels like when you quit your job to do stand-up full time, and you don't know where the next check is gonna come from, but you know you have a talent and you know that there's people who want to be entertained by it…
"For me, fear doesn't accomplish anything. Fear is a lot like anger and for me, they aren't constructed emotions and at the end of the day, I have a child to feed. I don't have time to sit and be scared."