Every day on Art&Seek, we're sharing tips for ways to experience art virtually.  Share yours with us on Facebook, Instagram or @artandseek on Twitter. Click above to listen to Cynthia Salzman Mondell from Media Projects, Inc. share her tip with KERA's Nilufer Arsala. 
Media Projects Inc. and IGNITE, an organization that helps young women become political leaders, are celebrating the 100th anniversary of the 19th amendment with a virtual screening of their film "Dreams of Equality" tonight at 6 p.m.
This is really exciting because the film relates what happened in 1848 when Elizabeth Caty Stanton demanded the right to vote at the first women's rights convention in Seneca Falls to women's rights today.
Catch the free virtual screening of 'Dreams of Equality,' and a panel discussion after the film April 23.
Details
.
After the film, there will a fabulous panel discussion with dynamic women leaders. And why more than ever it's important to get out and vote.
Here's more about "Dreams of Equality" from Cynthia Salzman Mondell and Allen Mondell of Media Projects, Inc.
It wasn't that long ago–just 172 years–when 300 women and a few men responded to a blurb in the local newspaper about a convention to discuss women's rights. The year was 1848. They decided to leave their farms and homes in near-by towns to attend, for the first time, a public meeting about women. And it was there that women's rights and abolitionist activist Elizabeth Cady Stanton demanded that women should have the right to vote.
But It wasn't until 1920, 72 years later, that the 19th Amendment was passed giving women that right to vote. And now in 2020, 100 years later, a woman still has never been elected President of the United States. We made this film for the Women's Rights  National Historical Park in Seneca Falls, New York.
"Dreams of Equality," a film by Cynthia Salzman Mondell and Allen Mondell, tells the story of that convention and how it relates it to ideas and concerns we are addressing today.
We took a small crew from Dallas, Jim Wrenn, the cameraman, and Rondi Hillstrom Davis, wardrobe designer, and set up an office over a fire station near Rochester, New York. A local production manager, Anne LaLopa, helped put the rest of the crew together from Rochester, Syracuse, and Buffalo. We filmed at Genesee Park – a living history park
It was a magical film shoot as we re-created historical re-enactments from 1848 to the Civil War. We came home to Dallas to edit the footage with  Jim Ferguson. The original music score by Jay Ungar and Molly Mason placed the viewer emotionally in that time period.
We chose to tell the story with re-created letters between a brother and a  sister to show the difference between a man and a woman's world at that time.  And we decided to interview young boys and girls together creating the very funny, but provocative boy and girl talk. It compared the attitudes of 1848 to the attitudes of today that we felt were as important as the historical events. After all, when one young boy today says there will never be a female president because of gender, one can get angry. But you have to think about the last election and know that truth comes out of the mouths of babes. Now it is up to us to change the current situation into something better.
Media Projects and Ignite, were expecting to hold this event locally as part of the 19th Amendment Centennial Celebration. When our country shut down, we saw an opportunity to showcase the event nationwide or possibly globally.
Ignite put together the panel that includes Cynthia, IGNITE founder Anne Moses, and Deja Foxx, a young female activist on reproductive rights and future POTUS.
Join us on Thursday, April 23, 2020,  at 6 p.m. Central time. It's free, but please register at  https://bit.ly/3ek6Z29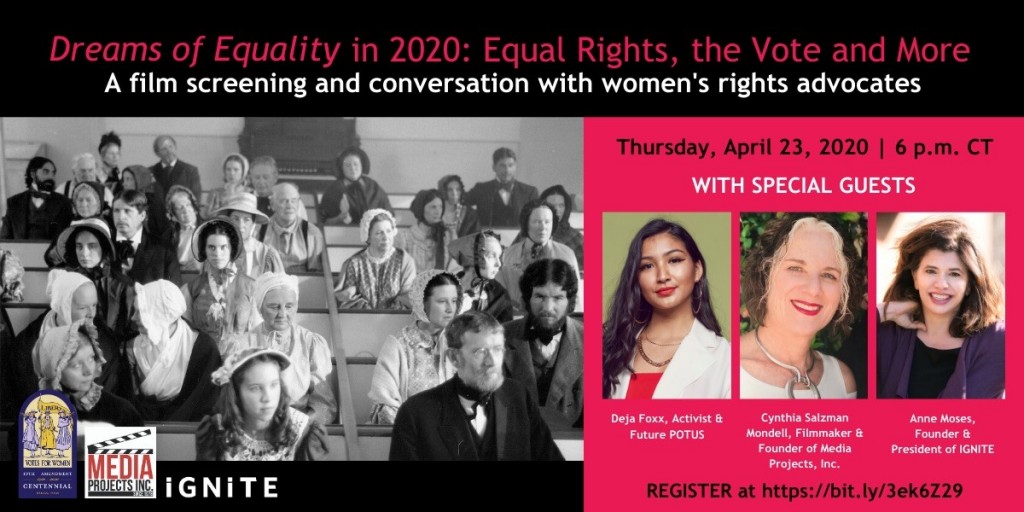 Information about organizations and panelists
Media Projects was founded in 1978 by Cynthia Salzman Mondell and Allen Mondell as a non-profit company to produce and distribute documentary films(40 plus). Their films personalize the complexity of social problems, suggest solutions and celebrate the diversity of the human experience. The subjects include history, prison life, the Peace Corps, anti-Semitism and social issues like mental health, women and human rights.
Some examples include six films about the life, death, and legacy of President John F. Kennedy shown daily at The Sixth Floor Museum at Dealey Plaza, "A Reason To Live," a documentary about depression and suicide among young adults 15-24 years old, Another of our films, "Sisters of '77," documenting the story of the first federally funded National Women's Conference in Houston in 1977, aired nationwide on the award-winning public television series, Independent Lens.
Cynthia Salzman Mondell is an award-winning filmmaker who believes that films can make a difference in people's lives. She has partnered with Allen Mondell for most of her work. Together they have made over 40 films including the 6 films about the life, death, and legacy of President John F. Kennedy for the Sixth Floor Museum at Dealey Plaza, "Sisters of '77" the story about how a government-funded women's political conference set the agenda for the second wave of feminism with Betty Friedan, Gloria Steinem. and Ann Richards. She recently completed "In Her Shoes" about women in a prison art program that reveal their lives through their shoes. Some of her personal documentaries include "Louie, Louie: A Portrait in Parkinson's," the personal journey of her family's struggle to cope with their father's 30-year battle with the debilitating effects of Parkinson's disease and "The Ladies Room," about the secret world of women's restrooms. She is currently working on a film "Sole Sisters," about women's relationship with their shoes. She has won two  Lone Star Emmys, was honored with Women in Film's Topaz Achievement Award and received a Lois Weber Award and a Gracie. She is one of the founders and past president of  Women In Film – Dallas, is past president of the Board of New Day Films, a nationally known independent film, and was an artist-in-residence at the University of Texas at Dallas.  She is most proud of how her films touch people's lives.
IGNITE is a national non-partisan 501c3 that is a movement of young women who are ready and eager to become the next generation of political leaders. Through sustained civics and political leadership training, IGNITE meets students where they are to help them see serving in public office as not only possible but a calling. Via high school programs, college chapters, local and national conferences and online programming, IGNITE has trained over 10,000 young women across the country. Our work is driven by a steadfast belief that our democracy will be strengthened when women own their share of political power.
Deja Foxx Activist. Organizer. Badass. Future POTUS. From homelessness in high school to the forefront of the reproductive justice movement and Dean's List at Columbia University, Deja is changing the world at 20 years old and a year ago founded her own organization @GenZGirlGang. She's been named a Teen Vogue 21 under 21, joined the Dazed 100, received Planned Parenthood Catalyst for Change Award, helped more than 4,000 teens in her hometown through the El Rio Reproductive Health Access Project she helped to found in 2017, became MAC Cosmetics' youngest-ever ambassador, joined Nike at the Women's World Cup as a Dream Leader and most recently took leave from university to work full time as Influencer and Surrogate Strategist and youngest staffer on the Kamala Harris campaign.
Anne Moses has more than 25 years of experience in social justice and political organizations across the non-profit, political, and academic sectors with a focus on women and girls. In 2010, Anne founded IGNITE, a nationally recognized 501c3 that is building a movement of women who are ready and eager to become the next generation of political leaders. IGNITE has grown rapidly to become the largest and most diverse young women's political leadership program in the country. Anne's previous senior leadership positions as Chief Operating Officer for Emerge America and Majority Council Director for EMILY's List informed her passion and expertise in the arena of gender parity in political leadership. Throughout her career, Anne has also worked as a consultant in the non-profit and philanthropic arenas, with clients across the environmental, veterans affairs, domestic violence, and health and human service sectors. She has served as Principal Investigator on federal, state and local evaluations regarding the impact of welfare and health care reform on low-income individuals and communities. Anne and her work have been featured on CBS, CNN, NPR, Fox News, Marie Claire, Cosmopolitan, Vox, Bustle, Refinery 29 as well as numerous international and domestic articles on women and leadership.
To purchase DREAMS OF EQUALITY go to www.mediaprojects.org
To learn about Ignite National- www.ignitenational.org
A special thank you to the 19th Amendment Centennial Fund for sponsoring this virtual program.
Stay on top of North Texas COVID-19 updates with KERA News.