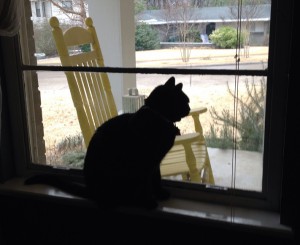 My daughter has two cats named Oreo and Lilah. Our family made the decision early on that although both cats were adopted as strays, henceforth they would be indoor kitties. This was done mainly because we have a very active and hungry coyote population in our neighborhood whose meal of choice, it seems, is house cat. Oreo embraced her new life, satisfied with a warm bed and all the cat treats she could eat. Lilah, not so much. Although it's been 7 years since she left the stray life behind, Lilah reminds us daily that she's still an outdoor cat. She does this mostly by sitting near the door protesting her incarceration, or better still, slipping out to freedom while we're bringing in the groceries. We try to tell Lilah that life is better indoors, but she never listens and continues to complain and escape.
Last week, while we were on a walk enjoying a brief bit of freedom my daughter turned to me and said: "I think I finally understand why Lilah wants to go outside so bad."
Yes, Lilah, we finally understand your frustration. Even if it's for your own good, sheltering in place is hard. Here are a few activities to make it a little easier.
Looking for a sweet storytime? Check out Latino Cultural Center's Facebook page on Friday at 11 a.m. for Once Upon A Time Storytime. Last week they read "The First Tortilla" by Rudolpo Anaya. While your there, take a look at their online workshop craft for this week.  You and the kids can make a felt butterfly with fabric, coffee filters and twist ties.
I don't know about you, but I really miss is  live theater. One of the first things I'm going to do when we're back to regular social distances is pay a visit to the Dallas Children's Theater. There are no shows going on right now, but if you log on to DCT's Facebook page you can watch videos on how to create a shadow puppet theater of your very own. Trish, the Master Puppeteer at Kathy Burkes Theatre of Puppetry Arts, gives step-by-by instructions on how to create a family puppet theater using simple materials from around the house and a website for printing out templates for your puppet characters. Trish even shows how you can use your hands to make shadow puppets.
Speaking of theater, you and family can tune into one of Andrew Lloyd Webber's fabulous stage productions on a new YouTube channel called The Shows Must Go On!  A new musical will be released and streamed live each at Friday 7 p.m. GMT on the channel. FYI…that's 2 p.m. North Texas time. But no worries, if you can't tune in then. The show will remain available for 48 hours. So it's perfect for Friday night movie night. Upcoming shows  include "Cats," "Jesus Christ Superstar," and "The Phantom of the Opera.
My daughter turned me on to a great new YouTube video today. It's called Some Good News with John Krasinski–SGN for short–and it spotlights, you guessed it, good news from around the world. John has only done two episodes, but something tells me this is going to catch on. In this week's episode John features segments like, "Nice Job Parents" a piece that showcases various attempts at remote learning by desperate parents, and a check in with the weather from Robert DeNiro. My favorite segment was something called "What Did I Miss," a look at the things, people and places that we love and miss. John talks with little girl named Aubrey about her missed trip to New York to see 'Hamilton'. The Zoom meeting that follows is something you have to see.
For even more resources be sure to check out KERA's Education Coronavirus Toolkit. You'll find tools and materials specially curated for parents and caregivers with school-aged children at home, as well as for educators who are teaching children remotely. And don't forget to check out our sheltering in place list for adults. 
Stay on top of North Texas COVID-19 updates with KERA News.