Every day on Art&Seek, we're talking to people who have tips for staying creative and calm. Share yours with us on Facebook, Instagram or @artandseek on Twitter. You can click above to listen to Krys Boyd talk about today's tip from KERA's Nilufer Arsala.
During this time of self-sheltering, we know some of you may be turning to your inner chef to de-stress. KERA's Think host, Krys Boyd is releasing her inner Martha Stewart, or should we say her inner Mark Bittman.
I have been baking a lot of bread since we've all been encouraged to stay home as much as possible. For one thing… I think a slice of warm buttered bread fresh out the oven and covered with butter is like the ultimate comfort food… and you can add dried fruit or nuts or herbs if that sounds good to you.
I use a slight variation of the famous "no-knead" bread recipe Mark Bittman made popular. You can Google for his recipe, or you can use mine below.
I've like baking this right now in part because I'm still going into the office so I don't have a lot of extra time to spend in the kitchen. This recipe doesn't require me to knead the dough, punch it down, and let it rise again. It does all that magic by itself on the kitchen counter.
The only real trick is that you need to mix your ingredients together about 18 hours before you plan to bake, but that first step only takes about five minutes.
It's also really important to get the oven and your Dutch oven or covered casserole dish all the way to 450-degrees before you add the dough to the dish.
It'll slice better if you let it cool for at least half an hour before you cut it, but be warned: your house is going to smell like warm bread and it might be hard to resist.
Send us a photo of your first loaf of bread. We want to know what you're baking, cooking, or watching to stay calm and creative.  We may share your tip on KERA FM.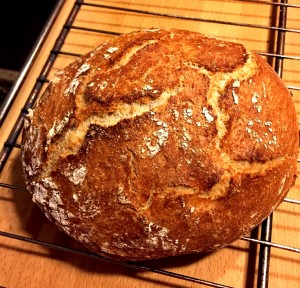 No-Knead Bread ( minor variation of a recipe by Mark Bittman)
4 cups bread flour (or all-purpose flour if it's what you have)
1/2 teaspoon bread machine yeast (comes in a jar)
2 teaspoons kosher salt
1 tablespoon sugar/honey/brown sugar/molasses (not strictly necessary, but helps feed the yeast)
2 cups lukewarm water
approximately 1/4 cup bran, wheat germ, or cornmeal
Combine everything but water and bran/wheat germ/cornmeal in a large bowl and mix well.
Add water slowly and stir until dough comes together. It should be stickier and shaggier than traditional bread dough but you don't want it crazy wet. Usually, I start with about 1 3/4 cups and add the rest if needed.
Cover the dough with plastic wrap or tea towel and set the bowl in a warmish spot in your kitchen for ~18 hours. As it rises, it will look wet and bubbly.
After the rise, put a Dutch oven or heat-safe casserole dish into a cold oven, and let it heat up at 450 degrees for at least half an hour.
While your oven and Dutch oven are heating, spread your bran or wheat germ evenly in the center of a flat tea towel (no texture or terry!); a clean old pillowcase will do in a pinch.
Using a silicone spatula, carefully "break the seal" between dough and bowl, and gently turn around or oval mound onto a kitchen towel. Scatter more wheat germ over the top (this keeps your dough from sticking to the Dutch oven.) Let this sit until your oven and Dutch oven are piping hot.
When Dutch oven is super-hot, take it out of the oven and carefully transfer your dough in. If it looks uneven in the pan, grab the handles and shake horizontally to settle the loaf evenly.
Put the lid on the Dutch oven and bake for 25 minutes, then remove the lid and bake uncovered for another 20 minutes.
When it's ready to come out, turn the bread immediately onto a cooling rack to allow the moisture to steam off so the crust stays fairly crisp.
Ideally, you'll let it cool for at least half an hour before cutting but the smell will probably bring draw hungry family members or roommates before that. (You can reheat cut slices wrapped in foil for ten minutes in a 400-degree oven.) If you want to get fancy, you can add walnuts or raisins to the dry ingredients, or sprinkle rosemary and salt or parmesan cheese on top after you remove the lid for the last 20 minutes of baking.
Stay on top of North Texas COVID-19 updates with KERA News.