Updated May 15: Dallas-based nonprofit publisher Deep Vellum launched an emergency fund that starts at $200 for writers in dire financial insecurity. The submission deadline for round one of grants is June 1, and will be given as long as funds last.
We will continue to update this list. If you have resources to add, email [email protected]
Because culture workers were some of the original members of the gig economy, many do not have unemployment insurance, health insurance or even a cash reserve for the kind of world-wide emergency that'll keep them out of work for at least two months. Like this one.
BUT! because this financial plight has been the career-long, dystopian outlook for many actors, dancers, artists and musicians, there are already a number of established resources they can turn to — and you can help with.  Things like the Actors Fund's Entertainment Assistance Program or the Musicians Foundation or The Authors League Fund. The assistance is often limited to a few thousand dollars or (usually) less. So these are for real emergencies — you know, like the current one.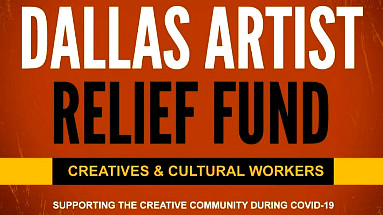 Some of this very helpful list from KQED is San Francisco-centric (only Bay Area residents are eligible), but it also covers a wide variety of national resources for different disciplines including blues musicians and craftspeople (working in jewelry, fiber, ceramics, etc.). Check it out.
AND the good news — well, you know, good news considering the circumstances — is that area artists have joined together to create two GoFundMe campaigns to directly help North Texas artists.
The first one, the Dallas Artist Relief Fund, was established by Creating Our Future Dallas in order to provide support for "low-income, BIPOC, trans/GNC/NB/Queer artists and freelancers whose livelihoods are being affected by this pandemic in Dallas." The campaign was organized by artist, writer and social activist Darryl Ratcliff. The target is $5,000 but the Dallas Artist Relief Fund is also accepting non-monetary support (you just need to fill out an online form).
In response to the COVID-19 crisis, the Creative Arts Center of Dallas (CAC) has launched an online fundraiser in which one-half of the funds raised will go to an artist relief fund for its own teaching artists.  In addition, donors will receive an original work of art tiered to a level of giving from $50 to $5,000.  For a $50 donation, a donor would receive an original woodblock print and for a $5,000 donation, a donor would receive a Carrara marble sculpture.
DARF's GoFundMe page can steer you to this incredibly diverse list of information resources, emergency funds for all kinds of artists and freelancers (women photographers, jazz musicians) and other crowd-funding support efforts around the country.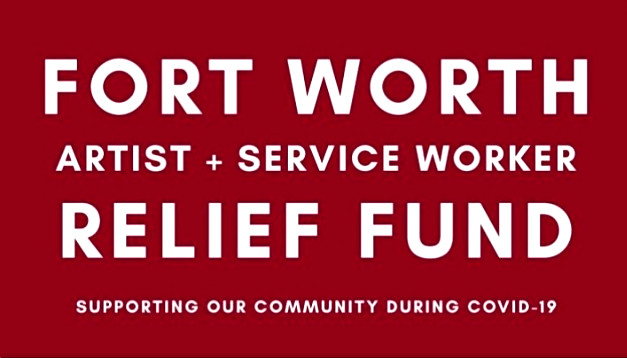 For the Fort Worth area, there's the Fort Worth Artist + Service Worker Relief Fund, organized by singer-songwriter Rachel Gollay to help out "the creative class and hardworking service industry folks of Fort Worth, who are getting hit hard by COVID-19 cancellations." The target here is $10,000, and as of this moment, they've almost reached it (yes, shamelessly, I hope this sparks some competitive spirit in Dallas for the Dallas Artist Relief Fund). In fact, due to the high number of applications for the fund (which will be distributed equitably to as many people as possible), applications are closed. But Gollay is "currently exploring setting up a shared document where people can submit and fulfill requests seamlessly and directly to one another." And, of course, they're still accepting donations.
United Way of Tarrant County and nonprofits Hear Fort Worth and Film Fort Worth have come together to continue Gollay's fund with the Creative Industry Relief Fund. The fund will offer $300 to help support creatives, including musicians, artists, performers and filmmakers who have lost work. Organizers are raising up to $20,000 but will continue to receive donations as they come in. Fort Worth based musician Kris Williams of Danni and Kris, told Art&Seek, "I think that this is a very encouraging way to show artists that what they're doing is meaningful, what they're doing has an impact and is making a difference," Williams said. "And that they're dreams and their goals are still supported."
The Arts Community Alliance or TACA has created an emergency relief fund for arts organizations in Dallas County. Grants of up to $10,000 will be made available for arts organizations in two waves, one at the end of April and again at the end of May. On Apr. 2, TACA. had raised $400,000 and is continuing to raise money. President and Executive Director Terry D. Loftis said, "We knew that this particular situation around COVID-19 was probably going to be a huge impact for arts organizations and not having a clear cut vision as to how long this might last," Loftis said to Art&Seek, "We felt the need to create this fund in the event that this went on longer."
There is a national coalition of arts funders, who have launched a $10 million fund for struggling artists across the United States. Artists Relief will distribute $5,000 grants to artists facing financial emergencies. Applicants must be 21 years or older and lived in the U.S. for two years or more. Funds will be open for five cycles, running through September 2020. While all aid will be going to artists, not everyone will receive due to the high anticipated demand.
Texas Music Office has compiled assistance information and resources for music industry professionals affected by COVID-19, including Texas and U.S. funds. Music Covid Relief, a resource brought by partners in the U.S. Music Community, helps music professionals access information and applications to receive benefits from the CARES Act.
For visual artists in North Texas, the Emergency Artist Support League (EASL) is offering grants of up to $5,000 per calendar year. It's for those who have been apart of the art community for the past two years.
While not a relief fund, Fort Works Art has launched a 'No Commission' program for all sales up to $1600 until May 22. The program is listing and selling DFW artist works on their website without taking commission. Any pieces can be submitted, where over 100 artists have been listed already.
For literary artists, the Dallas-based nonprofit publisher Deep Vellum launched an emergency fund that starts at $200 for writers in dire financial insecurity. The submission deadline for round one of grants is June 1, and will be given as long as funds last.
Speaking of which: If you know of other artist relief funds set up for/by North Texans, let us know.