You wouldn't know it by looking out the window right now, but believe it or not, spring is just around the corner. And by "just around the corner" I mean mild temperatures perfect for outdoor fun will be with us for good in just a matter of a couple of weeks. Sure, there will be springtime showers and a cold snap here and there, but for the most part in a few short days, we can say so long to winter. Yes, it sounds unbelievable (especially if you come from the frozen North) but it's true. Think of it as a tiny little silver lining to our scorching Texas summers.
Take a look at the mixed bag of picks we have for you this week. They'll help you throw the welcome mat out for a spring that's not quite here yet, but definitely on its way.
Right in the middle of the 6,000 acres of the Great Trinity Forest on land that used to be an illegal dumpsite sits the Trinity River Audubon Center. With its miles of trails and hands-on exhibits, TRAC is the perfect place to enjoy the first signs of spring. One good event to sample is the Night Hike that happens this Thursday evening. The program starts with a talk about the world of nocturnal creatures and nature after dark. Later on, after it gets dark you'll head out onto the trails for a group lead hike. The night ends with roasting s'mores over the fire. Don't forget to bring your flashlight, wear warm clothing, and to wear closed-toed shoes. These hikes sell out fast so be sure to get your tickets early.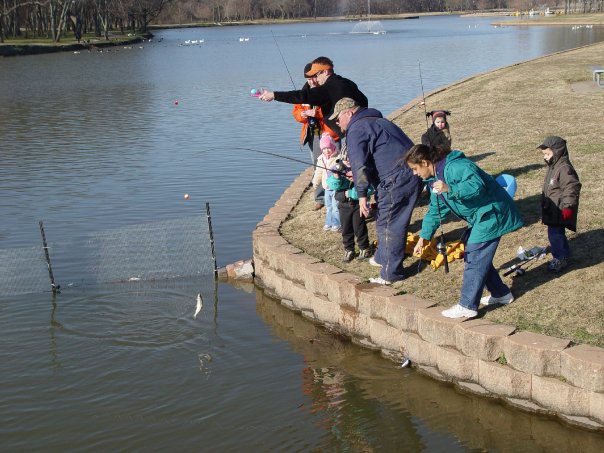 Welcome spring with some good old-fashion fishing this Saturday morning at McKinney Parks and Recreation's Annual Towne Lake Trout Derby. Anglers of all ages can catch some of the 5,000 rainbow trout that will be stocked in the Towne Lake in McKinney at the annual event. Highlights include free hot dogs, a casting contest, and prizes for the biggest and smallest fish caught. Everyone is encouraged to keep what they catch since trout cannot survive when water temperatures rise in the spring. The early bird catches the worm, or fish, in this case, because fishing starts bright and early at 8 a.m. You'll need to bring your own gear and bait but fishing is free for kids 16 and under, and just $3 for adults.
We all know the weather can be very fickle this time of year so it's always good to have an indoor option available. The Fort Worth Museum of Science and History would love it if you could celebrate Engineers Week with them. Fun fact: the event that celebrates the importance of learning math, science, and technical skills actually coincides with George Washington's birthday each year because the father of our country is also considered the nation's first engineer. The Fort Worth Museum of Science and History is ready to show you just how fun STEM can be with loads of activities planned every day through Feb. 21. If you need another reason to go; Saturday is Girls and Engineering Day. Girls (and boys) will have the opportunity to meet and work alongside female engineers from a variety of fields.
Fat Tuesday is just a week away. You can get a jump on Mardi Gras this Sunday at the annual Krewe of Barkus Parade. Far from ordinary, this family-friendly event features more than 250 costumed pooches (and their human pals) and promises to be a spectacle of canines and creativity. The theme this year is–A Barkus Salute to Popular Music: Puppies Go Pop Star. Now in its 18th year, the event will also have vendor booths and interactive activities. The fun all begins at 12:30 p.m. this Sunday at Mitchell Park in historic Downtown McKinney.
For even more kid-friendly events, explore the Kids & Family section of the Art&Seek calendar.