For the first time in Cliburn Piano Competition history,  the next version of a Cliburn contest will not be in Fort Worth, the organization's home for every Cliburn contest since its 1962 inception.
The 2019 Cliburn International Junior Piano Competition kicks off tomorrow. Performance details
here
. Meet the competitors
here
.
Tomorrow, the second Cliburn International Junior Competition branches out – to Dallas. In this week's Art&Seek Spotlight, KERA's Bill Zeeble looks at the organization behind one of the world's best-known piano competitions.
Mention a Cliburn competition and you might hear a 61-year-old recording by Van Cliburn, playing Tchaikovsky's First Piano Concerto. (See Cliburn perform the same piece in 1962 with Kirill Kondrashin conducting the Moscow Philharmonic Orchestra in the video above.)
This music helped him win the first-ever Tchaikovsky competition in Moscow in 1958. That victory inspired the piano competition in Fort Worth named for him.
Today, there are 3 different versions of the Cliburn contest: The Van Cliburn International Piano Competition, The Cliburn International Amateur Piano Competition, and The Cliburn International Junior Piano Competition and Festival – each held every four years. And always in Fort Worth. This week it's the Junior competition, for pianists aged 13 to 17. And it's in Dallas.
"It's a big deal," says Jacques Marquis, Cliburn Foundation President and CEO. "It's opening a lot of possibilities."
Marquis has run the organization for seven years now, always working to grow the brand.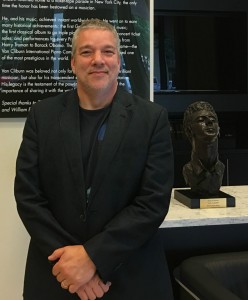 "We are expanding our footprint like any business [that] wants to increase their market – their audience – we're doing the same and Dallas is next door," says Marquis.
Dallas tantalizes with proximity, more people, more money, and its own top orchestra and world-class hall.  Ever-cautious that a change would also be seen as a threat, this move took time, says the Cliburn Foundation's board chair, Jeffrey King.
"We've probably been talking about this for 3 or 4 years," King says
King did not want to upset long-time Cliburn board members and volunteers.
"They might look at us sideways for a while, but they came around and thought, you know, that really makes a lot of sense, especially Dallas, and not someplace hundreds of miles away. And when SMU stepped up and was excited then, I knew this was going to be a success," King says.
Southern Methodist University is housing the competitors and hosting early performances. Arts Dean Sam Holland, says it was an easy "yes," when Marquis approached him several years back.
"First of all," says Holland, "I view every competitor as a potential recruit to SMU. They might think of coming back for school, and that's a huge net benefit for SMU and the Dallas community."
Holland says SMU donors are paying the room and board for the young musicians – that's at least $25,000.  But it's just a drop of the Junior Competition's $1,000,000 budget, according to Shannon Ray. The Vice Chair of the Cliburn board says money was among her concerns.
"Our board members from Dallas have been excellent opening doors for us. I've been over to two events there where we met prospective donors and they've been so generous in Dallas and we're just right on target or even ahead of target on our fundraising," Ray says.
Bill McIntyre's one of those Dallas donors. A long-time supporter of Dallas arts organizations, he attended his first Cliburn competition two years ago.
"I was just amazed at how good the music was," McIntyre says. "I was also amazed at the last performance, the chairman asked everybody to stand who had been to every performance that week. And I swear about half the audience stood up."
McIntyre attended the Van Cliburn International Piano Competition. That contest helps establish professional careers and it will stay in Fort Worth. But McIntyre was sold on helping to bring the newer, Junior contest to Dallas. Peter Czornyj bought in too. He's the Dallas Symphony Orchestra's Vice President of Artistic Operations.  Junior finalists will play concertos with the orchestra in the Meyerson Hall.
"Our musicians are very committed to providing opportunities for next-generation performers," Czornyj said. "They themselves have also come through this process of training and education. They feel that it's part of their duty to provide those opportunities to next-generation musicians."
Now, says King, all parties just need to deliver.
"You go to one of these competitions," King says, "and that's where you get bit, that's where you get infected. And that's what I think is going to happen in Dallas."
King says Dallas audiences and volunteers may not know what hit them until it's all over. He says they'll be exhausted and enthralled, and after looking back, start looking forward to doing it all over again in Dallas in four years.