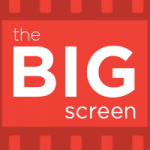 The Lone Star Film Festival begins five days of films today in Fort Worth. And Gregory Beck is going to be busy. The Fort Worth director has not one but TWO shorts in the fest. His documentary "Buck 'Em" tells the story of a North Texas bullrider making a living on the rodeo circuit. And his narrative film "You're Served" (starring David Wilk, pictured) centers on a process server with a unique sense of humor. Plan your festival going and report back on what you see.
• Download this week's episode.
Subscribe to The Big Screen on iTunes.