I have sort of a love/hate relationship with Texas summers. Admittedly, it's more hate than love. My co-workers call me Nordic Girl because I can walk miles through sub-zero temperatures without batting an eye.  But put me outside when the thermometer is past 90 and I positively melt. You'd think being a 5th generation Texan would make me more adaptable, but no. I hate being hot.
There is one thing this time of year that I'll concede is pretty wonderful and that's Texas summer nights. When the sun goes down and the air gets cooler it definitely makes up for the unbearable daytime temperatures. Add a nighttime breeze, fireflies, and a bowl of homemade ice cream on the porch swing and summer in Texas becomes downright magical.
Texas summer nights are also perfectly suited for outdoor movies. Much like eating on the patio, when you watch a movie outside is somehow makes the experience extra special. Add a blanket and a picnic dinner and you have all the makings of a summer event your kids will remember for years to come.
To help get you started on that special summer memory, here are some movies al fresco you won't want to miss.
The City Keller is back for another year of Keller Summer Nights. It's not only a movie under the stars, but as a bonus the event also features a free concert. The night starts out with music on the front lawn of Keller Town Hall, then after the music stops and the sun goes down there's a family-friendly movie on the back lawn. The Summer Nights series is winding down but you still have this Thursday and next to join in on the fun. This Thursday enjoy music from Kirk Thurmond & the Millenials and the film is 'Wonder" and June 28 catch Counterfeit Radio on stage and "Peter Rabbit" on screen.
Fort Worth's Sundance Square Plaza is serving up a summer outdoor movie series as well. The films are free and happen Wednesday nights and start around dusk (8:30, 9ish), but get there early to win prizes during their movie trivia contest. You can't bring in outside food or drinks but there are plenty of places close by to grab a bite. Also, leave Fido at home. The series runs through July 12. This week catch the classic "Who Framed Roger Rabbit."
Also on Wednesdays through July 25, is Fair Park's free summer movie series. The movies happen at dusk at the Museum Green lawn area (near the Natural History Building). Catch the blockbuster "Wonder Woman" this week. Bring your blankets and picnic baskets, and (yay!) pets on leases are welcome.
Another opportunity for enjoying cinema under the stars happens Saturday, June 30 at Movies in the Park at Haggard Park in Plano. They'll be screening "LEGO Ninjago" which begins at dusk. Food trucks will be on site selling refreshments and best of all, there will be themed pre-film activities. You'll have a chance to win fun prizes and immerse yourself in the movie theme. And of course, costumes are encouraged.
If you really want to go retro on the whole outdoor movie-going experience, give the Brazos Drive-In Theatre in Granbury a whirl. I love their cute, old-fashioned snack bar with a banging screen door and metal chairs out front. You'll swear you're sitting on the porch at grandma's house. You can load up the car and the whole gang can see the double feature 'The Incredibles 2″ and "Avengers Infinity War" this weekend for just 2o bucks.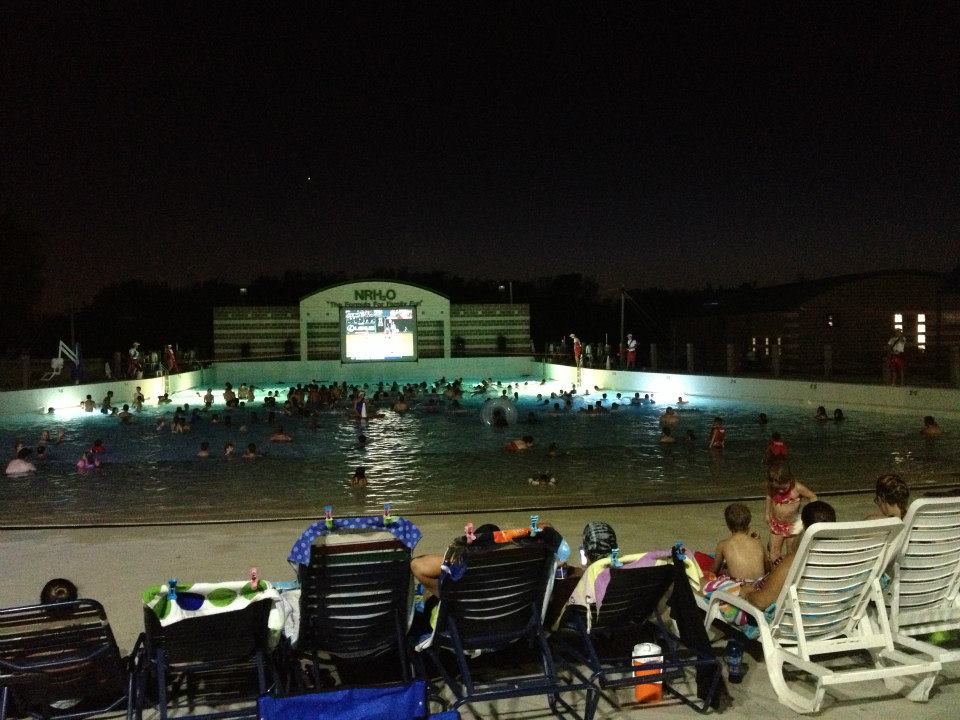 Catch a flick from the comfort of your beach chair. Photo: NRH2O
The nice folks at NRH2O Family Water Park in North Richland Hills are hosting an outdoor movie series poolside. That's right, you and your little guppies can see a dive-in movie from a suspended screen over the wave pool. If the waves make you seasick, you can also watch the show from the sandy (and motionless) beach. Movies will run every Friday (except June 22) through August 3 and are included with admission. This Friday enjoy the 1939 classic, "The Wizard of Oz."