Welcome to the Art&Seek Artist Spotlight. Every Thursday, here and on KERA FM, we'll explore the personal journey of a different North Texas creative. As it grows, this site, artandseek.org/spotlight, will eventually paint a collective portrait of our artistic community. Check out all the artists we've profiled.
Dallas' Office of Cultural Affairs has been working on a new cultural plan. It'll shape how the city makes decisions about arts projects over the next decade. And on Monday, Mayor Mike Rawlings held a public panel about it. In this week's Artist Spotlight, we fill you in on the plan's progress and highlights some community concerns.
Every year, during Arts Month, Mayor Rawlings hosts a discussion about important arts issues. This year, he chose to give a progress report on the new cultural plan. And he says he's pleased with the community's involvement in the process.
"I think what has been most exciting", says the Mayor, "is [that] we've gotten thousands and thousands of people to input into this plan."
Dallas began developing its cultural plan last July, when the Office of Cultural Affairs gathered some of the city's artists, arts advocates and organization leaders to discuss the city's creative future.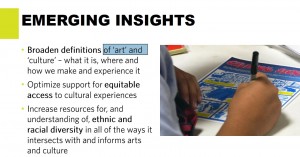 "We felt it was important to make sure it was very inclusive," the Mayor says. "We went to the small arts organizations, as well as the large ones, and really got into the neighborhoods where people feel that art is important to them."
Nearly nine months since,and what are the results? Well, the city has narrowed its focus to six different areas that they plan to address in the plan. Things like, attracting cultural tourism, supporting equitable access to arts and culture and helping arts organizations sustain themselves.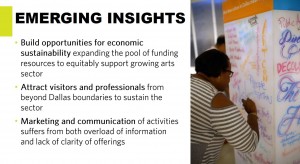 "One big 'aha moment' coming out of this plan is that Dallas needs to not focus on building buildings, but building an arts community," says the OCA's director Jennifer Scripps. She – along with several consultants – have been spearheading the project.
Joy Baily Bryant, from Lord Cultural Resources, is one of those consultants.
The OCA has organized 33 community conversations to survey Dallasites about the cultural offerings in their neighborhoods. That's not the only way that they connected with residents though.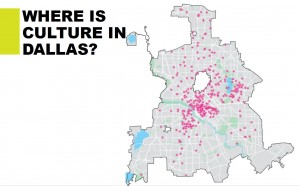 "We actually partnered with the Parks Department and started showing up at regularly scheduled Park monogramming, especially with senior citizens and especially with programming that was in Spanish," Scripps says.
That approach helped the OCA interact with people who didn't know the Cultural Plan existed. Scripps says it provided a really rich citizen dialogue.
"And in some ways it was more candid and natural than the people who clearly came to meetings to advocate on behalf of,you know, issue X," she says.
Speaking with thousands of people, means thousands of opinions though. Here are just a few of the things that came up Monday night:
"I'm really hopeful and praying that if we can't bring art education back into the schools – because our schools in the Southern sectors of Dallas are lacking in art education – that at least we can [have] programs outside the school that the children can go to and learn about art if it can't come back into the school," says Audrie Mills from No Limits Arts Theater.
"I can't find spaces that don't want to charge me a ton of money," says Agostina Migoni of Das Blümelein Project. "I just can't afford to create here."
"I think we need more funding, more locations to provide the arts and another thing that I think is kind of important is transportation," Phillip Slay from the Junior Players. "We have lots of students who have a hard time getting to rehearsals and we need to partner with DART."
"I think the biggest thing for me and a lot of people that art starting newer organizations is just being able to have a person that can say, 'Oh you need to talk about this. Oh you need to check this out. Oh you should probably meet this coordinator and ask about this," says Sam Brukhman of Verdigris Ensemble.
Joy Baily Bryant and fellow consultant Lizzie MacWillie from [bc] Workshop say they've heard a variety of voices and many many different concerns. But the most vital issues have a way of coming up over and over again.
"A good thing about a lot of the data points is there are so many that are the same," says Bryant. "And that's how things are starting to rise to the top as priorities."
The plan should be complete in six months. The next steps? Evaluating a pilot program that placed artists inside city departments. And of course, lots and lots more research.