'Tis the season for bonnets, bunnies, and egg hunts! If you're looking for a hopping good time during this most egg-cellent time of the year be sure to check out our list of weekend picks. We've got a basket full of ideas for you and your little chickens.
On Thursday evening early birds (or bunnies) ages 11-16 can kick-off the weekend with a unique after-dark egg hunt. Denton Parks and Recreation is hosting free Twilight Egg Hunt for tweens and teens at Denia Recreation Center in Denton. As you probably guessed, this hunt happens at sundown and the "eggs" are cool prizes that teens find with the help of a flashlight.
For even more fun in Denton get up early Saturday morning and head to Quakertown Park for the super-duper Egg'stravaganza and Egg Hunt. There will be inflatables, tons of arts and crafts, carnival games, a magic show, and over 30,000 filled eggs up for grabs. Children will be divided into groups based on age and grades, so be sure to arrive early to find your designated group.
Hop on over to Yesterland Farm in Canton this weekend for BunnyPalooza. Just like the name implies, this bunny-themed event is a confetti egg explosion of fun. Make a day of it and hunt eggs, visit with the Easter bunny and ride all the kid-friendly rides, including a mini roller coaster. And since Yesterday farm is a farm, you'll want to be sure to say hello to the bunnies in Bunnyville, do a little catch and release fishing, and watch the duck races. If you can't make it this weekend, no worries, BunnyPalooza is happening next weekend, too.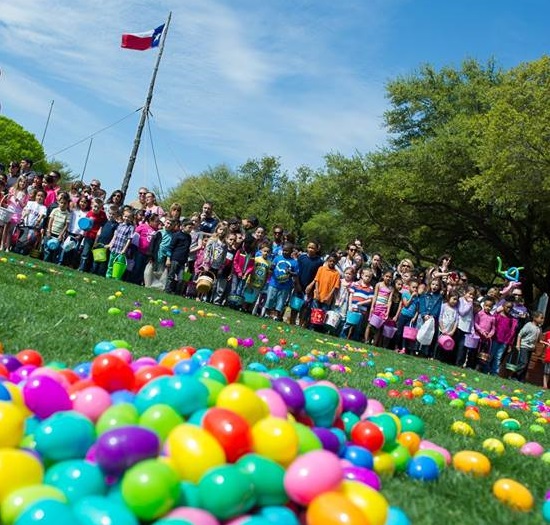 Photo: Fort Worth Stockyards Station
Everyone knows we do it bigger in Texas, and if you want proof of that, mosey on over to the Texas-sized Easter Egg Hunt on the lawn of the Livestock Exchange Building in the Fort Worth Stockyards this Saturday. The egg hunt for kiddos ages 0-12 begins at noon. This year participates will be divided into age groups, instead of going all at once. After the hunt, there will be photos with the Easter Bunny, face painting, a caricature artist, and live music. For even more fun, be sure to stay late and catch the Fort Worth Herd cattle drive. It starts at 4 p.m.
Put on your finest Easter bonnet and join the fun at Oak Lawn Park and The Conservancy for Easter in the Park. Enjoy an afternoon of festivities including the famed Conservancy Pooch Parade, live music, an egg hunt, photos with the Easter Bunny, and food trucks. Bring a picnic basket and a blanket and relax on the lawn with your favorite bunnies.
Another option for Sunday is a ride aboard the Easter Bunny Train on the Grapevine Vintage Railroad. Besides a super-fun train ride, the littles can also expect an appearance by the rabbit de jour and lots of games and sweet treats. As to be expected, the Easter Bunny Train is VERY popular so be sure to get your tickets in advance.