It has been about a decade since the E-Readers like Amazon's Kindle hit the market. And since then, the debate over whether digital books are better than paperbacks or hardcovers has all but died down. Part of that may be the country's rediscovery of all things analog or perhaps it's the simple fact that there's a desire for both. Either way, have we got some good news for bibliophiles:
The Friends of the Dallas Public Library, a nonprofit organization that advocates for and supports the library, is hosting the winter edition of the biannual library book sale on Saturday, January 27, and Sunday, January 28, at the J. Erik Jonsson Central Library in downtown Dallas.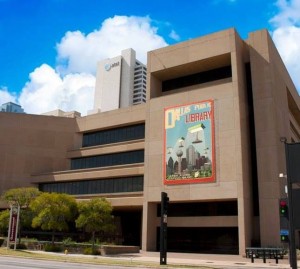 Mary Wilonsky, the interim executive director at Friends of the Dallas Public Library, says the sale is a great way to get amazing books onto your bookshelves.
"We're really finding that these book sales are a great way to find new homes for books that have been in the system for too long," Wilonsky says.
She says the books aren't necessarily damaged or in any sort of need for repair, but that sometimes the library system can have as many as 75 copies of the same title.
"We've seen a great number of people who just love to acquire books show up at the sale," explains Wilonsky. "We've got teachers who are coming to buy books out-of-pocket for their classrooms. And school librarians often show up. But it's really any and everyone."
The Friends of the Dallas Public Library expect that there will be about 40,000 print and audio books, CDs and DVDs on sale. All of the proceeds will benefit the 29 branches of the city's library system. But the money will most immediately help the library system bounce back from a fire that occurred in a lower level storage area in the the main public library building in downtown Dallas.
"The fire didn't cause any damage to the property," Wilonsky says. "But it did destroy some of the materials that were planning to be used during summer programming."
The prices at the book store are so good that the word "bargain" doesn't feel strong enough. Prices can start as low as 50 cents and most everything at the sale will be priced at under $10.
The upcoming sale will be open to the public from 10 a.m. to 4 p.m. on Saturday and from 1 to 4 p.m. on Sunday. Cash, checks, credit and debit cards will be accepted. Boxes and bags will be provided for transporting your literary loot.
Friends members will have early access to the lot from 6:30 to 8 p.m. on Friday, January 26. Memberships start at $25 and are available at FODPL.org.