"Our brightest blazes of gladness are commonly kindled by unexpected sparks."
Samuel Johnson, The Idler; Poems
I came across this quote quite serendipitously while I was at the dentist office this week. I was there to have an emergency root canal and all I could think about was how inconvenient this was–not that there's ever a convenient time to have a toothache–but the week before Christmas? This was really bad timing. As I was impatiently flipping through magazines in the waiting room, mentally making lists of everything I still had to do, I saw this quote. It made me realize that the season isn't an orchestrated event where everything is supposed to happen like clockwork, and the world will stop spinning if Christmas cookies don't get made. The gladness and good tidings of the season happen in spite of the cookies, gatherings, and all around-hubbub–not because of them.
This is a good way to look at holiday light displays. You might feel the pressure to rush out and see them before Christmas, but let me just throw out the notion that the perfect time to view those fabulous light displays might just be after C Day. The crowds have thinned out and the pressure to get every experience in before Christmas day has magically disappeared. Instead of feeling compelled to rush, you can relax and really enjoy the beauty of the displays.
Here are a few light displays to help ignite your spark of gladness.
The Modern Art Museum of Fort Worth is getting into the holiday spirit with The Modern Lights. For the first time ever, the museum will be illuminated with festive lights in celebration of the holiday season. The lights also commemorate the Museum's 125th Anniversary. Bask in the glow of the lights and enjoy extended hours until 8 p.m. on Sundays, Tuesdays, and Fridays in December. The lights will be illuminated nightly through Jan. 6.
Another luminary experience making it's debut this year is Holiday Wonder at Fair Park. Two million lights illuminate the park in this walk-through experience that features giant displays, snowflake corridors, and a 48-foot-tall Christmas tree. In addition to the light displays, you can also take a "sleigh' ride down the two-Arctic Slide. You can walk through this "Wonder"land through Jan. 7.
Looking for something really different? Head to the Dallas Zoo for Zoo lights. After the animals are tucked into bed for the night, the Dallas Zoo will be transformed into a winter wonderland with nearly 1 million lights illuminating the park. Stroll along a path that covers 25 acres within the Zoo, and enjoy light-wrapped trees, overhead and hanging light displays, and lighted 2-D decorations. If the gang gets hungry, grab a treat from the s'mores station or some hot chocolate. 
Head to Crockett Row at West 7th in Fort Worth for Starlight Symphony a festive winter experience when the district is transformed into a twinkling wonderland with an hourly 5-minute music & lights show. Friday and Saturday evenings you can take a free horse-drawn carriage ride around Crockett Row and listen to local choirs, vocalists and musicians perform from Crockett Square. Starlight Symphony happens nightly through Dec. 31.
An often overlooked place to view lights is Klyde Warren Park. Get out of your car and let the tines burn off the sugar from the Christmas cookies on the path around the park, or head over to the ultra-modern playground for a little jungle gym action. A side note–this park is one of the few that I've seen with real bathrooms, not port-a-potties. Trust me when I tell you this is important information to have on hand during hot chocolate weather. If the kids are still extra energetic take a stroll over to the AT&T Performing Arts Center and check out the trees in the center that are illuminated by over 550,000 lights.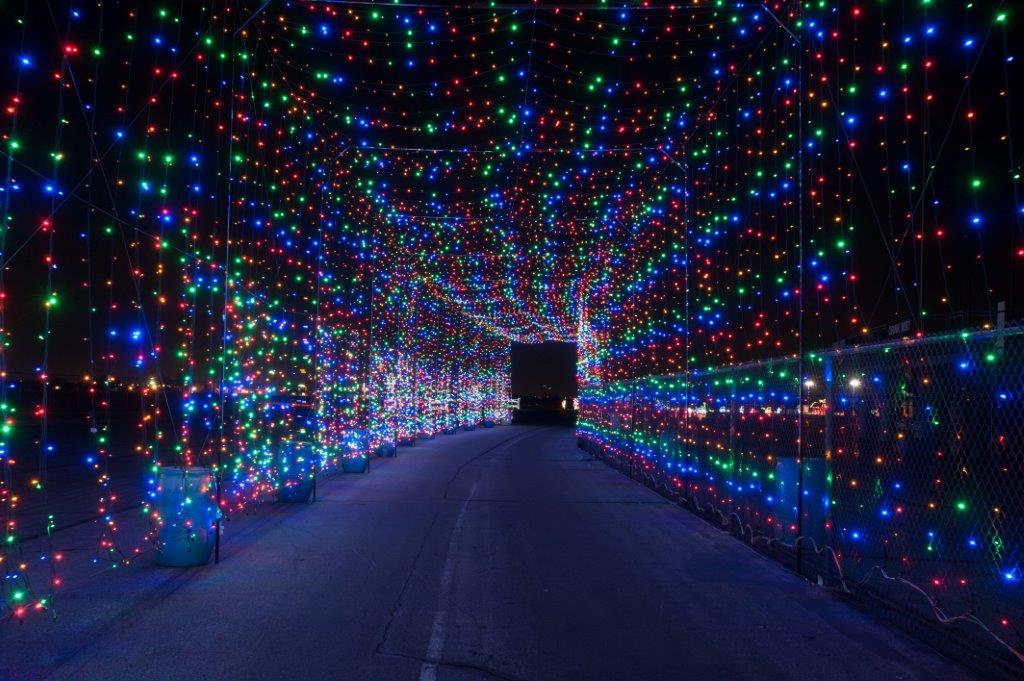 Photo: Gift of Lights at Texas Motor Speedway
Do it up big and head to the Gift of Lights at Texas Motor Speedway in Fort Worth. The Texas-sized drive-thru light show features more than 600-holiday displays in a nearly two-mile span at TMS. After you've gone through the drive-thru park, check out Santa's Village on the inside track of the famous raceway. There are over 10k square feet of surprises for the kids and pictures with Santa. Open daily until Dec. 30.
If Clark Griswold is your spirit animal and light displays are your passion, don't miss Prairie Lights in Grand Prairie. This drive-thru experience is the mother of all light displays. It features 4 million twinkling lights set along 2 miles of path, many of which arch over the roadway. At the halfway point you can stop at the Holiday Village for some hot chocolate and kettle corn. Let the little kiddies take a romp through the brand-new Snowmazing Maze. Admission is $40 per car on weekends and $30 on non-prime days through Dec.31.
If you'd rather walk than drive through your winter wonderland, check out Vitruvian Lights in Addison. You and the little kiddles can run, skip, or stroll through a beautiful 12-acre park that's lit up with millions of lights wrapped around more than 550 trees. The lights remain on every evening through Jan. 1 and it's free.
Farmers Branch Historical Park has really brought it—"it" being the holiday spirit and thousands of lights–with its annual, animated light show Tour of Lights. Each display has a theme, and the tour ends with a grand finale with Kris Kringle himself. An added bonus is that the whole thing is donation only. What's not to like? If you want to see the lights shine better get a move on because they're only on through Dec. 30.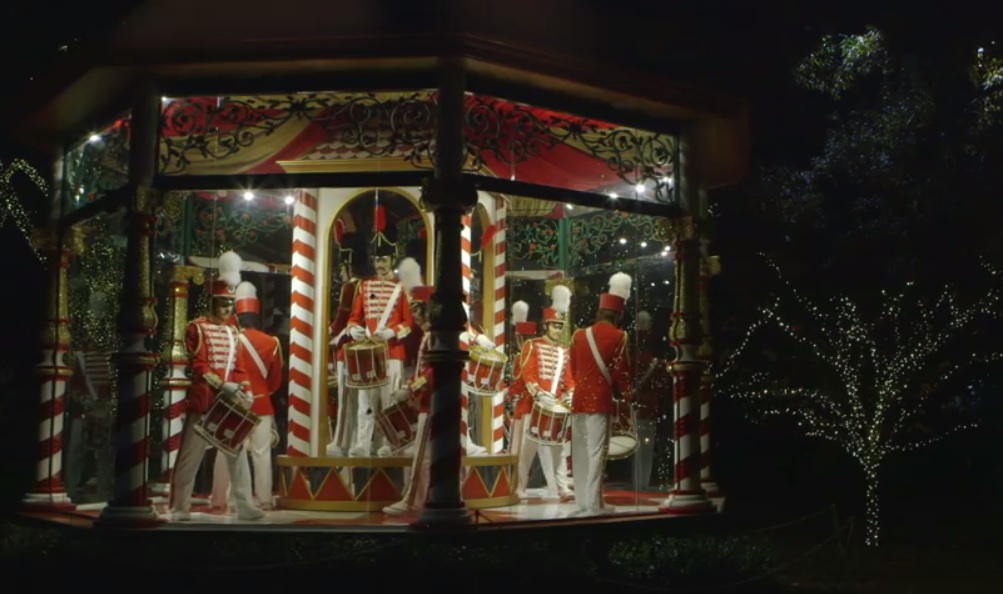 Photo: Dallas Arboretum
Is it 10 Pipers Piping, or 10 Lords A-Leaping? Find out at the  Dallas Arboretum's Holiday at the Arboretum. Their fantastical '12 Days of Christmas' display fills the garden with a dozen 25-foot glass gazebos, each filled with festive mechanical mannequins, holiday music, and elaborate props. Our favorite is the whimsical 8 Maids A Milking. The kitties sleeping in the hay seem almost life-like. The best time to see the display is at night. Don't worry about finding your way through the dark garden. The .75 mile path through the exhibit is illuminated. You can see the popular Christmas carol come to life through Jan. 7.
For even more light displays check out Art&Seek's Holiday Event Guide.