On Monday, the City of Dallas' Office of Cultural Affairs continued their exploratory mission to learn how Dallasites are engaging with arts and culture.
The effort is part a larger strategy to craft a new cultural plan that fulfills people's hopes and dreams for Dallas' cultural future.
The OCA, and the consulting groups that they've hired to help with outreach, are holding a series of "community conversations" in each of the city's 14 districts.
The Oak Cliff Cultural Center was home to Monday's conversation and the Center's manager Rafael Tamayo is ecstatic about the turnout.
"I love it," he says grinning ear to ear. "We need to have more of these meetings here at the Cultural Center."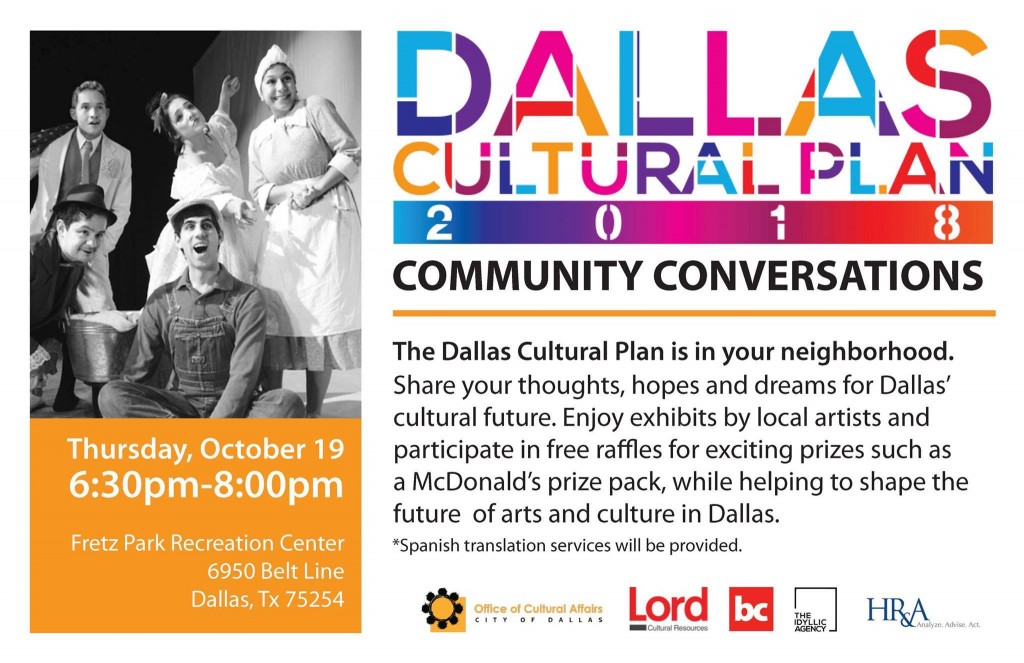 Around 35 citizens turned out for Monday's conversation and though there were individuals from various parts of Dallas, the majority were form Council District 1, which includes Oak Cliff.
Having locals in attendance encourages Tamayo. He says people need more opportunities to speak with city officials about what they want.
"My biggest thing is that we need to provide that chance for anyone to share their opinion," Tamayo says. "And not just the people who are 'supposed' to be here."
The OCA agrees. And that's why they're not organizing traditional town-hall-style meetings. Instead, [bc] workshop – the consulting firm with an emphasis on community engagement – has come up with creative activities aimed at sparking conversations.
Lizzie MacWillie, [bc] workshop's Associate Director in Dallas, says they're trying to find out about people's cultural experiences in Dallas and they don't want to bore them.
"We want to know what they enjoy doing. What is and isn't working for them? How are they accessing culture? What are the barriers to access? Really, we want to know what would make things ideal for them as patrons, artists, donors or whatever," says MacWillie.
The activities began with group mapping. That's where the event's attendees were placed into groups and asked to place sticky notes on a map of District 1. The sticky notes were visual representations of the locations where they encounter arts and culture.
After gabbing about the areas they all most enjoyed, which was basically the entire Bishop Arts District, the groups discussed the areas that didn't seem to have any arts and culture.
"So we've an identified existing cultural pocket," says Lisa Neergaard, a policy associate at [bc] workshop. "Where are there opportunities to expand or grow arts and culture on the map?"
The Elmwood neighborhood off of Edgefield was shouted out, because it's been developed and redeveloped several times. But folks thought that it hadn't really reached its potential.
On man said there used to be gift shops and restaurants, but that now the area is occupied by mechanic shops and various other small businesses. Many people thought this would be an ideal area for more cultural events.
Noelia Saenz is an Oak Cliff native and she pointed out that all of the arts and culture was in North Oak Cliff. She said she's happy that those areas have developed over the years, but she's sad that other parts are getting left behind.
"I am so happy to see that Bishop Arts has boomed. But that was never my part of Oak Cliff. My part of Oak Cliff doesn't have a neighborhood name. And it's kind of a barren wasteland. There's a real need for arts and culture in those areas," Saenz says.
After the mapping activity, facilitators asked people to think of a location that they'd give a letter grade 'A' to for arts and culture. Obvious locations like Manhattan or Houston's museum district were touted as shining examples. Then the groups had to grade their neighborhoods and lots of low grades were doled out.
Stan Aten, a volunteer librarian who's lived in Oak Cliff for 30 years, gave his district an 'F'.
"We really don't have a lot of spaces for people to perform. We don't have a lot of locations to publicly display art. So we're really lacking on access,' says Aten. "There's so much to see and do in this town, but most of it is located somewhere else."
The meeting concluded with groups sharing the challenges faced by people in District 1 with everyone in attendance. The top three challenges were access, affordability and activation. Folks wanted easier transportation and parking opportunities, cheaper tickets to premiere events and to have businesses and buildings in their neighborhoods transformed into places where creatives could show their work.