With the passing of the Autumn Equinox last Friday and the first day of October happening this Sunday, we can now officially say we're in the fall season. Yay! Break out the sweaters and the Halloween decorations!
I'm not sure what it is about the autumnal season, but it seems to be more out of the ordinary than the other seasons. Maybe it's the fiery fall foliage, the big, orange harvest moon, or that first cold snap after a long hot summer that makes us stand up and take notice of the changing season. Personally, I think it's all those pumpkin spice lattes we're drinking that has us all hyper and super aware about how wonderful and quirky fall really is.
Here are some fun and out-of-the-ordinary events to help you ring in the most pumpkiny time of year.
There won't be any cows at this Cowtown event, but there will be goats! That's right Deep Ellum Yoga and Stockyards Heritage are bringing a goat yoga party to the front lawn of the historic Livestock Exchange Building this Wednesday.  The family-friendly event includes live music, lawn games, a beer garden, food trucks, prize giveaways and more. Bring the kids at 5:30 p.m. for a chance to meet the baby goats, before the class gets started. This event is free but there is a fee to participate in the goat yoga class.
Besides fall you can also help Dogwood Canyon Audubon Center celebrate their birthday at Festival in the Forest this Saturday. You can party in the forest with birds and reptiles from the center and enjoy guided hikes, games, animal encounters. While admission is free, some activities have a fee.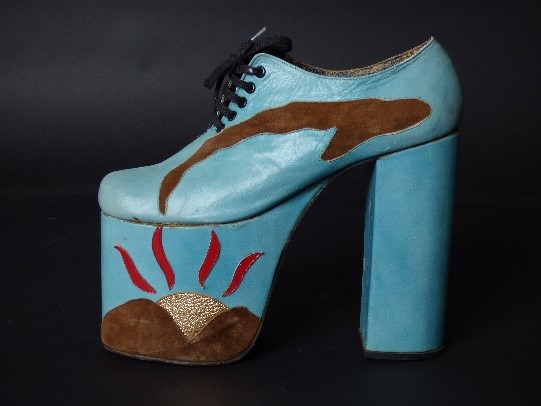 Don't you just love it when the kids say the clothes you wore back in the day were funky? Show them how fabulously funky clothing really was with Night Fever: Fashions from Funk to Disco. The fashion exhibit, which is currently on display at Galleria Dallas, features over 75 authentic garments and accessories from the decade that brought you Saturday Night Fever, Disco, and platform shoes. The free exhibit is on display through Nov. 1 (closed Mondays) and is located on Level 1 of Galleria Dallas on the south end.
Get your creativity fix at the 3rd Annual Chalk Art Festival this Saturday at West 7th in Fort Worth. You can view elaborate chalk art creations by professional street painting artists (get there early so you can see the pieces evolve), or if you're feeling artsy, give the amateur artist competition a whirl with your own masterpiece. Prizes will be awarded to the 1st, 2nd and 3rd place winners. Kiddos can also get creative in the children's art area.
Corral the little buckaroos and head to Lewisville Western Days this weekend for a whole heap of fun. Highlights for kids include Old West-style gunfight reenactments, bounce houses, a barrel train that makes the rounds on Church Street, and a cattle drive parade featuring 20-30 head of Texas Longhorns. Young rodeo fans can test their skills at the stick horse rodeo event just for kids ages 1 through second grade, with medals awarded to the top three contenders in each of three age divisions. The rodeos will be held at 3 and 5:30 p.m. Saturday with registration starting a half an hour in advance.