The city of Dallas is revamping its cultural plan. The first step: asking thousands of residents about their interest in the arts. It's a huge undertaking and it starts Monday, with a series of kick-off events and a survey online. It'll roll out through the year though, with meetings in each city council district, street teams fanning out to gather input in neighborhoods, more surveys, and then, follow-up meetings to make sure initial findings jibe with what residents perceive.
All of this research will help the city decide what its priorities should be, and how it might spend money allocated for the arts.
Interested in helping the city know more about how you consume arts and culture? Take the online survey here.
What does the city want to know, and why might you want to tell them? To find out, I sat down with Jennifer Scripps, director of the city's Office of Cultural Affairs, and Lizzie MacWillie, associate director at [bc]WORKSHOP, one of several groups helping the city through the process of developing the plan.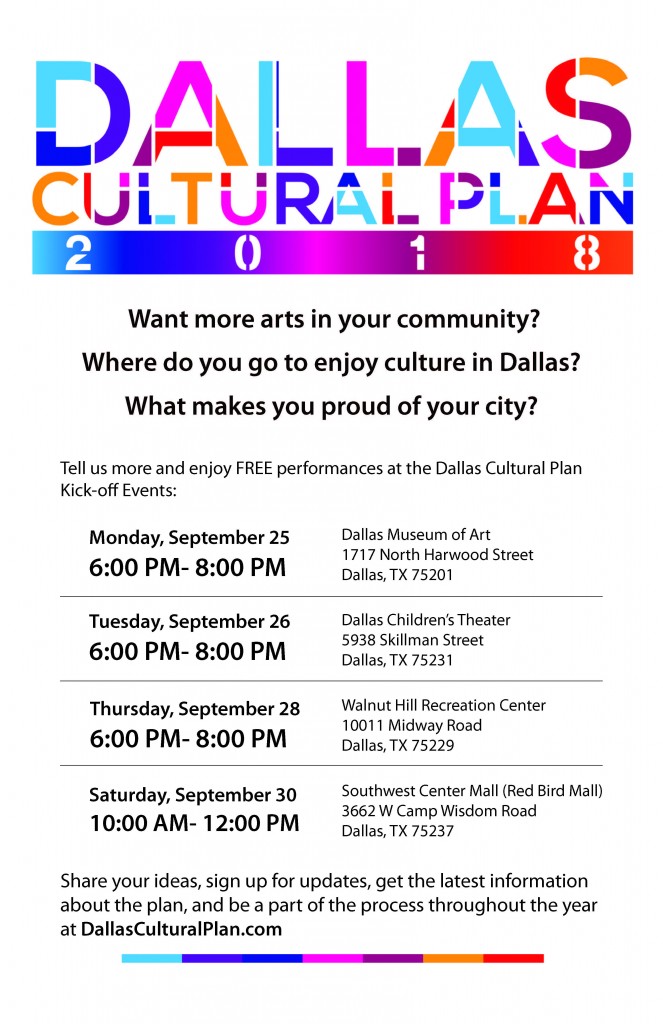 You can click on the player at the top of this story to listen to our conversation. Some excerpts are below:
What are you trying to learn from these events?
Jennifer Scripps: We really want to engage all of the people who live, work and play in Dallas, and hear from them how they experience the arts, either as artists themselves or as audiences, as parents, as seniors. How do they value the arts, participate? What do they want more of? What's not really connecting with them? And then also, where?
Are you just as interested in guitar lessons and needlepoint, as you are in how many people are going to theater?
JS: Did you know I needlepoint? No, really and truly, that's a perfect example. People sometimes will say, 'I'm not an artist, but I go to a monthly quilting meeting.' So absolutely. How are people wanting to learn more about the arts?  So do they like going to their weekly dance class at the recreation center? Things like that.
What happens at these kick-off meetings?
Lizzie MacWillie: We're going to have a short presentation of the plan. We're going to do mapping; we're going to talk about what are all the places in the city where you are experiencing culture. What are the places you absolutely love? And where are they, so we can start to map physical assets and build a data base of information. We're going to do an activity where we ask people to tell us about cultural experiences that have really resonated with them. What are all the things that make it easy and wonderful to experience the arts and culture in Dallas, and what are some of the things that make it a little bit more challenging?
Then we have another activity where we're gonna ask people to really use their imagination and think about, if they were to design their ideal cultural community or their ideal artistic community, what are all the components of that? What are all the things that  would need to happen to make a real vibrant cultural community
And then, after these meetings?
LM: The kick off meetings are just the beginning. We're going to be doing a community meeting in every city council district across the city. We have a survey that's going up right now that's paired with the kick-off in terms of gathering information. And then there's a whole social media campaign and strategy
You have a street team, too.
LM: We're recruiting volunteers to help us go into neighborhoods and flyer. The city of Dallas has probably over 400 neighborhoods and we'd like to cover as many of them as possible. All of them, if possible.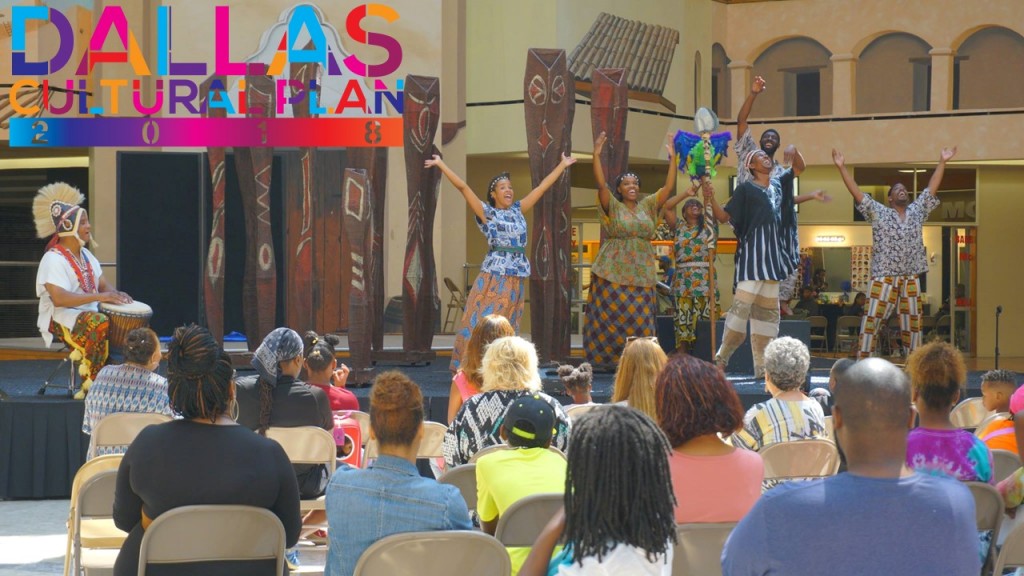 Why should people participate? What's in it for them?
JS: This is the first time we've done this in 15 years. So giving your input, it's almost like voting, you only get to do it once. And we get the arts community we deserve. So we need people to show up and speak out and go online and follow along and participate, so that we get the best road map for our city.
What's the biggest challenge to a project this size?
JS: I think people are really busy and I honor that. If you work in the arts, you have to realize that artistic experiences take people's most precious assets, their leisure time and their leisure dollars.  So asking people to    stop their busy lives and engage in something like this and to break through the noise of …I don't care if it's high school football or  back to school or whatever it is, hurricanes and earthquakes right now.  It's hard. I think even if people can't make these events, to check us out and take the online survey and follow along on Facebook.  It'll be a year long process, so this is only the beginning.
LM: Yeah there will be many opportunities  for people to be involved and it's not like you have to start at the beginning and stay through the end. There will be many points of entry.