Country music is all about heartbreak and loss. And no one person in country musician might know more about both of those topics better than 62-year-old singer-songwriter Steve Earle. He's battled drug addiction, lost several close friends and has been divorced six times. Recently, I caught up with Earle while he was on tour for his newest album. It's an album he admits was inspired by his outlaw country roots.
Legend has it that Earle ran away from home when he was 14 years-old. He wanted to be a musician, so he decided to follow an idol, Townes Van Zandt, as he toured across Texas.
At 16, he dropped out of high school. And by 19, he abandoned Texas for Nashville. It was a tough decision.
"I thought about staying here," Earle says. "There was a lot going on, ya know? Doug Sahm was here. And Willie was here. And they were playing Armadillo World Headquarters and all of a sudden Texas was pretty exciting. But you know Austin was too – weather too good, girls too pretty, dope too cheap and I knew I would never get anything done in a place like that."
Listen to an extended interview with Art&Seek's Hady Mawajdeh and Steve Earle in the player below.
There wasn't a better place than Nashville for a country music apprenticeship. And 1974 couldn't have been a better time.
Guy Clark and Van Zandt had just arrived in town. They performed poetic, often courageously sad songs. Waylon Jennings was there too. He had branded himself an outlaw and was creating a whole new genre.
Earle wrote for and performed with all of them. And he learned songwriting.
 "The job's about empathy. People don't really care about the bad stuff that happens to you. They care about the bad stuff that happens to you that they can relate to," says Earle.
So that's what he wrote. His first album was "Guitar Town." It featured autobiographical tales and simple stories of people living in hard times. Sonically it straddled a line between country and rock.
Now, 31 years later, Earle's new album harkens back to "Guitar Town" and the albums that influenced him. Albums like Willie Nelson's "Phases and Stages" and Jennings's "Honky Tonk Heroes."
"It's a country record, but it's a very electric country record," says Earle.
 The album's called "So You Wanna Be An Outlaw." And the sound of Jennings' signature Telecaster is an audible touchstone throughout. Earle admits that's partly because he's been revisiting Jennings' music.
"And I'm a better guitar player than I was when I made records like "Guitar Town," so I'm not afraid of Fender Telecasters anymore," Earle says.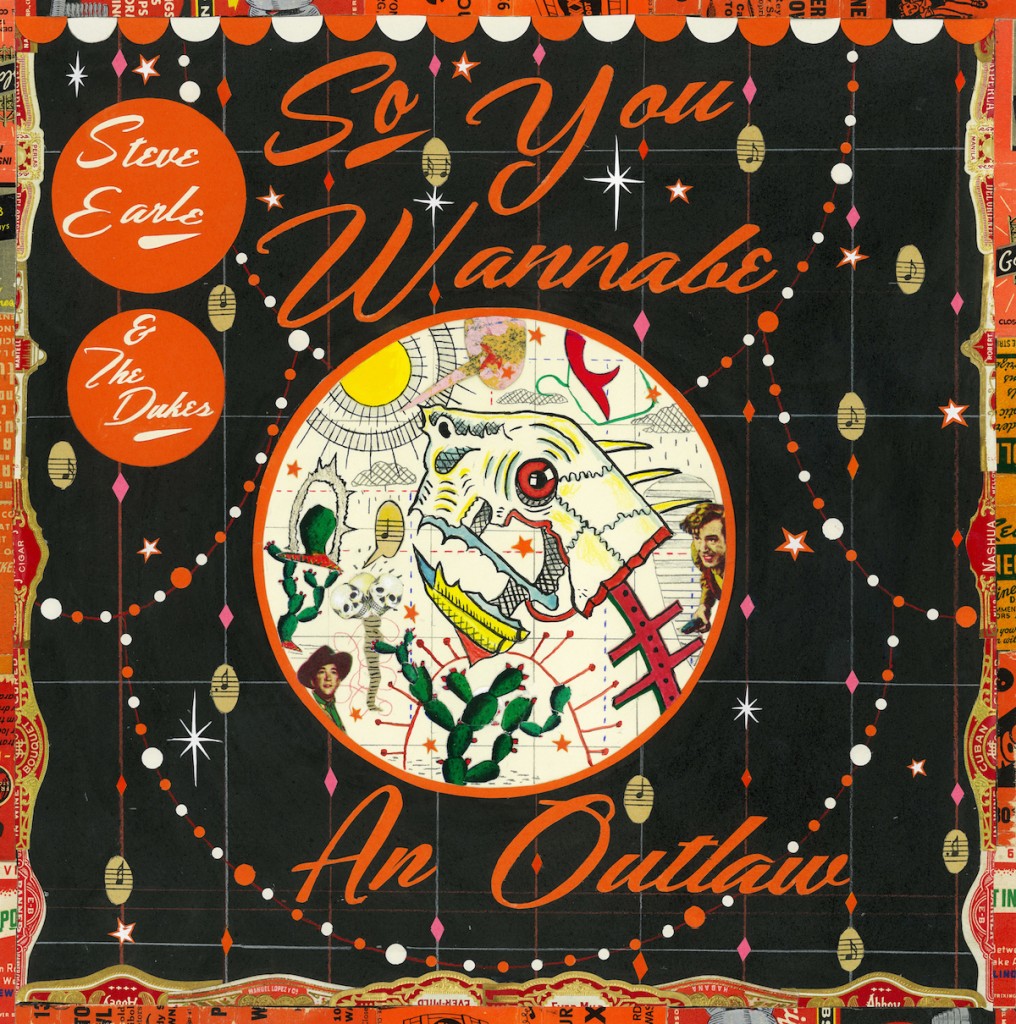 The record kicks off with a handful of raucous songs about the outlaw lifestyle – jail, women and whiskey drinking.
 "I think I sort of unapologetically kind of surrendered to channeling Waylon Jennings as much as I could on this record," says Earle.
 But the second half of the album is more subtle. There's more acoustic guitar, and songs about lost love loss. There's a song for a mentor – the late Guy Clark.
"So You Wanna Be An Outlaw" is an ode to a style of music many thought was gone. But Earle says there are a few still keeping the tradition alive.
"Right now, I think the women that manage to get on country radio are doing the most exciting things that are happening in Nashville – as far as I can tell."
Songwriters like Kacey Musgraves, Miranda Lambert and Chris Stapleton are the sort of folks that Earle believes will be the next generation of outlaws to carry on his renegade spirit.