Don't you just love April? The weather is perfect–not too hot, not too cold, the bluebonnets are blooming, and baskets full of chocolate left by unsuspecting toddlers are just lying about for the taking. Except for tax season and an occasion tornado siren going off in the middle of the night, the month of April is pretty darn perfect in my opinion. I, for one, am going to miss the merry month, so it's only fitting that we bid it a fond farewell with one of these spring events.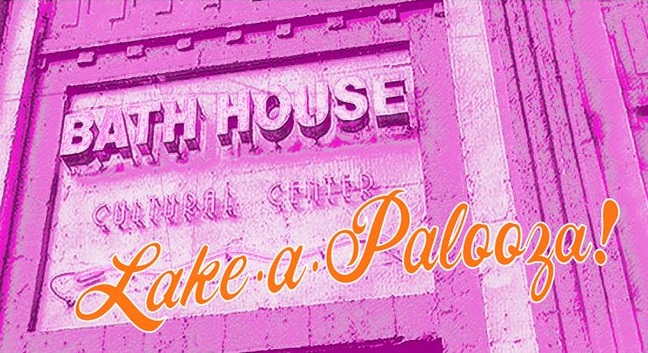 There's not a more fitting tribute to April than Dallas Arts Month, a month-long celebration of the all the cool arts and culture events offered across Dallas. The month is almost over, but there's still time to catch some cool arts stuff this weekend, including Lake-A-Palooza at White Rock Lake.  The free music event will feature a wide variety of music genres performed on three stages from 2-7 p.m.  Rare Texas Musicians memorabilia will be on display along with a music-themed art show in the main gallery at the Bath House Cultural Center.  There will also be activities for the kids including face painting, color-in murals, balloon artists, and a gihugic stilt-walker.
Children's author Mo Willems is a god among the itty-bitty set. Kids love his silly stories featuring a pleading pigeon, a lost knuffle bunny, and best buddies Gerald and Piggie. It's the latter that come to life on stage in "We Are In a Play!' at the Eisemann Center for Performing Arts in Richardson. The vaudevillian-style musical brings friends Elephant Gerald and Piggie together as they sing and dance the answers to life's most vexing questions. Like, what do you wear to a fancy pool costume party, should you share your ice cream, and, how can two friends play with one toy? Backup singers The Squirrelles complete the show. Of course, expect plenty of audience participation. Gerald and Piggie are making only one appearance on Sunday, so don't miss out!
Looking for something scrum-diddly-umptious to do this weekend? Then check out Frisco Youth Theater's production of "Willy Wonka Kids." The musical tells Roald Dahl's timeless story of the world-famous candy man and his quest to find an heir. The show features songs from the 1971 film, as well as a mix of fun new songs. As a side note, in this particular show, there were so many talented kids who auditioned they decided to run two full productions with two different casts. Lucky you! That means this Thursday through Sunday there will be 12 performances to choose from. "Willy Wonka Kids" will be held at Expedition Frisco.
Speaking of sweets, you and your sweeties won't want to miss the 6th Annual Cupcakes For A Cause. It's an opportunity to sample some confectionery goodness and do it for a good cause to boot. Here's the scoop: bakeries from all over DFW whip up kaboodles of delicious treats to raise money for LEAP Global Missions, a Dallas-based nonprofit that provides free specialized surgical and medical care to people around the world. Besides the tasty treats, there will also be a cupcake-eating contest, bounce houses, and face-painting. The seriously sweet soiree happens this Saturday from 11 a.m. to 2 p.m. at University Park United Methodist Church.
Besides showers, the month of April is also famous for ushering in the outdoor festival season. Starting now, until about the beginning of June, we North Texans head outside and get our festival on with one of the many arts-related celebrations going on in our neck of the woods. One of the best festivals around is happening this weekend. It's the Denton Arts & Jazz Festival. Now in its 37th year, the annual jubilee of jazz features seven stages of continuous music, fine art, crafts, food, games and information booths all in the beautiful setting of Quakertown Park. Headliners for this weekend include Jack DeJohnette, Ravi Coltrane, Matt Garrison, Aaron Neville, and everybody's favorite electric polka band, Brave Combo.