Saturday, April 22 marks the 47th anniversary of Earth Day. That's right, waaaaay back in 1970 the flower children and politicians got together and came up with an annual event where the people of the world can express love for our big, beautiful planet by being environmentally conscience.
Celebrate the earth and the future stewardship of the planet with one of these family-friendly events.
If you're looking for all things Earth Day you won't have to look any farther than Big Tex's stomping grounds because Earth Day Texas 2017 will be going on all weekend at Fair Park. The free, three-day event is literally packed with the cool and engaging demonstrations, displays and exhibitions the whole family will enjoy including a LEGO building event, instructions on how to milk a cow, tree climbing lessons, a peek at the tiny house village, and a scuba lesson in Go Dive Now's 20′ x 30′ mobile pool.
Earth Day isn't the only nature-related holiday in April. In case you've forgotten, Arbor Day is April 28. Get a jump on the tree hugging holiday at the Denton Redbud Festival this Saturday at the Denton Civic Center. Even the Lorax couldn't compete with all of the Arbor Day activities going on here. For starters, the Denton Public Library is hosting a special tree-themed storytime at 11 a.m. There will also be a free tree giveaway, bounce houses, face painting, and live music performances throughout the day. And be sure to see TRASHion Fashion Runway Show at noon on the outdoor stage. Creativity abounds as trash is turned into fashion.
You can commit to saving the environment and have a good time while you're doing it EcoCoppell's Earthfest this Saturday at Town Center Plaza. You and kiddos can have an entertaining and educational experience as you visit the many environmental education booths while you learn how you can lead a more sustainable lifestyle. There will also be a plant sale, food, and live music by Vocal Trash. If that isn't enough, you can also take in a free outdoor yoga class, take on the rock climbing wall, get your picture taken in a photo booth, and create a masterpiece with the arts and crafts activities.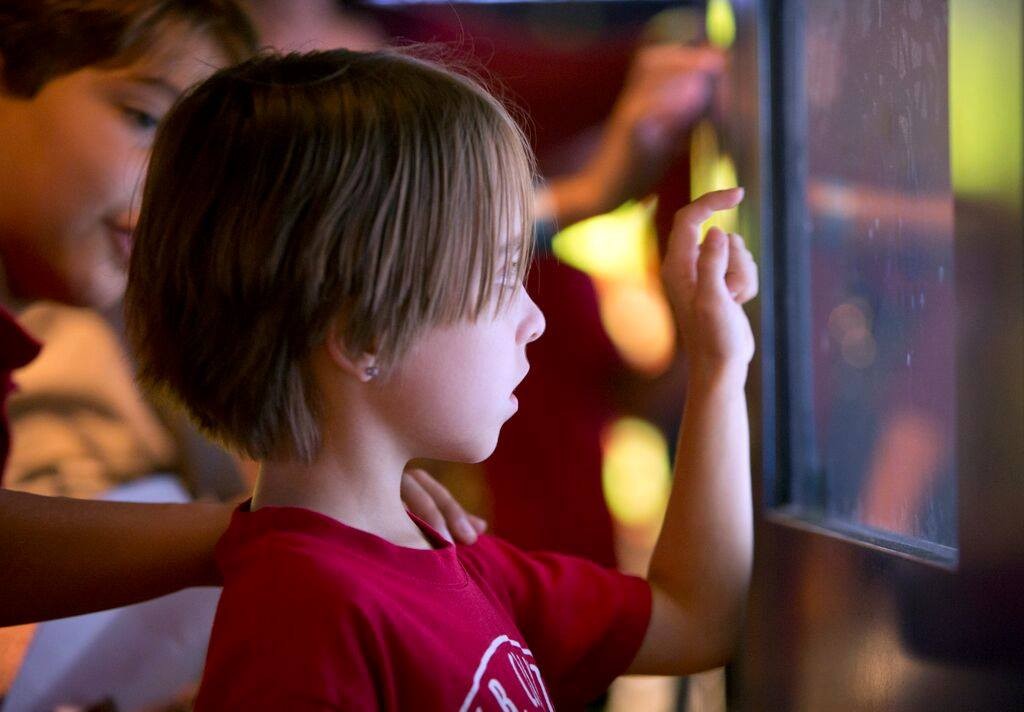 There's plenty to learn about saving the planet at this week at the Fort Worth Museum of Nature and Science. Photo: FWMNS
Celebrate the earth all week long at the Fort Worth Museum of Nature and Science's All Systems Earth exhibit. Kids can learn more about the world around them as they explore topics like pollination, decomposition, geology, and weather. They can dig into tons of hands-on activities like cloud formation and wild weather, how fossils are made, and most importantly, how to protect the environment for future generations.

Get up early on Saturday morning and celebrate Earth Day on the water with the Fort Worth Nature Center's Earth Day Canoe Tour. As you paddle around the West Fork of the Trinity River you can learn all about the area's flora and fauna and how water is essential for all things. All equipment is provided. Children must be 5 years or older and accompanied by parent or guardian. Registration for the trip ends this Thursday so you need to get a move on if you paddle down the lazy river.
If you're more of a landlubber, or you're looking for an Earth Day event perfect for the teeny tinies, the center can use your help Saturday afternoon making wildflower seed balls. The seed balls benefit local pollinators by distributing a variety of native seeds in our area. After they've helped Mother Earth the littles can take a romp through the fields of the wildflowers currently blooming at the center.