But really, that's hardly everything Peter Walker's done. In fact, he's one of the world's leading landscape architects, the man behind the Nasher Sculpture Garden, for instance, as well as the National 9/11 Memorial in New York City, and dozens of public parks, plazas, gardens, corporate headquarters and museums around the world. And as you'll see, the choice of Walker is meant as a statement, not a bit of self-congratulation.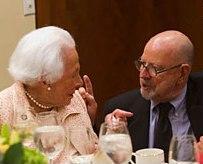 Walker is the initial winner of UTD's Richard Brettell Award in the Arts. The $150,000 prize – the richest arts prize in Texas – was established by arts patron Margaret McDermott (above, with Walker) to honor Brettell, a distinguished arts professor at UTD.
Walker says growing up in California — and spending much of his childhood outdoors — is why he pursued landscape design and not bricks-and-mortar architecture. After working for several firms, Walker became acting director of the Urban Design program at Harvard University in 1976, then chaired the Landscape Architecture program from 1978 to 1981. He also served as head of the Department of Landscape Architecture at the University of California, Berkeley. In 1983, he co-founded PWP Landscape Architecture.
Walker's re-design of the UT-Dallas campus has been a major aesthetic upgrade to what, Walker says, once looked like an industrial park. People may think that in a college the important work all gets done inside classrooms. But Walker argues, especially on a campus, it's the spaces between the buildings where students and faculty often have their most important encounters and interactions
But Walker says the award isn't really for him, and that's not false modesty. The Brettell Award will be presented every two years to a major figure in literature, music, visual arts or design. Giving such an award — the first time — to a landscape architect sends a message.
"It's a way of honoring the activity and bringing people's attention to it," Walker says,  "and Margaret's told me this is her intent. She thinks having the campus is a powerful message to people, but also the award is an event. And that's what she's trying to do there. And I understand that's more for the art of design than it is for me. I'm just a symbol of that."
As part of the award, Walker will be in residency at UTDallas next week. And he joins Krys Boyd for Think on Tuesday. You can tune in at noon.