When I was a kid I use to love hearing my mother relay stories about her childhood and how different things were back in the olden days. Now that I'm the parent, there's nothing I love better than telling "Back When I Was a Kid" stories. To be completely honest, my stories tend to be a bit preachy and are usually triggered by a plea from my daughter for a new electronic game or gadget. It's on these occasions that I pull out my, "We Didn't Need Fancy Toys To Have Fun When I Was a Kid" story. Not to say my generation didn't have some pretty incredible toys. I myself had Barbie's three-story Dream House, complete with an elevator. It's just that we were more inventive when it came time to take a trip to Imagination Land. For example, when I was about nine years old, a rickety, broken picnic table in my backyard was the go-to plaything for the kids in our neighborhood. Besides being home base for all of our games, including a version of tag we affectionately called "Ax Murderer," it doubled as the island from "Gilligan's Island," where my friends and I would act out our own scenarios for being rescued. It also served as a stage where we practiced and performed the songs from "Mary Poppins" for our family and friends. Interesting side note, I still know all the words to "The Perfect Nanny" and will occasionally belt it out at parties when I want to be edgy.
We'd play our fantastical games all summer long and except for an occasional squabble over who got to be Ginger and Mary Ann, we never got tired of playing on "the table."
I'm not sure what it was about the picnic table that made it so magical. Perhaps it was just a catalyst that took our imaginations off to wherever we wanted them to go. If you don't have a spare picnic table, try one of these family-friendly events. They're guaranteed to get those imaginations pumping.
Be transported to the land of make-believe with Mesquite Symphony Orchestra's Let's Pretend Concert. The show is billed as a "Not Just For Kids Concert" so you know you're going to love it, too. And what's not to love? Listen to iconic music from Disney's "Fantasia" and "The Sorcerer's Apprentice" by Paul Dukas, as well as music by John Williams from the Harry Potter films, highlights from "Jurassic Park" and his flying music from the movie, "E.T." The fun happens this Saturday night at the Mesquite Arts Center. Kids' costumes are welcome, so don't forget the sorcerer hat.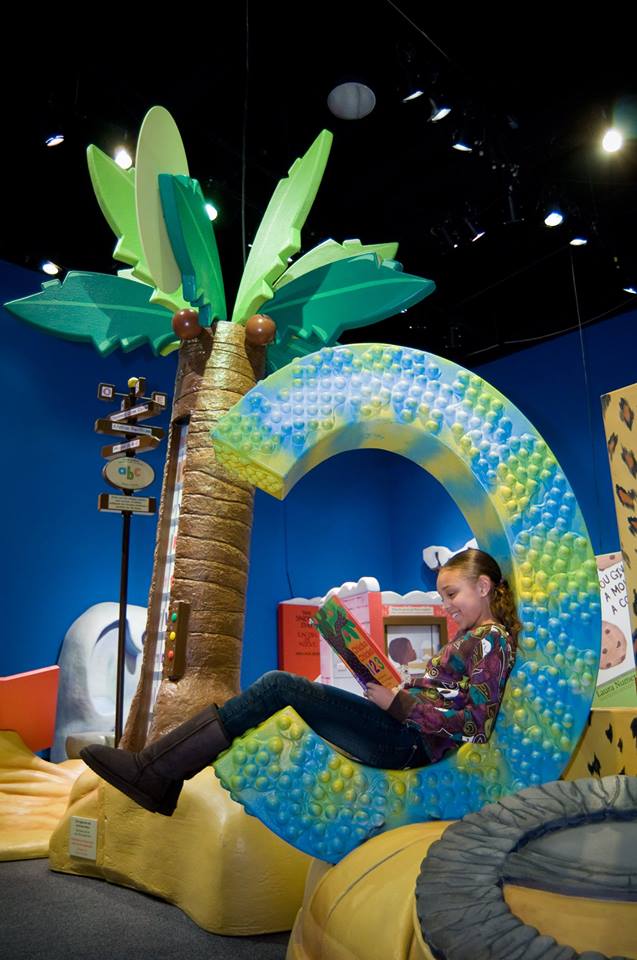 Step into a favorite book–literally, at the Fort Worth Museum of Science and History's latest exhibit.
The Fort Worth Museum of Science and History has a unique way to celebrate a good book in their special exhibit, Storyland: A Trip Through Childhood Favorites. The kiddos can experience books like "If You Give a Mouse A Cookie," "Chicka Chicka Boom Boom," and "The Snowy Day" in a really big way. That's because the books in this show are three-dimensional and kids can walk around inside them. Besides being an awesome place to explore, these larger-than-life book environments also encourage learning through play. The exhibit runs through May 7.
Join the good folks from the Dogwood Canyon Audubon Center this Saturday night for a unique camping event at Virginia Weaver Park. Tents in Town is an urban camping experience right smack in the middle of Cedar Hill. You and the kids can enjoy camping in a park environment with interactive and guided activities. Decorate your tent, enjoy a hot dog dinner, participate in crafts, games, and, of course, eat s'mores. In the morning, wake up with the sunrise and grab a breakfast snack before packing up for home.
Class clowns, budding magicians, and "knock-knock" joke enthusiasts won't want to miss the Comedy & Magic Show for all ages at the Arlington Improv this Sunday afternoon. In this family-friendly show, laughs are mixed with hocus pocus. Enjoy illusions, clean side-splitting comedy, and loads of audience participation all in one show. The doors open 45 minutes before this Sunday afternoon show so you'll have plenty of time to enjoy lunch beforehand at the club.