Catie Mclain usually prays at her home, but on Monday she prayed at the Nasher Sculpture Center. She also usually prays alone. But in the Nasher, in a room lit by violet light, her prayer was accompanied by Jewish prayer, Muslim prayer and silent meditation.
Mclain is Buddhist, Korean and a member of Artstillery, an experimental theater group in Dallas. She donned jade, prayer beads and a purple dress with figures of women printed on it. Although a performer, she did not sing or dance but simply prayed throughout the night.

This was part of Welcome Mat, a site-specific safe-space and social sculpture curated by Lee Escobedo and Artstillery founders Abel Flores Jr. and Ilknur Ozgur as part of the Nasher's Artist Circle. Escobedo explained that this piece was first, a direct response to the Trump administration's alleged Muslim Ban and "build a wall" rhetoric. Secondly, it was a response to the saturation of Facebook posts and article sharing on social media. Instead, he wanted to have a physical space where real voices were heard.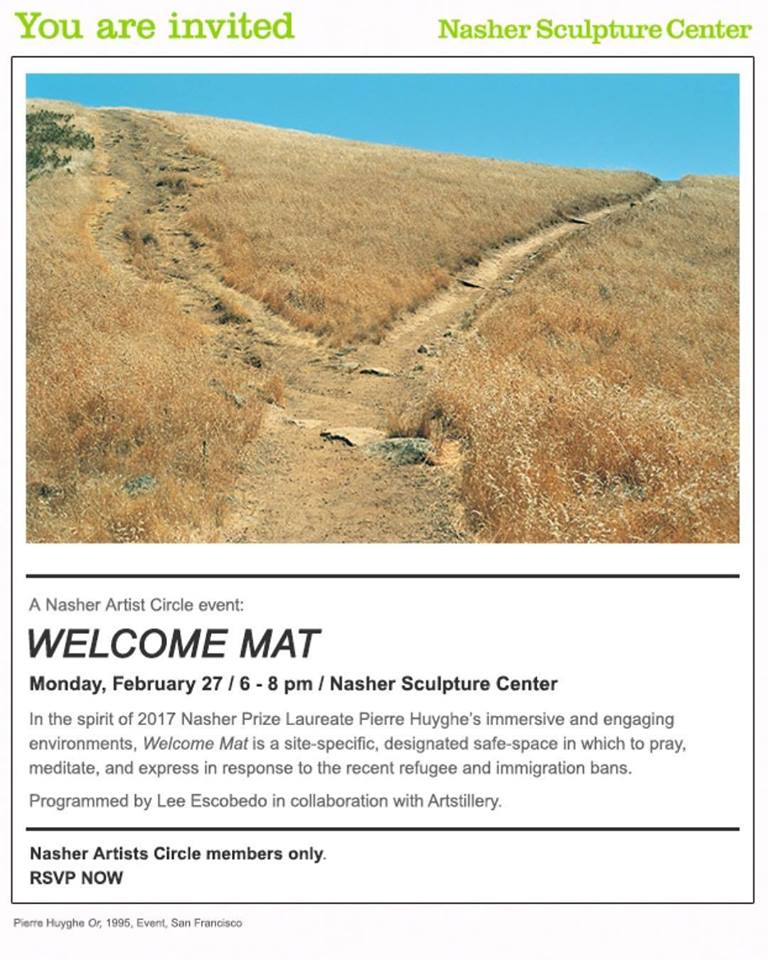 The piece was meant to reference Nasher Prize Laurette Pierre Huyghe's immersive environments and practice of relational aesthetics. In relational art, Escobedo said, the artist is not the center of the art but is at the catalyst for art. Each performer was a catalyst for more creative expression, he said.
Although Escobedo programmed the event and knew who the performers would be, he watched Welcome Mat for the first time Monday, as did other attendees of the Artist Circle. He didn't want to push a narrative; the performers had creative control. Ozgur also said she could not predict how the night might play out. The point was for everyone to bring their own frame of reference.
The evening consisted of prayer, performance and story-telling. It began with two women, each wearing hijabs, one in jeans and one in a floor-length floral dress and a man giving the Muslim call to prayer in the front of the room.  A screen projected a translation of the prayer on the opposite side of the room.
Afterwards, a Syrian refugee told the story of how her father was taken by the government and among his return, they were given no choice but to flee.
"When you're taken," she said,  "You don't know what's gonna happen, its a war-zone and nobody cares about anything at that point."
By the end of the story, Ozgur was moved to tears. All of a sudden, at least ten people were embracing one and another.
The evening continued on like this. Prayers and performances followed each other with bongo drums, guitar and hugging filling the transitions of each.  Francky Xavier from Temple Emanu-El, a Jewish congregation in Dallas, prayed while two others prayed in Islam. After the three stopped, Xavier took the opportunity to comment on the importance of the immigrant to the Jewish faith. He called on Jews to take care of refugees and immigrants as they would themselves and for everybody in the room speak out against injustice.
The evening also consisted of readings from Dallas poets Reivin Alexandria, Princess McDowell, Rage Almighty, Simon Phoenix and Isaac Davies and a performance by Francine 13.
Alexandria appeared as a dark silhouette in the violet room as she tackled an emotional reading about oppression and race as she spilled over the podium and grabbed her afro. The room was filled with people of color who had different faiths and different stories. Escobedo said he was happy to see the diversity in the room, but he always aims to make the next event more diverse.
Lucia Simek, manager of communications at the Nasher, said that although the Artist Circle is made of a group of members who pay a nominal fee for entry, it is striving to be more inclusive. She said events like these by Escobedo are turning the Dallas Arts District more into a space for everyone.