Art Conspiracy's Martha Belden is introducing us to some of the artists who will take part in Art Conspiracy this weekend.
Olivia Themudo is a cleverly talented photographer in Fort Worth who would never dream of being referred to as a social butterfly. She could easily, however… in a perfectly poetic sense… be likened to a butterfly.
Growing up, she was incredibly shy and "inherently awkward," and since childhood, she has been working her way out of her quiet timidity
through her art, unique sense of humor and creative explorations. As her personal statement on her website explains, "I began to create imaginary comedic characters to make myself feel comfortable in social situations and made people laugh doing so… Even as an adult, I continue to struggle with my social anxiety, while utilizing different methods to get through stressful situations."
And as she emerges from her shell, DFW is being introduced to a lovely, quirky young artist who's finding her way into the scene through participation in events like Art Con 12. "I struggle with the social aspect of being an artist, but I'm working on putting myself out there and bettering that part of me," she says.
In 2014, Olivia was introduced to Art Con artist, Paxton Maroney when their works were hung adjacently for a show at Craighead Green. "She encouraged me to submit to get involved with Art Con the following year," she says. "It was exciting and intimidating."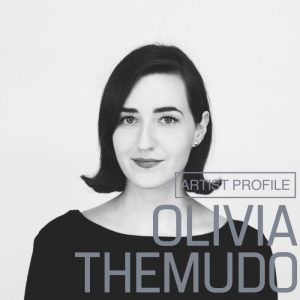 But through her involvement with Art Con, Olivia found herself surrounded by a multitude of "talented and experienced artists," she says. "People were super nice to me, and I loved the fun, creative way they organized the artist event. Art Con connects artists and helps them gain visibility through exposure in a very competitive field."
A Spanish-American artist born in Dallas, Olivia currently lives in Fort Worth and works as the official, part-time in-house photographer – as well as full time in the receiving department – for Trust Printshop. Influenced by the likes of Marina Abramovic and David Wojnarowicz, Olivia's photography is captivating, narrative and, oftentimes, deeply vulnerable.
"My life experiences, beliefs and general urge for personal growth… films, surroundings, feelings, relationships, conversations and nostalgia inspire my works as an artist," she says. "It's extremely difficult for me to narrow down my inspirations. There has never been a time in my life where I wasn't creating or playing with a medium." Check out some of Olivia's work at oliviathemudo.com, and come bid on her piece at Art Con 12. Saturday, November 12, at Cedars Union.