Oh, little Snickers bars
How I love you so!
I must hide the wrappers
The small one disapproves
When I eat her loot
I wrote this little haiku when Rose was much smaller and trusting, or should I say careless, with her Halloween candy. These days she guards her Halloween stash with the greediness of Golum. She knows I can't be left alone with a fun-sized anything.
Speaking of fun, just because Halloween is over doesn't mean the sweetness of the holiday can't go on for just a little longer. Check out these weekend treats hand-picked just for you.
As everyone knows, autumn is festival time in these parts. We've suffered through the long hot summer indoors next to our box fans, so it's no wonder people are anxious to get outside and celebrate fall and the cooler temperatures. One such fall celebration you should definitely add to your list is Carrollton's Festival at the Switchyard.  The annual gala, which is held on the streets of beautiful downtown Carrollton, honors the critical role the railroad played in putting the town on the map. You and the kiddos can enjoy a cornucopia of entertainment including rides, games, face painting and a concert featuring Barenaked Ladies. And get this, it's all FREE! Don't want the traffic hassles? Take DART. The green line will drop you off right right in the thick of things.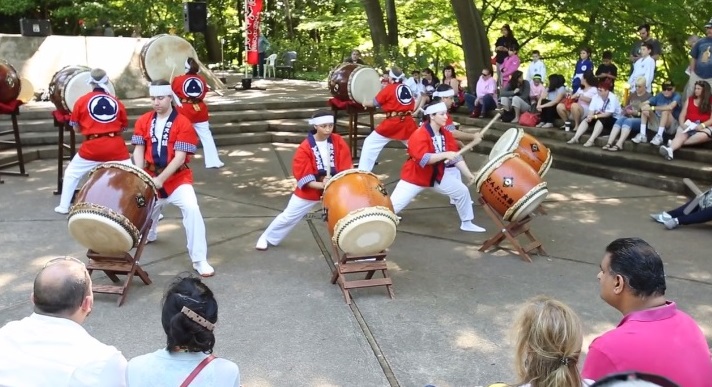 Celebrate the season at the Japanese Garden Fall Festival. Photo: Fort Worth Botanic Garden
Take in the pleasant outdoor temperatures and celebrate the year of the monkey to boot this weekend at the Japanese Garden Fall Festival. Enjoy traditional Japanese dance, music, martial arts, sword demonstrations, raku, tea ceremonies, and more in the beautiful and tranquil setting of the Japanese Garden inside the Fort Worth Botanic Garden.
The crazy popular Halloween at the Heard sold out in record time, but you can still enjoy the scary fun of a little post-Halloween dinosaur watching.  That's right, along the half-mile nature trail at the Heard Natural Science Museum and Wildlife Sanctuary in McKinney are ten life-size animatronic dinosaurs. The giant reptiles communing with nature are part of the Dinosaurs Live! exhibit and they move, growl, and of course, roar. This is one time the kids won't need to be encouraged to take a hike and get some exercise.
If you feel like you just didn't get enough wear out of that Wookie costume Monday night, hop on your TomTom, grab your light sabre and head to the Southwest branch of the Arlington Public Library for their 'Star Wars' Extravaganza. Kids can show off their 'Star Wars' knowledge with trivia contests and make a take home a 'Star Wars'-themed craft. Two movie tickets along with other 'Star Wars' materials will be given away and everyone is encouraged to dress up.
Take a closer look at those galaxies far, far away this Saturday night at Night Under the Stars at Rafes Urban Astronomy Center in Denton. You and your mini astronomers can enjoy space activities, star talks, food and live music from 7Feathers.