Is it just me, or are there A LOT of birthdays in the month of September? No, seriously. Here's my running tally for the month so far. Three birthdays here in our department last week, two of my good friends will celebrate this week, and Rose has back to back birthday parties this weekend.  No doubt about it, there's lot candle-blowing and cake eating going on with my peeps during the month of September. Besides birthdays there is so much to celebrate during the month of September. The kids are back in school, the weather is getting cooler (sort of), and the much anticipated second season of 'Poldark' kicks off Sept. 25.  If none of those things put you in a celebratory mood, and there are no birthdays in your house at the moment, here are a few family-friendly fiestas worth putting your party shoes on for.
Celebrate Mexican Independence Day in the Dallas Arts District at their annual Fall Block Party this Friday night. The streets in the Arts District will be blocked-off so you can get a close up view of performances from groups like the Anita N. Martinez Ballet Folklorico and the Scott Boni Trio. The kids at Booker T. Washington High School for the Performing and Visual Arts will also be there giving the crowd a sneak peek at their fall musical, 'Oklahoma.' If that's not enough, The Dallas Museum of Art, Nasher Sculpture Center, and Crow Collection of Asian Art will all open late so you can take in activities like live music, Pokémon GO Piñatas, Salsa lessons, taco trucks, and an outdoor movie.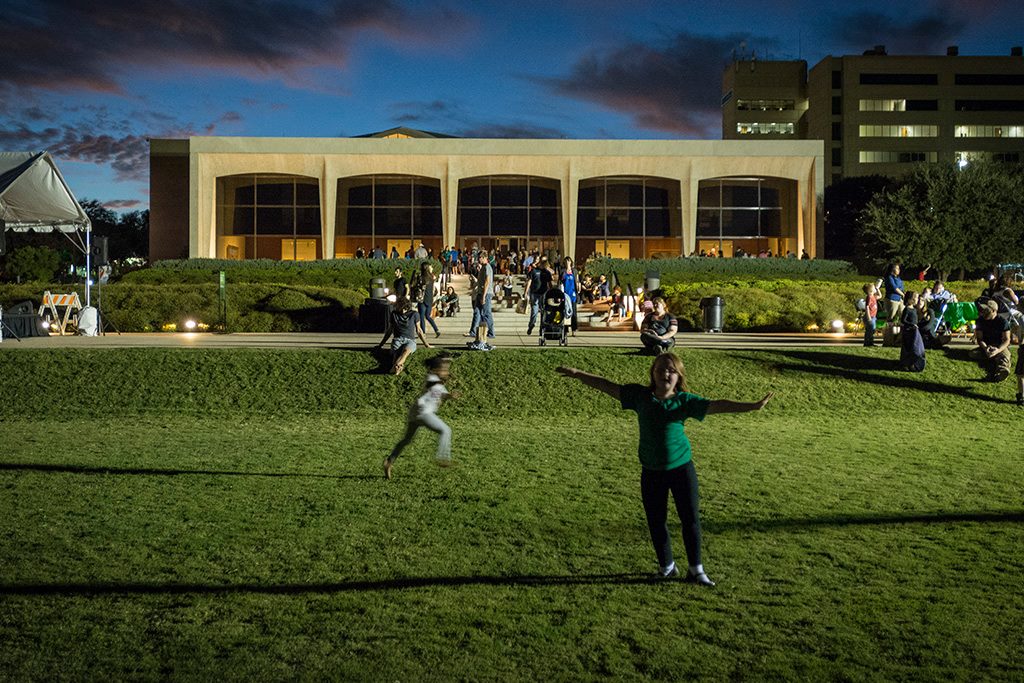 Did someone say party? Photo Amon Carter Museum of American Art
Speaking of parties, Party on the Porch at the Amon Carter Museum of American Art is back for another year of art, music and fun. You and the kiddos can listen to live music from Sarah Jaffe, Thieving Birds and Jake Paleschica outside on the plaza. While you're out there, be sure to check out the lighting effects on the building and try out a lawn games or two. If you're hungry there will be food truck galore, or you can pre-order a picnic basket from Central Market. Best of all, the museum will be open until 9 p.m. so you can take a docent lead tour of the permanent collection and exhibitions. Get there early and take part in a fiber-art making activity inspired by the Gabriel Dawe installation.
Get artsy while you par-tay at Plano Artfest this Saturday at Historic Downtown Plano's McCall Plaza. Highlights include an artisan village, performances from local arts groups, the Chalk-It-Up experience, kids crafts, and a graffiti art exhibit. You and the tinies can also dive into the Apprentice Studio, a hands-on learning experience for all ages taught by local professional artists. And of course, there will also be a variety food trucks on site for hungry tummies to sample.
Canoe Fest is not big, but it's definitely splashy. Enjoy a quiet little soiree along a peaceful stretch of the Trinity River where just you and the flora and the fauna are the only invited guests. It's put on by the Fort Worth Nature Center and Refuge every 3rd Sunday of the month and it's the perfect opportunity for you and the little kiddles (ages 5 and up) to become one with nature, and to learn the ins and outs of canoeing for just a measly 5 bucks a person. Best of all, canoes and all the gear are provided.