You might not realize this, but last week while you and the family were blissfully eating watermelon, chasing fireflies, and splashing in the pool, the halfway point of summer stealthy came and went. I'm not talking about the official midpoint of summer–that doesn't happen for another couple of weeks–what I'm referring to is the half-point of summer before school resumes. Depending on your school, you could be looking at less than five weeks to enjoy the lazy, hazy days of summer.
Make the most of the summer days (and nights) left with these bucket list picks.
The annual trip to the mall to pick out school clothes is on no one's favorite-things-to-do list, but the journey can be a tad more enticing with a stop by the CASA Parade of Playhouses at NorthPark Center. Now in their 21st year, the one-of-a-kind playhouses are created and built especially for the non-profit Dallas CASA's (Court Appointed Special Advocates) annual fundraiser. The money raised from the event helps the organization find more volunteers to assist abused and neglected children. The fantastical houses are free to view until July 31 and for a measly $5 you can purchase a chance to win one.
The City of Grapevine is all abuzz with dinosaur fever since the discovery of dinosaur tracks around Lake Grapevine last summer. As part of the city's "Be the Dinosaur" celebration, Vetro Glassblowing Studio & Fine Art Gallery is hosting a Dino Medallion Help-Create Experience this Saturday and next. Children (and adults) can choose from five color mixes and then watch while the glassblowers create a glass dinosaur medallion. Afterwards, you get to put the finishing touches to the medallion with a torch. Whooooo….fire! The littles can try their hand at paleontology during the Dino Dig, held every Tuesday through Saturday through September 18. Young explorers get to roll up their sleeves and dive in to the sand to find hidden treasures!
Grab your little buckaroos and head to the Fort Worth Stockyards this Saturday for National Day of The American Cowboy Celebration. There'll a whole day of fun dedicated to cowboys (and cowgirls). Some of the events you won't want to miss include: contests in hay stacking, cow milking, quick cap gun drawing, and watermelon eating. There will also be cowboy karaoke and a chuck wagon demonstration where kids can learn all about cooking on the trail. Get there early so you can snag yourself a place in the shade to see the Fort Worth Herd Cattle Drive followed by the Cowboy Celebration Parade at 11:30 a.m.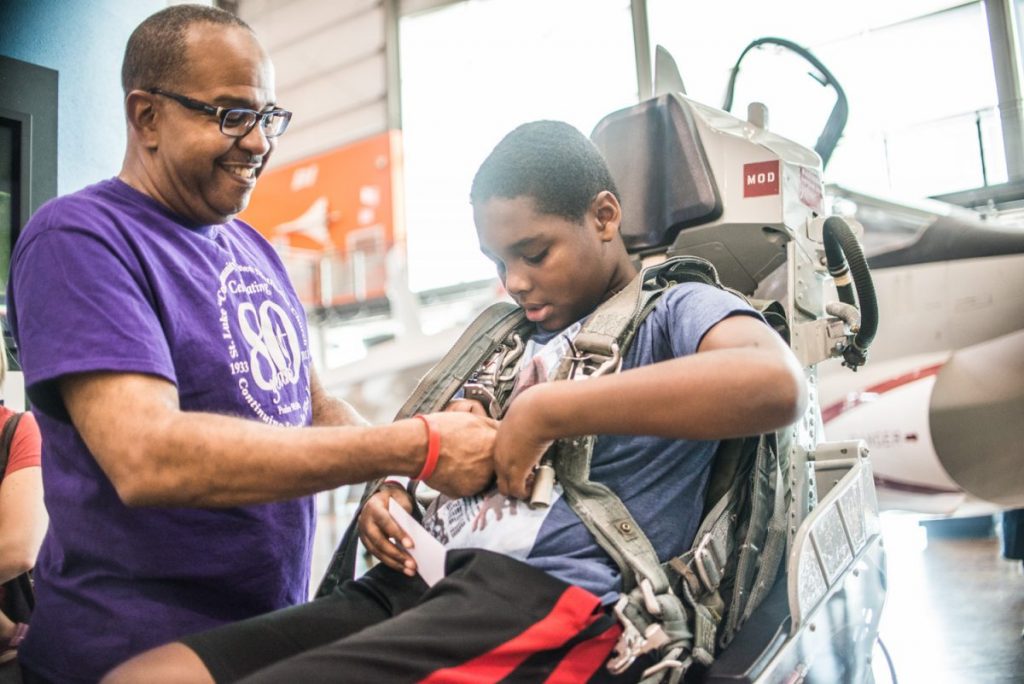 Find out how Dallas Love Field gets seven million people a year from here to there at the Dallas City of Learning's Turn Up! event this Saturday at the Frontiers of Flight Museum. You and the kids can explore the inner workings of the airport and see what it takes to keep Love Field flying. Just a few of the many highlights of this free event include: a tour through the new terminal, wind tube experiments, open cockpit exploration, and my favorite–sampling airline food.
The kids have seen all the summer blockbusters so now is an excellent time to try a different theater experience.  Pocket Sandwich Theatre's production of "Herbbits, Wizards & Borks, Oh, My!" is just that and then some. Not only is it a silly, fun satire on "The Lord of the Rings" franchise, but it's also one of the Pocket's infamous audience-participation shows. That means booing for the bad guy, cheering for the good guy, and lots and lots of popcorn throwing. Be warned, if you sit in front you're going to leave with a sizable amount in your hair and clothes. The show is rated PG 13 for adult innuendo, but overall it's pretty tame. Herbbits runs weekends through Aug. 20. It's a popular show and the Pocket is a very small house so be sure to call ahead for reservations.