This week on "Frame of Mind," KERA's Art&Seek and the Video Association of Dallas take you back to the Wild West with sharpshooting "Wanda the Wonderful."
The film explores the life of gun-slinging, independent and fiery Wanda, grandmother to the film's creator, Carolyn Macartney.
Macartney never met Wanda, a "taboo subject" in her family, but she wanted to learn about the woman behind the myths. Mixing documentary and narrative, she follows her grandmother from Indian Territory to sheep country, through a traveling circus, Hollywood and a brothel, in a journey that spans from Wanda's birth at the turn of the century until her death in 1947. At times humorous, inspiring and dark, "Wanda the Wonderful" explores the private life of a complicated, engaging woman of history.
Here are five fun facts about Wanda, before you watch the movie tonight.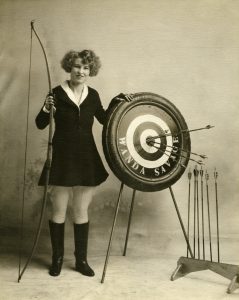 1. She had four husbands and seven children. Constantly pursuing her passions, Wanda left a few different men — one for the traveling circus — and rarely looked back, even for her children.
2. She shot her last husband. She met him in a brothel, a "low point" in her life according to Macartney, and fell into a long, tumultuous love affair… that ended with a shotgun fired into his arm. As Macartney tells Art&Seek, "She had a terrible temper and was a little out of control."
3. She ran from the hospital in the middle of the night to avoid paying a hospital bill. Between the circus and the brothel, Wanda was never wealthy. Nor did she hesitate when it came to getting things done. Macartney doesn't know what Wanda, an early feminist, would have been able to accomplish in today's world, but she thinks Wanda certainly "would have made a name for herself."
4. She was talented at just about everything. She was a sharp shot with her Remington, but she was also handy with a bow and arrow, and a talented seamstress and carpenter. All those skills came in handy when she lived with her last husband, a sheep herder, out in the middle of nowhere.
5. Her granddaughter has shot music videos for the Goo Goo Dolls. Macartney is an independent photographer, director and producer who has filmed music videos for Girls Against Boys, Motley Crüe and the Goo Goo Dolls, as well as commercials, documentaries and short films. She says she's thrilled that her film is on Frame of Mind because it offers a different perspective on history.
"As a woman and a teacher, I feel like we don't have enough strong, interesting and cool women to look up to," she says. "They're there, they just haven't been written about… If you don't make work about people, then they cease to exist."