In a booming cities like Dallas, the sight of cranes and new construction are so ordinary that you probably know more about what's going up than what has been torn down.
Honestly, that's pretty normal. Time moves on and the world keeps turning. But, the buildings of yesteryear hold a lot of memories and they're uniquely connected to the communities they've lived in.
Take the Dallas' Old Municipal Building. Last year, workers began a restoration process on the structure and discovered historic, hand-painted murals from 1934 that many thought were destroyed. Art&Seek's Jerome Weeks reported that these paintings marked pivotal points in Dallas' history — like 1929, when the first viaducts were built across the Trinity.
On this week's broadcast of "Frame of Mind" we're bringing you two short documentaries – "The Grove, Texas" & "Restore" – that take on the issue of restoration and preservation. To prepare you for the topic we've decided to go back to past Art&Seek interviews conducted with directors of both films – Lori Najvar & Mark Birnbaum – so you can try to enter their Frame of Mind…
Lori Najvar, Director of "The Grove, Texas"
Najvar is a native Texan and long-time Austinite. She's the director of the nonprofit PolkaWorks which aims to save Texan traditions. Her filmmaking career began while studying at Saint Edwards University in the Capital City.
"I saw a need to collect stories that might not often be recognized," says Najvar.
One of those stories belonged to Moody Anderson. Anderson was a "junk collector" that purchased all of the commercial property in a small dying town (The Grove). He ran the town as a tourist destination where one could buy antiques and memorabilia. But, after 30 years of managing The Grove, Anderson needed to sell.
"The Grove" Official Trailer from Lori Najvar on Vimeo.
"I've seen lots of very small communities diminish because of people moving to cities for jobs and towns, such as The Grove, crumble," says Najvar.
Najvar didn't want to see Anderson's work forgotten, "Our goal was to highlight Moody Anderson, how his passion as collector reached out to different groups of people when sharing that collection and how he preserved the buildings of The Grove, Texas," Najvar says.
"I think without his efforts, those buildings wouldn't be standing today," says Najvar. And perhaps without this documentary, people wouldn't know about Mr. Anderson.
Mark Birnbaum, Director of "Restore"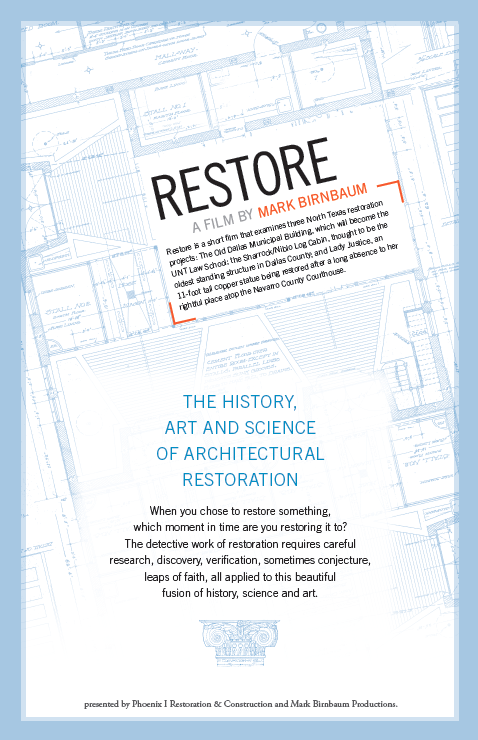 Mark Birnbaum's film career began during the 1960s, but his connection to North Texas didn't start until the early '70s when he began working on KERA's nightly news show "Newsroom."
After working on "Newsroom," Birnbaum began producing and filming documentaries that focused on Texans and the issues that affected them.
One of those docs is "Restore," which partially focuses on the restoration of North Texas landmarks.
"The goal for "Restore" is to raise awareness about the history of communities that reside in architecture of all kinds," says Birnbaum.
Birnbaum says that buildings and places resonate with people within a community and that they can help to explain who we are and where we come from. That's why he wanted to film the restoration process.
"The identification, preservation and restoration of buildings like [the Old Municipal Building] is very important to the life of our community," says Birnbaum.
Birnbaum understands progress can be difficult, but he would like for more thought and compassion to be used in the decision making process.
"While it may be necessary to move [buildings] and make room for the future and progress, often they can be re-purposed," he says.
As a citizen of North Texas for several decades, Birnbaum is uncomfortable with the constant "renewal" of the region's landscape. "Dallas tears everything down; everybody knows that, everybody says that about Dallas because it's true," he says.
Despite the reputation for bulldozing the past, Birnbaum is hopeful about the future, "more consideration is being given to existing structures to see if they are "worth saving," he says."