When tragedy strikes we can all feel a bit lost. And when the tragedy seems so senseless, like the mass shooting in Orlando, a lot of us grasp at straws trying to figure out what could have been done to prevent the loss of life. The answer to that sort of question is often bigger than any one person, but that doesn't mean that nothing can be done. 
Tonight, the Turtle Creek Chorale will perform "Songs for Healing" at the Cathedral of Hope in Dallas. ""Songs for Healing" will only include songs about love, says Tri Truong the Director of Marketing for the Turtle Creek Chorale. "There will not be any songs about angst or anger. It's all about love, peace and hope," says Truong. The community concert is FREE and begins at 7 p.m. The Cathedral of Hope is located at 5910 Cedar Spring Road. If you cannot make it to tonight's performance it will be available to watch via the stream below.
The performance will be to remember the victims and those dealing with the pain of loss from the shooting at Pulse, the gay nightclub in Orlando, on Sunday. Truong says that though there doesn't seem to be a direct connection from the shooting in Orlando to anyone associated with the choir, that doesn't mean that they can't try to spread a little hope and raise a bit of money. Money raised from this performance will be shared with the victims and the families affected from Sunday's events.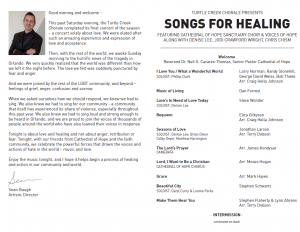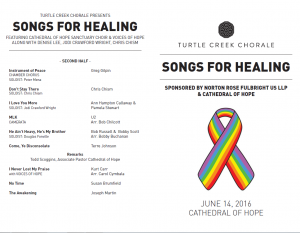 The choir will be joined on stage by the Cathedral of Hope Sanctuary Choir & Voices of Hope along with Denise Lee, Jodi Crawford Wright and Chris Chism.