Hip-hop has been the most listened to genre in popular music for decades. (study). But back in the 1970s, the early days, the only people who were familiar with rap were the African-American, Caribbean, and Latino kids living in the South Bronx in New York City. 
Then one day in 1977 lightning struck and the rappers and deejays were all afforded the equipment to take their talents to a whole new audience.
Soon thereafter, songs like Kurtis Blow's "The Breaks," The Sugarhill Gang's "Rapper's Delight" and Joe Bataan's "Rap-O Clap-O" became hits that were spreading across urban centers and the culture around hip-hop spread with it.
These days, defining hip-hop culture can be difficult, but elements obviously include rappers (verbal), deejays (audio), b-boys (dance and physicality) graffiti (visual) and fashion (design). Each has become a sub-genre of its own. But, none is in our daily lives more often than fashion. And, the connection between fashion and hip-hop is directly tied to sneakers.
That connection obviously begins with hip-hop legends Run DMC. The duo constantly donned athletic apparel from the German sportswear brand Adidas. They even wrote songs about the brand. Since then, everyone's had a shoe. Jay Z, Kanye West, Drake, 50 Cent and so on. These collaborations have been beneficial for many, especially the shoe makers.
But in recent years, shoe manufacturers have created a business structure that is less dependent upon personalities.  "It's difficult to pinpoint an exact fascination, but I believe that the general excitement with sneakers is one of exclusivity, aesthetics, and design," says Rafael Tamayo. He's the co-founder of KIXPO, an expo where so called "sneakerheads" buy, sell and trade shoes.
There's no doubt that you've heard of these sneakerheads. Just this week, "The New York Times" wrote an article about a store in Los Angeles called Jason Markk where patrons pay as much as $65 just to have their sneaks meticulously cleaned.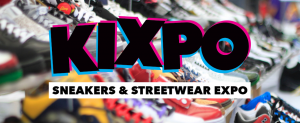 Sneakerheads are willing to tolerate ridiculous lines – despite the weather – for the opportunity to shell out hundreds, even thousands of dollars on tennis shoes. But, what you may not know is that this desire for sneakers has spawned a secondary market. That's right, there's a secondary market for tennis shoes and it's big business.
Last year, the sneaker resale market jumped over the $1 billion threshold in the United States. Though that seems remarkable, it is small potatoes compared to the international sneaker market. According to SportsOneSource, the international sneaker market has grown by more than 40% since 2004, to an estimated $55 billion.
What are the leading causes for this booming resale market? Demand, of course, but also a strategic business approach by major players like Nike and Adidas. The brands announce special release dates for shoes, which make buying a pair an event. Serious collectors have to be there, or they might miss their chance to grab a pair. This has sneakerheads chomping at the bit. Special release dates for "one-of-a-kind" shoes adds an air of exclusivity to the brand. People aren't just buying cool shoes. They're collecting the rare Air Jordan 11 Retro "72-10″ or the Yeezy Boost 350 Moon Rock and with that comes a sense of admiration from fellow sneakerheads and second looks from strangers on the street. Demand for these shoes escalates, and those who missed out on the initial purchase are willing to pay upwards of $1000 for a pair of shoes that retailed at $200 (see video below). Sneakerheads will even enter ridiculous hype-building contests all in hopes of grabbing a single pair without having to pay out the wazoo or wait in lines for hours.
The most valuable sneakers in 2015? Well, according to sneaker data sites Highsnobiety and Campless, it was the YEEZY Boost 750 "Triple Black." The shoe is a part of a series of collaborations between musician/designer Kanye West and Adidas. The "Triple Blacks" retail in the $300 range, but the average price for them on eBay was $1,876. The "Triple Blacks" didn't gross very much for Adidas – lowest grossing shoe in the series between West and Adidas – but they garnered tons of attention. Adidas only produced a small batch to create scarcity – hence the low profits. But through scarcity they created publicity for the entire collaboration. It obviously worked.
Most of the exchanges in the sneaker resale market happen via the internet, but expos like this weekends' KIXPO are like giant bazaars where trades and purchases can be made and relationships can be created. "The initial motivation was to gather like-minded people in celebration of the culture," says Tamayo.
Tamayo says the demographics and motivations of the sneakerheads that have come to KIXPO over the past nine years are quite diverse. "We've seen grade school patrons all the way through senior aged sneakerheads. Some are led by the hype of a shoe, others find a deeper connection to a shoe's 'story.'"
Whether it's hype or narrative, there's sure to be a large crowd at this weekends' KIXPO  — and lots of dollars being exchange.